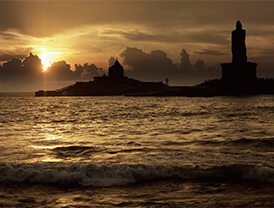 Saritha Dattatreya has a full-time job with a  reputed education company. When it comes to photography, her first love and expertise lies in creative macro and nature images. She also enjoys photographing images of food, abstracts, travel and different dimensions of street life. She is associated with DCP Workshops and Expeditions as a Panel Expert. She conducts workshops on basic & advanced photography and digital image processing. Saritha is also a mentor to photographers at experimental workshops on long exposure techniques, silhouettes, highlights, shadows and various other themes. She intensely relishes every moment by integrating this form of art into her daily life.
Located at the southernmost tip of the Indian subcontinent, Kanyakumari is surrounded by the coast, magnificent hills, temples, churches and other structures. Formerly known as Cape Comorin, Kanyakumari is situated in Tamil Nadu. The name Kanyakumari comes from Devi Kanya Kumari temple. Until the end of the British rule in 1947, Kanyakumari was under the rule of the Pandyan kings and kings of Travancore at a later stage. The borders surrounding the district are the Arabian Sea, Indian ocean, Gulf of Mannar, Tirunelveli and Kerala. It is located at the confluence of the Western and Eastern coastal plains at the tip of the country, where the Bay of Bengal, Indian Ocean and the Arabian Sea meet.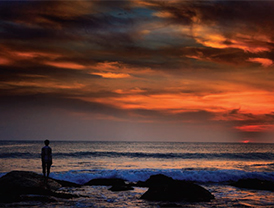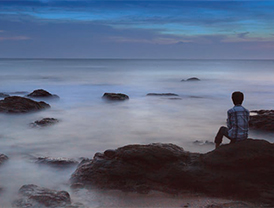 The nearest airports to reach Kanyakumari are the Trivandrum International and Tuticorin. These airports are located at a distance of about 85 kms from Kanyakumari. It is very easy to find a taxi from the airport to reach Kanyakumari. There are plenty of buses running from Bangalore, Chennai and Trivandrum to Kanyakumari. Trivandrum Central is the nearest railway station. It is well connected to almost all the cities in India. It is easy to find a taxi or another train to Kanyakumari junction. Tamil and Malayalam are the main languages spoken in this district. The best time to visit Kanyakumari is from October to March. There are many hotels, in all price ranges, for the stay. For shopping in Kanyakumari, many decorative items and jewellery made from sea shells, handicrafts made of bamboo, cane and wood are sold at the stalls by the local people near the beach area.
When it comes to food, rice is the staple diet; for mountainous regions, Tapioca is the main food. A wide variety of sea food is prepared and sold. People use coconuts as a major ingredient in curries and other food items. There are many eat-outs and restaurants in Kanyakumari for vegetarians, non-vegetarians, natives as well as international tourists.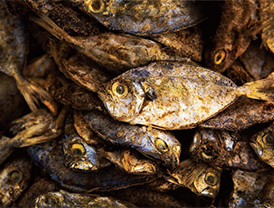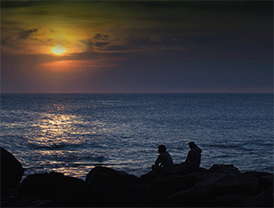 For photography, Kanyakumari is one of the most precious few places to shoot some spectacular and stunning colours of nature. It offers an opportunity to take dramatic and inspiring sunrise and sunset images along with silhouettes. The best hours to take seascape and skyscape images are early in the morning from 5:00 a.m. to 6:30 a.m. and in the evening at about 6:00 p.m. Photographers can experiment with long exposure technique and the exposure bracketing option to make creative images. Any camera will do. Wide-angle lenses are preferable. Graduated ND filters would bring out the best of colours, though their use is optional. It is a must to carry a tripod to get better quality images as the photographer will be taking pictures in low-light conditions.
Places Of Interest: Kanyakumari Beach
Kanyakumari is one of the very few places in the country where one can watch a sunrise and sunset sitting at the same spot near the famous Kumari Amman temple. The beach has a rocky shoreline with different hues of sand. The lighthouse near the beach gives a breathtaking view of the beautiful sky.
Vivekananda Memorial Rock
The major attraction of Kanyakumari is the Thiruvalluvar statue. It is constructed with granite blocks on a rock formation that has cropped out of the sea at a distance of about 500m away from the mainland. The rock is considered to be a sacred place. It was known as 'Sripada Parai', which means that the rock is blessed by the touch of 'Devi Kumari'. Swamy Vivekananda meditated at this spot during his visit to Kanyakumari.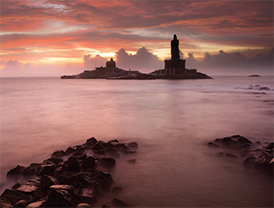 Kanyakumari Temple
This is a temple dedicated to Goddess Kanyakumari – the incarnation of Parvati. The Shiva.Kumari Amman temple is also famous for the Goddess adorned with the sparkling diamond nose ring that is believed to be guiding the fishermen and sailing ships.
There are more than 20 interesting places around Kanyakumari. It takes at least 3-4 days to cover them like the Fountain at Kanniyakumari, Mahatma Gandhi Memorial, Thiruvalluvar Statue, Kumarajar manimandapam, View Tower and Telescope House, Government museum, Guganathaswamy Temple, Kumari – Hall of history, Suchindram, Kanyakumari Bagavathiamman Temple, Udayagiri Fort, Mathoor Hanging Bridge, St. Xavier Church, Padmanabhapuram Palace, Pechiparai Dam, Tirparappu Water Falls, Peer Mohammed Durga, Muttom Beach, Maruthuva Malai, Bay Watch, Mukkadal, Chothavilai Beach and Vattakottai Circular Fort.
So, what are you waiting for? Pack your bags and explore Kanyakumari! |SP