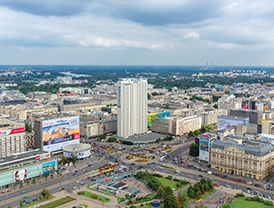 Ajay Sood (Travelure) is an accomplished travel photographer and a travelogue writer. His sole objective is to make the destinations he covers desirable. He has been profiled as Mastercraftsman in Smart Photography (May 2012). He was on the jury of Canon Photomarathon 2012. He is also an assignment photographer for National Geographic Traveller. He is a Canon Photo Mentor. Besides mentoring photography workshops, he leads photo-tours and contributes travelogues and features to various publications. He has a passion for capturing the sights, sounds and stories of places he visits. He has travelled across India extensively and to over 20 countries across the globe. His 27 years in the communication industry have been his training ground, leading to his deep understanding of the visual medium, reflected in his unique compositions. More of his work may be seen
at www.facebook.com/travelure
Ajay Sood (Travelure)
Canon Photo Mentor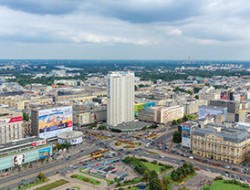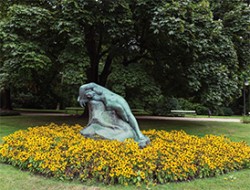 I have always held a fascination for the erstwhile eastern-bloc countries and cities and for me Warsaw was perhaps the most iconic of those cities. Hence, a visit to this city was obviously on my bucket list.
From my landing at Chopin Airport to my taking off from there, even though I saw, learned and imbibed a lot, I still found myself confused. Here was a city (actually the whole country) where there were two names for every place – an English Name and a Polish Name. I am sure that the language factor has made me miss out on some of the important landmarks in this central European city replete with history.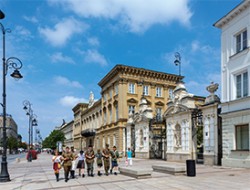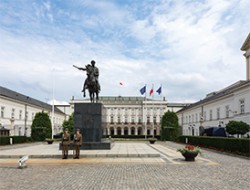 The people in Warsaw took me by surprise. Despite their war-torn ancestry and background, they are completely grounded and sans any airs; they are happy-go-lucky; upright with a 'don't-mess-withme- and-I-won't-mess-with-you' attitude; love their drink and food and can be boisterous. All in all, it reminded me of Punjabis – natives of Punjab, a state repeatedly attacked by various exploitative and plundering kings, generals and rulers over many centuries – who also display similar traits. Warsaw came out of WW-II as the most battle-scarred and decimated city. The aggressors destroyed almost 80% of this city's buildings, but, remarkably, the Poles have rebuilt the city on its ruins and modelled it on the prewar architecture. This gives the city a unique flavour – especially the Old Town – as the basements of the buildings are visibly old, but the above-ground structures, despite their pre-war architecture, are modern. In acknowledgement of this near-perfect reconstruction, UNESCO accorded the Old Town the status of a World Heritage site in 1980.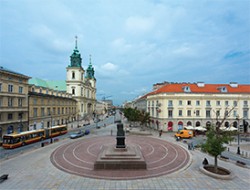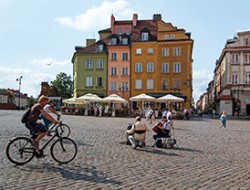 Warsaw is a beautiful, wellplanned and extremely green city, with many lakes. Vistula (Wisła in Polish) River divides the city into 2 distinct halves – the left bank and the right bank. Most of the government buildings and other tourist attractions are sprinkled around on the left
bank.
Besides numerous museums and auditoriums, the city boasts a large number of places of historical importance. From Jewish cemeteries to Old Town; from small and big war memorials in lush green parks and gardens to an Empire State building lookalike called Palace of Culture and Science built by Stalin; from churches and cathedrals to Chopin's musical benches – the city has it all. In fact, it has so much to offer that if you decide to spend a few weeks here, you will end up discovering at least one new thing everyday. It is an important centre of education, culture, history, arts, science (remember Marie Curie?), architecture, etc. not just in Poland, but also in Central Europe.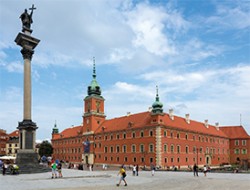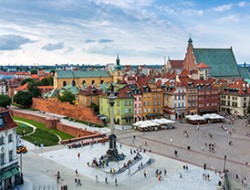 The Old Town houses Jewish quarters, Warsaw University, many significant cathedrals, the Royal Palace, the President's House, King Sigmund's Column (Zygmunt III Waza in Polish) and one of the custodians of the city – the Mermaid. The square that houses the Mermaid reminded me of the Trevi Fountain in Rome and the square in front of the Basilica of Santa Croce in Florence, as it is packed with roadside cafés offering beer and food, artists offering to paint for you, performers playing concert instruments, tourists gaping in awe, newly-weds excitedly engaged in their portfolio shoots and locals just chilling.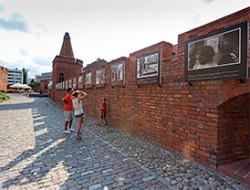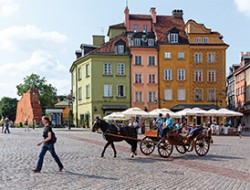 Though you'll find trams, metro, buses and taxis as modes of commute in Warsaw, the locals and even many tourists prefer to rent a bicycle here. The city is not as well-planned for cycling as many others in Europe, but is surprisingly safe for the cyclists as the traffic is good-natured and generally tolerant towards them.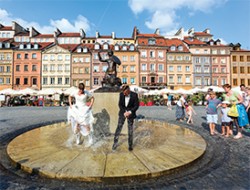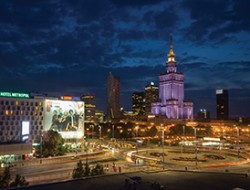 The place offers beer and vodka in plenty and you'll find all sorts of eateries offering cuisines as varied as Lebanese, Indian, Italian, French and Brazilian. It even has a Hard Rock Café. But once here, you'll do well to not miss the Polish dishes predominantly comprising meat and potatoes. One special mention is a soup called Zurek – made from rye flour and potatoes as its base, with a lavish helping of diced potatoes, sausages and hardboiled eggs thrown in. This is a meal by itself.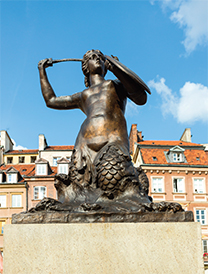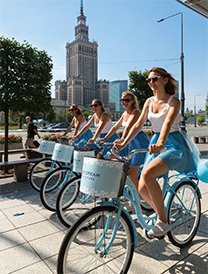 Do take a vacation in Warsaw. It isn't an expensive place and I promise, it will also leave you richer in more ways than one. 