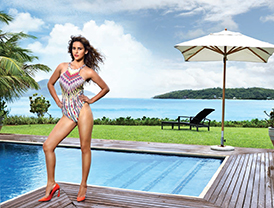 For the 2016 edition we were caught in a cyclone for straight ten days. So more time was spent cooped under tents on supposedly the best beaches in the world than in actual shooting. The gorgeous images of the 2016 edition are testimony to the genius and the patience of my crew (Kapil Bhalla – makeup, Richard Wilkinson – hair, Allia El Rufai – stylist) and of course, the photographer.
AISHA SHARMA
It's an absolute privilege to be a part of the Kingfisher Calendar 2016 and the lineage that Kingfisher boasts of . It's been a unique experience. Personally for me, I haven't ever done a shoot in swimwear. It was an unexplored territory, which was both challenging and very exciting. Kingfisher is a huge platform and I am glad I got an opportunity to be a part of it.
A huge reason for Kingfisher Calendar to be what it is today is because of the man behind it all, Atul Kasbekar. He is someone who is very passionate for what he does and it's been an absolute privilege to shoot with him. The weather conditions were challenging, to say the least, and he is someone who still managed to create something magical like he has been doing since so many years. I am proud and very happy to be a part of the Kingfisher Calendar 2016.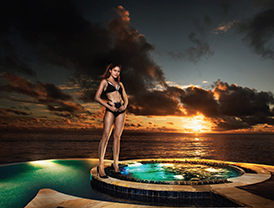 SUSHRII MISHRA
Shooting for the Kingfisher Calendar was never in my plan because I always thought that the girls who are chosen for the calendar are incredibly gorgeous with lots of oomph and killer attitude. It is like being the Victoria's Secret model of India and I never saw myself there.
But having said that, shooting with Atul Kasbekar was a dream for me and it was one of the things in my life bucket list. I went for the audition and the next thing I know is that I'm getting a call that I've made it and all I could do was scream and laugh. I just could not believe it. It was all like a dream even when we reached Seychelles. Omg! That place was unbelievably stunning.
We went to such beautiful locations. I just couldn't believe that all these amazing things were happening to me. The entire team was fabulous. Everyone was so warm and so helpful throughout the shoot. All the girls were amazing too. All of us bonded so well. It was just like a family and I miss all of them.
There would be days when I was shooting, and it would be raining cats and dogs. All of us would wait for it to stop. And when it did, even if it was for 10 minutes, all of us would get on our toes as if we had some super power to get the shoot done. In a shot, I had to pose in the middle of the waves. It was really difficult because each time I would pose, I was thrown away by the strong currents. I was hammered by the sea, but I wanted to keep going. The entire team was so supportive and then finally at the end of the shot, Atul said we had just created magic. Now I just cannot wait for the calendar to be launched.
Kingfisher Calendar was probably the best experience of my life and it's etched so warmly in my heart that I will always cherish it forever.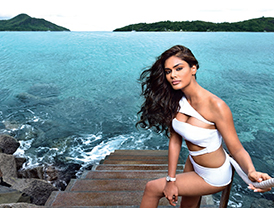 NOYONITA LODH
Shooting with Atul Kasbekar has always been on my wish list. The Kingfisher Calendar 2016 shoot in Seychelles was an absolutely thrilling experience.
Apart from sweating it at the gym to maintaining a great body for the shoot, the entire experience was nothing less than a luxurious holiday spent with a great team. They made sure that I looked beautiful and felt extremely comfortable in those stunning bikinis. Needless to say, the Kingfisher Calendar truly lives  up to its name, thanks to the wonderful experience in the unbelievable locales of Seychelles with a fun team and a photographer, who blows your mind with his photography skills!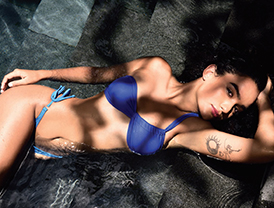 MAYA HENDRICKS
Working on the Kingfisher calendar was an experience I will never forget. From exploring a continent that was entirely new to learning the ropes behind how the calendar works, I feel fully equipped to tackle an array of tasks that might come my way. I especially enjoyed working with the patient, hard working and supremely talented team of the Kingfisher Calendar especially the awesome Atul Kasbekar.
Being the youngest one on the team, it was important for me to be attentive, watch the other more experienced models, and quickly be able to switch between hosting the NDTV show and modelling.
I cannot express how grateful I am to be one of the lucky girls to represent the Kingfisher Calendar, and on top of that as an aspiring actress, I was able to host a show before I was 20 years old. The mesmerising location added to my inspiration as an artist as well, and I am forever grateful for the gorgeous memories from that trip!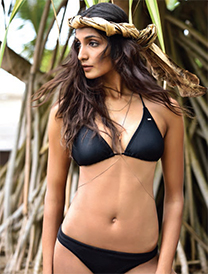 AISHWARYA SUSHMITA
From the time of getting selected for the Kingfisher Supermodel to shooting for the KF calendar, it has truly been an amazing experience. The whole crew has been very supportive and we bonded really well. Working with Atul, who has been the real force behind the calendar, was a pleasurable experience. He is a complete professional and makes you feel at ease and also gets the best out of you. I would like to give special thanks to Kapil Bhalla, who creates magic with his brush and Richard Wilkinson for my hair. I feel the Kingfisher Calendar is just the beginning and an ideal start for a long journey ahead. |SP