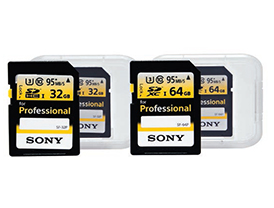 Over the years, the SD card has become a preferred mode for storage of images by both amateurs and professionals alike. Sony has now launched its SD cards for professionals and these come in two capacities – 32GB and 64GB.
Sony claim that their professional SD cards are designed for professional camcorders and achieve a higher level of strength and durability because of the special material used in their production and the use of double welding injection. The Sony SD cards for professionals, therefore, are more water proof, dust proof, shock and vibration proof, drop proof and bend/ twist proof than the regular SD cards.
The Sony SD cards for professionals support both AVCHD and XAVC-S formats. Sony has developed an enhanced file recovery software which helps to achieve higher rates of recovery. Professional SD card users can access Sony service centres free of charge to get the professional file rescue service.
Read and write speeds go up to 95MB/s and 90MB/s respectively. The cards can stand temperatures ranging from -25º to +85º Centigrade and carry a warranty of 5 years.
Prices are Rs.4310 for the 32GB and Rs.7770 for the 64GB cards. |SP