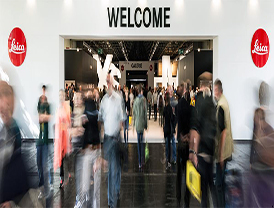 Leica Camera AG exhibited around 30 products at Hall 1 of Photokina 2014, celebrating their 100th anniversary. Leica alone occupied the Hall 1, of which about twothirds was dedicated to the Photo Exhibits.
Among these products, professional mediumformat cameras stood out, with high speed video recording and optimum image quality. The top-of-the-line Leica S-007 features the Leica CMOS sensor and the Leica Maestro II image processor, which offers the highest burst-shooting speed, extreme sensor sensitivity and comprehensive capture modes for still photography as well is exceptional video quality. The company also offers an entry level model for Leica S medium-format systems, the Leica S-E. The camera provides practically all the technical advantages of the Leica S-006 and presents an alternative within the Leica S-System. The Leica X features the new Summilux 23mm f/1.7 ASPH prime lens and an APS-C size 16 MP CMOS sensor. It also allows full HD video recording.
The latest model of the Leica V-Lux (Typ 114) line-up was also showcased at Photokina. The camera offers a Leica DC Vario-Elmarit 9.1-146mm f/2.8-4 ASPH super zoom lens (25-400mm equivalent in 35mm format), with a broad spectrum of capabilities from macro to telephoto. It has a 1-inch Type 20 MP CMOS sensor and 4K video capability.