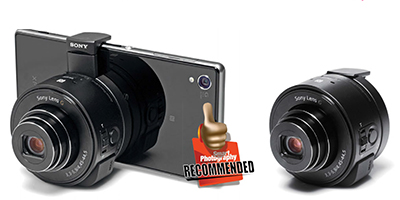 All Smartphone manufacturers are currently in a tight race to unsettle their competition on the photography front. Having almost reached the zenith in terms of phone features such as RAM, NFC, GPS etc., they are now focussing all their resources on improving the cameras in their Smartphone models. While Samsung did the ultimate with a compromise in leanness by incorporating a full-featured camera in their S4 Zoom, Nokia played with PureView and megapixels in their Lumia 1020. Sony, on the other hand, brought out a novel concept—a detachable camera that fits all Smartphones (currently supports Android and iOS only), which they call the 'Lens-Style Camera'. Sony currently has two models in this category—the QX10 and QX100. Lens with a 'Heart' While the QX10 assumes compact camera dimensions with 10x zoom, the QX100 sports a larger 1-Type sensor for more serious photography. Here we are testing the QX10.
Design and Build Quality
The QX10 is unique in its design and hence needs some explanation. The device is the size of most normal lenses for D-SLRs, but includes the sensor, processor, memory, battery and other components, except the display. The outer body is made of polycarbonate. The lens has a threesegment construction and these segments are made of metal. The device has a detachable collar to dock it with a Smartphone. This also appears well-made. The QX10 is complete with a zoom lever, shutter release button, and power button. It has a metal tripod receptacle.
Key Features
The QX10 is essentially a point-andshoot camera without a display. It uses the host Smartphone as display and control interface. You can pair the QX10 with the Smartphone using Wi-Fi or NFC. For connecting, you need to install PlayMemories Mobile app (available free for Android and iOS). The Wi-Fi key is provided on top of the instruction manual and also written inside the battery chamber. After pairing the two devices, you can either attach the QX10 to the Smartphone for cameralike operation or mount the QX10 on a tripod and use the Smartphone as a remote viewer and trigger.
The 18.2-megapixel QX10 uses a 1/2.3- Type (6.16 x 4.62mm) Sony Exmor R back-illuminated CMOS sensor. The back-illumination lets more light reach the photo receptors, thereby reducing noise even in low-light situations. The camera uses a BIONZ imaging processor. It sports a Sony G lens with a focal length equivalent to 27.5 to 275mm and maximum aperture ranging from f/3.3 to 5.9. the lens is constructed with 9 elements in 7 groups, including four aspherical elements. The lens focusses from approximately 5cm to infinity at the wide-angle end and approximately 150cm to infinity at the telephoto end. It features Optical Steady Shot image stabilisation. Focus modes available are Single-shot,Touch, and Multi-point. The QX10 uses Multi Pattern light metering. Exposure can be compensated up to +/-2.0 EV in 1/3-EV steps. Sensitivity ranges from ISO 100 to 12,800, but this is controlled automatically by the camera. White Balance options are Auto, Daylight, Shade, Cloudy, Incandescent, and Fluorescent. Shutter speed ranges from 4 to 1/1600 sec . Self-timer can be set to 10 or 2 sec. Aperture ranges from f/3.3 to 8 at the wide-angle end. The camera features Face Detection and it can detect up to eight faces. Shooting modes available are Superior Suto, Intelligent Auto, Program Auto, and Movie. The QX10 accepts a Memory Stick Micro or Micro SD card for storage. Images can be set to be transferred to the connected Smartphone through Wi-Fi immediately after the shot. But you will not be able to capture the second image until the trasfer is complete. So if you want to shoot uninterrupted, then disable the immediate image transfer feature.
Still images are recorded in JPEG format with a maximum pixel dimensions of 4896 x 3672 and videos are recorded in AVC MP4 format at the best quality of 1440 x 1080. You can simultaneousy capture a still image while on movie recording. The QX10 is powered by a DC 3.6V battery (supplied) and can be charged with USB cable. The device weighs approximately 105g with battery and Memory Stick Micro, and has dimensions of 62.4 x 61.8 x33.3 (W x H x D).
Ergonomics
The Sony DSC-QX10 is fun to use and easy to connect. Once it is attached to a Smartphone, it is as comfortable as a compact camera to hold and operate. The fact that you can use it remotely (depending on the strength of the Wi-Fi signal) opens up many fun possibilities like recording funny movies of friends without attracting their attention. Shutter release and zooming can be done either on the QX10 or through the connected Smartphone.
Performance
The DSC-QX10 performed well in our tests. We paired the device with a Sony Xperia Z1 Smartphone. Autofocus was fast and instantaneous even through the Smartphone. It did not have any trouble focussing even under reasonably low light. Images were sharp out of the box. We observed slight moustache distortion till about 50mm equivalent. Since the camera is a point-and-shoot, it controls the aperture, shutter speed, and ISO sensitivity automatically. However, it allows you to control White Balance and apply exposure compensation. So we performed all the tests with the parameters set by the QX10.
Darkening was seen at the corners on one side. This could probably be because the optical elements were not aligned properly in this particular piece that we received. Practically, you are not likely to notice this in everyday images. Auto White Balance performed well in most situations. Slight casts produced were easily removable in post-processing. The QX10 produced images with a native image size of 12.24 x 16.32 inches at 300 ppi. Noise performance was done at ISO 320, which was set by the camera. At this sensitivity, the image appeared noisefree up to 50 percent of the screen size enlargement. Slight noise was observed from 50 percent. The ISO 320 image, though slightly noisy, was usable even at 100 percent view.
Though the QX10 performed well as an extension to a Smartphone, it takes a few seconds to establish the link between the device and the Smartphone. It is slightly faster with NFC compared to Wi-Fi. But once the connection is established, it works flawlessly most of the time unless the Wi-Fi signal is blocked by some element. However, we observed slight lag in case of fast camera movements.
Value for Money
The Sony DSC-QX10 retails at an MRP of Rs.12,990. At this price, the device seems good value for money since it can pair with any Androis or iOS device with Wi-Fi or NFC and transform it into a capable pointand-shoot camera.
SPECIFICATIONS
Sensor Type : ExmorR CMOS sensor
Size : 1/2.3 Type (6.16 x 4.62mm)
Effective Pixels : Approx. 18.2 Million
Lens Type : Sony G
Lens Construction : 9 elements in 7 groups (including 4 aspheric elements)
F Number : f/3.3(W)-5.9(T)
Focal Length : 27.5-275mm equivalent
Focus Range W: Approx. 5cm to infinity
T: Approx.150cm to infinity
Imaging Processor : BIONZ
Image Stabilizer : Optical SteadyShot System
Focus Modes Single-Shot, Touch, Multi-Point
Light Metering : Multi Pattern
Exposure Comp : +/- 2.0 EV, 1/3 EV step
Sensitivity : Auto (ISO100-12800)
White Balance : Auto, Daylight, Shade, Cloudy, Incandescent, Flourescent Shutter
Speed : 4 – 1/1600 sec
Self-Timer : 10sec. / 2sec.
Auto Macro : Yes
Aperture : F3.3-8.0 (W)
Face Detection : Yes
Max. No of : 8
Detectable Faces
Shooting Modes : Superior Auto, Intelligent Auto, Program Auto, Movie
Compatible : Memory Stick Micro, Micro SD Recording Media
Max recorded pixels : 4,896 x 3,672
Movie quality : AVC MP4 – 1,440 X 1,080
Still Image Recording : Yes
during movie
Wi-Fi : Yes
NFC : Yes
Tripod Receptacle : Yes
Power Source : DC3.6V battery (supplied)
USB Charge : Yes
Dimensions : Approx. 62.4mm x 61.8mm x
(W x H x D) 33.3mm
Weight Approx. 105.0g (with Battery and Memory Stick)
VERDICT
The Sony QX10 is quite an innovative product if you consider it as a capability booster for your basic Smartphone. But if you are looking to whip out your Smartphone and shoot on the go, you would be disappointed with the QX10's slow connectivity.
Sujith Gopinath