A lifetime in the forests of the Indian subcontinent is hard to compile into one coffee table book, and retired IFS officer M. N. Jaykumar's photographs and anecdotes intend to do just that. Apart from being a nature and wildlife enthusiast, the author is also an avid photographer. A career in the forest services has given him exposure to some of the rarest and most wonderful sights in the national parks. These are documented in Life in the Jungle: Memoirs of a Forester.
The book begins with some opening words from two of his peers as well as a foreword from Dr. P. J. Dilip Kumar and Anil Kumble. This gives us a glimpse into the author's background.
The book has around 250 images shot across more than 25 national parks in India and Sri Lanka. The vast collection of images in the book consists of a wide variety of mammals, reptiles, and birds. But the most striking images in Life in the Jungle: Memoirs of a Forester Book Review the book are those of the jungle cats. Jayakumar has a knack for capturing just the right moment, and has shot wonderful images of these animals in action, during mating season or just lazing around. The pictures also give perspective about the kind of landscape, vegetation and other conditions that prevail. Apart from being aesthetically pleasing, the photographs are highly informative. Jayakumar also incorporates a few tips for wildlife photographers. There are some images that make you wonder about the story behind them and thankfully, the author's notes and essays about his personal adventures provide that information. There are some rare shots too, such as that of a fruit bat skimming through water.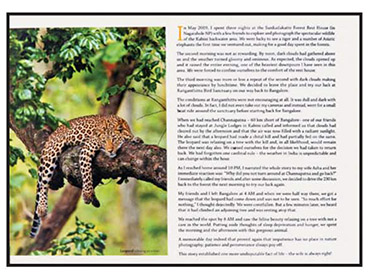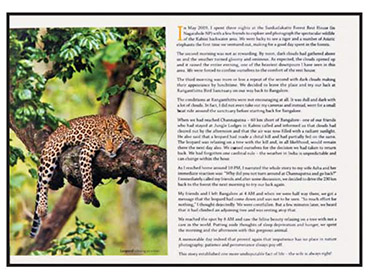 The pictures are exquisitely captured. They are sharp, well composed and highlight the colours of the jungle. Some images are engaging enough to make you linger for a few moments, and the commentary about them adds to the charm. Throughout the pages, M. N. Jayakumar comes across as someone who's love for nature's glory is as deep as his understanding of the subject. As a photographer, he manages to transport the viewer to a world which he may not have access to. He maintains the subject's beauty and delivers images that are worthy of being picture postcards. As a writer, Jayakumar has the ability to answer the inquisitivity that his pictures raise. This book may just inspire you to visit one of the wildlife reserves or national parks, and might even motivate you to do your bit towards protecting and conserving this treasure.
Photographs and text: M.N. Jayakumar
Design and Publication: Krab Media and Marketing Price: Rs. 3,995/-
Reviewed by Tanika Godbole