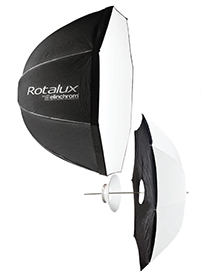 Elinchrom Rotalux Soft Box
Key Features:
Soft box is most useful for product photography, especially bottles and other round reflective items. They be used for portraits and for lighting backgrounds where the size helps avoid light fall-off from top to bottom.
Rotalux soft boxes are lightweight and unlike many other soft boxes, fold down just like an umbrella and can be easily stored in the carrying bag.
Optional hooded diffuser is available to reduce the spread of light.
Available in various sizes dimensions starting from 66 x 66cm to 190 cm.
Umbrella Varistar Set 85 cm & 105 cm:
Key Features:
Elinchrom Varistar Umbrella is a versatile umbrella for indoor and outdoor use and is ideal for industrial, portrait and group photography. This produces even light distribution due to its central positioning over reflector and flash.
21 cm Reflector with Grid Set
Key Features:
Elinchrom Standard Reflector 21cm combines high output with a good spread of light and the included grids help you to control the spread of light and produce sharper shadows.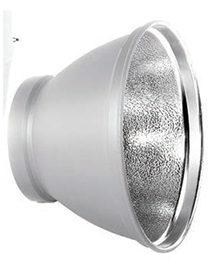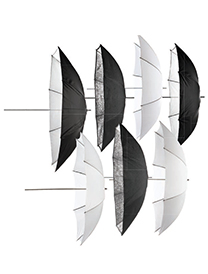 Elinchrom Umbrella 85cm & 105 cm
Key Features:
A premium product range from Elinchrom, the silver umbrella provides a crispy, directional reflected light with sharp contrast, while the translucent umbrella produces softer shadows when light diffuses through it. This is an ideal set to add on to any professional kit.
For best efficiency, we recommend the Umbrella Reflector 16 cm or the Grid Reflector 18 cm to direct the light better into the umbrella.
Elinchrom 44 cm Square Reflector:
Key Features:
This multifunctional Elinchrom Square reflector comes with a honeycomb grid. Put the honeycomb grid in place and you are left with a soft pool of light ideal for all types of portraiture and small still-life subjects. Without the grid, it functions as a soft wide-angle reflector.
Beauty Dish (Maxi Soft / Mini Soft):
Key Features:
Elinchrom beauty dishes are used to produce slightly harder lighting than a soft box and give better definition of facial features. These are perfect for close-up, beauty, and portrait work. The included deflector set modifies the tone and softness. The light can be further softened with the optional shower cap diffuser. A deflector set is free with every Beauty Dish, which is available in gold, silver, frost and translucent color.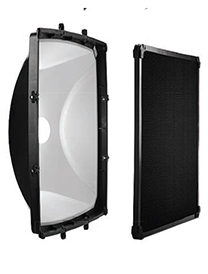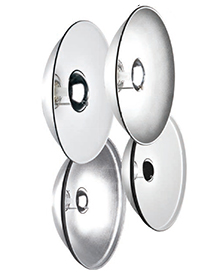 Maxi Soft:
Key Features:
Elinchrom Maxi Soft with 70 cm of dish diameter, is ideal when working further away from the subject, be it beauty or portraiture work. The white finishing offers a softer touch for glamorous images. While the silver gives a crisp image quality. It's included Deflector Set can modify the colour and softness.
Maxi Soft- Grids
Key Features: Elinchrom Grids for Maxi Soft gives the possibility to control precisely the direction and spread of light while offering sharper shadows. It fits perfect on any Maxi soft Reflector 70 cm.
Mini Soft
Key Features: Elinchrom Mini Soft is 44 cm diameter. Ideal for beauty and portrait work. The white finishing offers a softer touch for glamorous images, while the silver gives a crisp image quality. It includes Deflector Set, which can modify the colour and softness.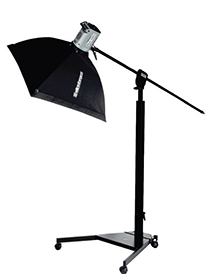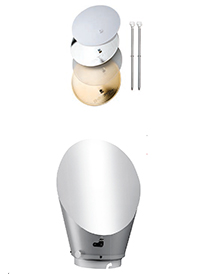 Elinchrom Deflector Set
Key Features:
Elinchrom compacts and flash heads offer the unique centred fitting for umbrellas and deflectors. Deflectors give photographers the freedom to easily modify the hardness or softness of lights. Deflectors, each of 14 cm diameter can eliminate, soften, or tone sharp shadow edges. It is available in gold, silver, frost and translucent colours.
Elinchrom Poly Stand
Key Features:
With the Elinchrom Poly Stand ̶ unique sliding column, and adjustable permanently mounted boom ̶ a head or accessory can be placed as high as 335 cm, or as low as 5 cm from floor level. It even folds flat for transporting.
Background Reflector
Key Features:
for the specific purpose of illuminating backgrounds. It is mounted onto a head and placed on a low-level floor stand. Provides an attractive background illumination, perfect for portrait photography.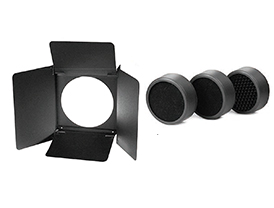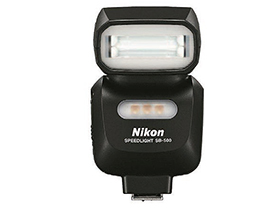 Snoot & Grid Set
Key Features:
A snoot is great for producing small, tight areas of light. Add the grid for a smaller but softer circle which is used for highlighting the background and also as hair light in portrait photography.
Barn door Set
Key Features:
The barn door set with four side flaps enables full control over the spread of light. This makes it an essential accessory for any portrait or modelling photography. Optional 8, 12, 20 and 30 degree grids are available.
Nikon Flashgun SB-500
Key Features:
Compact, lightweight and high-performance LED flash that is perfect for both DX-format and FX-format D-SLRs. The flash head of the SB-500 tilts up to 90° and rotates horizontally 180° to the left and right, reducing unnatural shading. Supports 6 features of Nikon Creative Lighting System — i-TTL mode, Advanced Wireless Lighting, Modeling flash, FV lock, Flash colour information communication, and Auto FP High-speed Sync.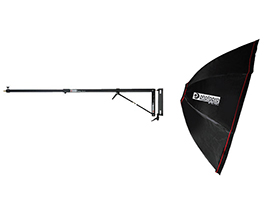 Digitek Speedlite DFL 1000T
Key Features:
• Speedlite with Lithium battery to reduce recycle time
• The same flashgun can be used use on Nikon & Canon TTL systems
• High Speed Sync, 2.4G Wireless Master and 2.4G Wireless Slave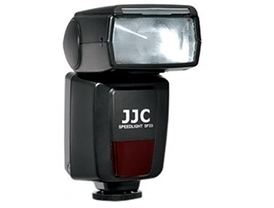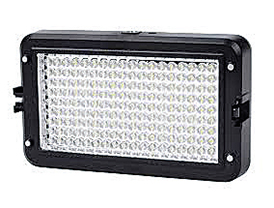 Digital Octa Series Soft Boxes
Key Features:
• Size: 110 x 136 cm
• Double diffuser
• Skin fix
• Fix mount
Photopro Boomer No.6
Key features:
• Can be fixed at three angles on side wall, metal tubes, or brass stud
• Length – max.6 ft., Min. 3.2 ft, Weight – 2.8 kg, 2 (Section) : (034mm, 30mm) Rotation Vertically : 160, Rotation Horizontally : 180, Load of full Extension : 4.5 Kg., Max. Extension : 107cm., Min. Extension : 187cm. (sizes are approx)
• Pro lighting support
JJC Electronic Speedlight SF33
Key Features:
• It is created for softening the light on the subject. In bounce flash photography, use the built-in bounce card to create a highlight in the subject's eyes, making the eyes look more vibrant.
• Flash index : 33, Circuit design: IGBT, Power source: 4 AA alkaline or Ni-MH battery, Battery life: 100-1600 times
• Bounce and Rotating Head
• Diffuser and Reflector
ALLMAN LED Light
Key features:
• Dual temperature cool LED light
• Comes without battery
• Attractive price, efficient performance
• Smart Look
Kenko colour meter KCM-3100
Key Features:
• It has 3 types of displays for balancing light and filtration
• 9 memory channels for customising individual preferences
• Ability to read in either sync or non-sync mode, i.e. without a cord
• CC (Colour-Correction) displays the Kodak filter number(s) of the necessary light-balancing filter(s) to make for easy selection of the required light balancing filter