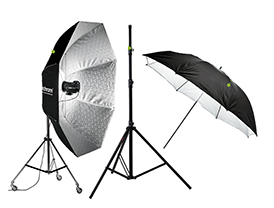 Indirect Light Bank Octa 190 cm
Features:
Super fast to set up, with unique EL folding construction. 360° rotating system. All Indirect Light Banks are supplied with a Carrying Bag. Accepts BXRi or Style RX compact fl ashes, which can be easily controlled with the EL-Skyport Remote and Trigger System. Accepts all Elinchrom Flashheads including the Ranger Quadra Heads, with Adpter Ring 26339
Aluminium tripod
Features:
Th is new air cushioned black aluminium tripod is designed to carry, larger light banks and compact heads up to 396 cm. Th is makes it ideal for studio with high ceilings and whenever a great height is required.
Black & White Umbrella
Features:
Th e white Umbrella is an excellent general- purpose lighting tool with a white, matt refl ective fabric. ELUmbrellas are delivered with a sleeve for transport and protection.
D-Lite RX 4
Features:
The D-Lite RX studio flash system is the entry range of the Elinchrom studio flash family. Whether you are new to lighting, already have speedlights or just want to take your photography to the next level, the D-Lite RX series provides for all your needs.
Ideal for small business applications, portraiture, for anyone interested in the art and creativity of lighting, these Swiss designed and tested units will not only give many years of satisfactory service and pleasure but also allow the upgrade to more advanced units if necessary. The RX4 can take full control of your unit's settings with the ELSkyport App for iPhone, iPad and iPod Touch via the optional WiFi module. Additional features can be found when used with the ELSkyport software such as Flash-Delay for strobing-effects.Visual Flash Confirmation option is available. The modelling lamp comes on to confirm the flash has been triggered. It also has programmable ready beep function with firmware update option.
D-Lite RX ONE
Features:
The D-Lite RX ONE is a small but robust compact flash from Elinchrom. It can be used outside the studio, as a perfect creative companion to an existing Speedlight system, making use of the in-built intelligent slave cell to offer perfect flash synchronisation. Although the versatality of Elinchrom remains in its accesory range, this system has some of the best accessories allowing the photographer to change the nature of their light. It also takes full control of your unit's settings with the EL-Skyport App for iPhone, iPad and iPod Touch via the optional WiFi module. The modelling lamp comes on to confirm the flash has been triggered. It has Automatic temperature controlled ventilation and Power Auto-dump as well. Visual Flash Confirmation option is available
ELC Pro HD 500 and1000
Features:
The ELC Pro HD Compacts 500 and
1000 are the worlds most complete,
feature rich compact studio flash units. ELC combines everything a photographer needs with everything a photographer wants, plus the consistency and reliability that you expect from Elinchrom. Recycling times are lightning fast (0.6s / 1.2s to full power, ELC 500 J. / ELC 1000 J). Furthermore the super fast flash durations (up to 1/5000s / 1/5260s, t0.5, ELC 500 / ELC 1000) enable you to freeze motion like never before.The ELC is the first unit to incorporate an OLED screen that displays every control for the most professional user experience. The ELC features three exciting new shooting modes that will literally change the way you work. Sequence Mode – Allows you to sequentially trigger up to 20 ELC's, in bursts or as a continuous cycle, to utilise the high frame rate of your camera. Delayed Mode – Provides the option of first or second curtain sync and everything in-between. Strobo Mode – Enables you to take a picture with stroboscopic effects within a single frame.
Available at: Photoquip India Ltd.
Contacts: 022 – 61474000
Email id: info@photoquip.com
Website: www.photoquip.com
Broncolor softbox
Features:
The new Broncolor softboxes are used for still life and product photography. The sizes range from 35 x 60 cm up to 120 x 180 cm. Six rectangular and square softboxes, one narrow striplite shaped box and two octaboxes with diameters of 75 and 150 cm are availble. The new compact softbox can also be used without a stand as a hand held chaser light. The special internal coating guarantees optimum efficiency.
Available at : Photonics Enterprise
Contact: +91 9820029063
Website: www.broncolor.com
Kenko Auto Digimeter KFM-1100
Features:
It is used for both flash and ambient light readings – simple, easy-to-use, accurate. The light reading is displayed on the meter's LCD window as both digital and analog data. It has a brightness difference function that can be used to adjust lighting ratios or check for background light uniformity. Very useful for product photography, portraits, etc.
Kenko Color Meter KCM-3100
Features:
It knows the colour temperature before taking a photograph which saves time and money. It also has 3 display modes.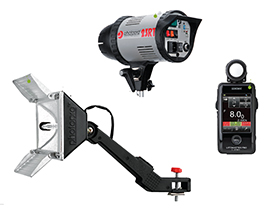 Available at: Kenko-Tokina Imaging India Pvt. Ltd.
Contact: 011-41571155
Mail Id: sales@kenko-tokina.co.in
Website: www.kenko-tokina.co.in
Speedlight SB-910
Features:
The SB-910 is a high-end Speedlight for advanced amateurs and professional photographers. Fully compatible with the Nikon Creative Lighting System.
Speedlight SB-700
Features:
It is well equipped with wireless lighting capability. Also has high-speed recycling time of approximately 2.5 s.
Available at: Nikon COOLPIX & D-SLR Zones
Contact: 1800-102-7346
Mail id: Nindsales@nikon.com
Website: www.Nikon.co.in

Super Diffuse Dome
Features:
It comes with four types of caps which fits on the flash head. For Canon and Nikon flash units.

Allman Manual Flash
Features:
Compatible with all standard hot shoe cameras. Also has stroboscopic and manual flash operations.

Light Shaper
Features:
Suitable for portrait photography for getting top light effect. It is attached to the top of the external flash gun.
Available at: Photosystems India Pvt Ltd
Contact: 9990630710
Mail id: info@photosystemsindia.com
Website: www.photosystemsindia.com

Lucent 35+ RD
Feature:
A professional flash system with sleek all metal body for strength and durabilty with colour corrected flash output and rapid charging circuitry.
Ring & L-Bracket
Feature:
Diffuse your speedlite with softboxes, reflectors, barn-doors etc by mounting ring and L-bracket.
Available at: Hari Singh & Sons
Contact: 91-183-2586114, 2589619
Mail id: info@harisonphoto.com
Website: www.harisonphoto.com
Studio Flash Lights RT23
Features:
Has built in radio trigger. Flash output (w/s) Max.- 250w, Min. – 125w. Half / Full output. Twin-Tech (Double Sensor).
Photopro Video Lights VL-111 (H/F)
Features:
Incorporating new bright and wide refl ector, aerodynamic design with better coverage and control.
Available at: Photosystems India Pvt. Ltd.
Contact: 9990630710
Mail id: info@photopro.in
Website: www.photopro.in
Nissin Flash Gun i40
Features:
Has a selector dial for simple operation, with built–in wide-angle diff user and 180 degrees horizontal rotation and 90 degrees vertical tilt.
Sekonic Light Meter L–478D
Features:
Full LCD panel touch screen, 13 custom settings, 9 measurements with memory + averaging. Designed for digital still / video / cine.

Available at: All Leading Photo Stores
Contact: Marketing Dept., Srishti Digilife Pvt. Ltd.
Mail id: info@srishtidigilife.co.in
Website: www.srishtidigilife.co.in
JJC Electronic Speedlight SF33
Features:
Th e built-in bounce card creates a highlight in the subject's eyes, making the eyes look natural.
Available at: Angel Foto
Contact: 022-22612298
Mail id: ashokrawat@gmail.com
Website: www.bigtrends.in