Lights! Camera! Travel! is a coffee table book by paediatric surgeon Dr. Harsh Wardhan. Dr. Harsh Wardhan practices at Max Health Care, Maharaja Agrasen Hospital and Sunder Lal Jain Hospital in north-west Delhi.
As a child, he was never interested in photography and he did not even own a camera during his medical
college days. During his honeymoon to Goa, he borrowed a Nikon FM2 but it wasn't until the birth of his eldest daughter that he was bitten by the  photography bug.
Dr. Harsh Wardhan has one more passion – to travel. During one of his sojourns to Adelaide in Australia, he met and photographed none other than the great cricketing legend – Sir Don Bradman. This was a great vacation for him because other than photographing Don, he also travelled to various other places in Australia and took many pictures. His friends admired his work and this motivated him further. Then there was no going back; his love for photography and travel had blossomed! Dr. Harsh Wardhan's photographs have been published in several magazines and newspapers.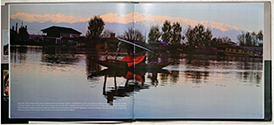 The content of the coffee-table book is divided into several sections: Preface, Nature, People, Festivals, Wildlife and Monuments. The Preface talks about himself and his passion for photography, whereas the other sections have photographs of the theme in question, along with interesting quotes from well-known people. Dr. Harsh Wardhan is also a good writer and a philosopher. Every section has its introduction and he educates us with the history of the places he has covered.
The 289-page book has several good travel photographs, and well, some that would have improved by judicial  use of an image editing program. Some of the images seem to have been shot at the wrong time of the day when the light is not favourable for photography. The layout of the book leaves empty spaces that detract from the main images, but this is definitely a good effort. On the whole, the work by the doctor is creditable and if you disregard my captious remarks, you will surely enjoy the images. |SP
For copies of the book, you may contact Dr. Harsh Wardhan at: haarshwardhan@gmail.com
— By Rohinton Mehta