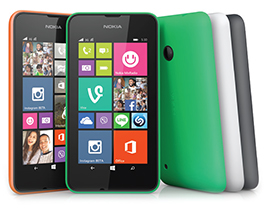 Microsoft Devices launched the Lumia 530 Dual SIM, the most affordable Lumia to date, in India. The Smartphone will be available in stores at a best buy price of Rs.7,349 starting August 14th, 2014.
The new Lumia 530 features the latest version of Windows Phone 8.1, including one swipe notifications from Action Center, and the fast Word Flow keyboard. It makes use of a powerful quad-core Qualcomm Snapdragon processor, a 4-inch LCD display and seamless integration with Microsoft services such as Skype and Microsoft Office. The phone offers signature Lumia apps such as Creative Studio and Glam Me. The phone has 4GB in-built memory (expandable with SD cards up to 128GB) and an additional 15GB of free cloud storage on Microsoft OneDrive that lets people sync, store, access and share files between Lumia 530 and computers, laptops and Tablets.
"The affordable Smartphone segment is growing exponentially, driven primarily by youth who are constantly looking out for Smartphones with power packed features at affordable prices. We, at Microsoft Devices, are committed towards helping people experience the uncompromised technologies and services that we offer on our Lumia devices. Lumia 530 builds on the legacy and success of Lumia 520 and will help us consolidate our position in this segment further," said Viral Oza, Director-Marketing, Nokia India, a subsidiary of Microsoft Mobiles Oy.
"With its innovative design, the latest Windows Phone 8.1 and signature Lumia experiences, the Lumia 530 3G Dual SIM is the perfect device for those who are looking for a distinctive Smartphone," he added.