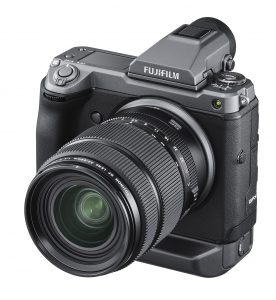 Fujifilm India Private Limited, a pioneer in imaging technologies, announced the launch of latest innovation breakthrough in India, the FUJIFILM GFX100 mirrorless digital camera ("GFX100") incorporating an image sensor with the world's highest 102 million pixels resolution and unique color reproduction technology to achieve the world-leading image quality. The event saw the presence of Mr. Haruto Iwata, Managing Director, Fujifilm India Pvt Ltd., Mr. Dabboo Ratnani, Celebrity and Fashion Photographer and International Editorial, Commercial and Corporate Photographer Mr. Zack Arias.
The GFX100 is a flagship model of the GFX Series of mirrorless digital cameras, which have won strong praise from professional photographers and photo enthusiasts alike for the use of a large image sensor, boasting approximately 1.7 times the size of the 35mm full-frame sensor. Among digital cameras equipped with a sensor larger than the 35mm full-frame format, this is the world's first model that offers (1) a back-illuminated sensor with phase detection pixels, (2) in-body image stabilization (IBIS) mechanism and (3) 4K/30P video recording capability. The innovative mirrorless digital camera fulfills photography's intrinsic mission of "capturing and recording precious moments that are never to be repeated again." Launched in India on 16th of July 2019, the camera will be available at a price of INR 7,86,999/-.
On this occasion, the Optical Devices Division of FUJIFILM also unveiled the new "Premista" series of cinema zoom lenses. These lenses support large-format sensors and deliver outstanding high resolution, beautiful bokeh and rich gradation with HDR (high dynamic range). The Premista Series brings out the maximum capability of large format sensors, which is increasingly being adopted into cinema camera, to provide robust support for high-quality video production. The Premista 28-100mm T2.9 will be available in August 2019 at a price of USD 38,800 and the Premista 80-250mm T2.9-3.5 will be available later this year at a price of USD 39,800.