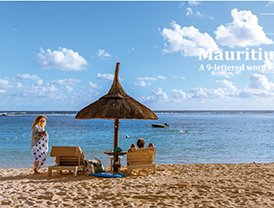 Recently, Mauritius Tourism had invited me to visit the Island nation. Though it was my third visit there, this week-long visit left a life-long impression. I am privileged to share the experience with you. Since it was a packed fun-filled itinerary, the story is being shared in two parts. Here's Part-I of my Mauritius story!
— Ajay Sood (Travelure)
The van was speeding down a perfectly tarred dual carriageway. We were doing 100 kmph and the lush green sugarcane plantations seemed to be travelling with us. On the horizon, the sky was a striking shade of electric blue. Soon, we made a turn and the greens of sugarcane fields gave way to myriad hues of unending ocean.
The van windows were down and the air felt invigorating and, well… clean! It had just been a few minutes since we stepped out of Sir Seewoosagur Ramgoolam International Airport, and yet, the closed confines of the aircraft were already a thing of distant past.
Soon, we reached our hotel – Shanti Maurice. Its entrance and the driveway were nondescript. But as soon as we reached its lobby, the magic of the property started to unravel and it reached its zenith once I checked in and reached my room.
The French window opened straight on to the beach. Soon I realised that since the hotel was at the southern tip of the island, the beach offered glorious view of both – sunrise as well as sunset!
After a relaxing massage in Nira Spa, the lazy evening that followed was made special by some exotic Mauritian home-brewed infusion rums and rumcocktails, served in Shanti Maurice's signature restaurant – Rum Shed.
Our next morning took us to La Vanille Reserve des Mascareignes – a crocodile park that also houses giant tortoises and iguanas. These giant tortoises were once plentiful in Mauritius but were driven to the verge of extinction as sailors hunted them in hordes. This park is engaged in a laudable effort of saving them from total extinction. Some of these tortoises residing here are over a hundred year old!
We took pictures with baby crocodiles, giant tortoises and colourful-yetmenacing- looking iguanas. The park had multiple enclosures that helped segregate the species and also provided a friendly habitat for them to thrive.
An interesting private collection of butterflies, beetles, bugs and spiders by Mauritian scientist, Jacques Siedlecki, also resides here. This is a result of a 30-year labour of love and has on display some of the rarest species of butterflies and bugs! Interestingly, the restaurant here serves crocodile dishes!
We had our lunch at La Vallee Des Couleurs Nature Park. Spread over hundreds of hectares, this nature park boasts of a hilly terrain and scenic waterfalls. It offers a wide range of leisure activities for the visitors.
We experienced the thrill of zipping down the thirdlongest zip line in the world – a 1.5 kms long wonder! The view from here was breath-taking – while it passes over a stretch that has the 23-coloured sand (remains of volcanic lava), the view included some other spectacles like the scenic waterfalls, the lush green estate and the deep blue Indian Ocean on the horizon!
Later, we climbed on to the quad-bikes. A short beginner lesson followed and soon, we went vrooming around on these powerful hunks! The terrain was rugged and we were still unfamiliar with the maneouvrability of these machines. That added hugely to the adrenaline flow and also contributed to some amount of fear-factor! Overall, this ride was sheer thrill!
Day 3. It was time to move from south to east. We checked out of Shanti Maurice and carried our bags in our van as we were to check into Radisson Blu later in the day! It was the day when our bags would roam around with us!
Our first stop was Casela Nature and Leisure Park. While the name betrayed little, the adventure we were in for was huge. We started by entering an enclosure of lions. Under strict attendant supervision, we patted the lions here and got our pictures taken with these graceful creatures!