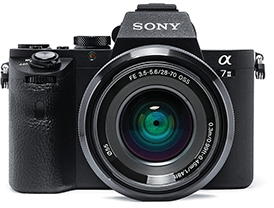 Sony Alpha Full Frame cameras have been an instant hit from the time they were announced. Recently Sony upgraded the Apha 7 camera with a few useful improvements. The new camera features a 5-axis in-body Image Stabilisation, improved autofocus and processing algorithms, and some design modifi cations to improve the handling of the camera, though the other features remain more or less the same.
Design and Build Quality
The Sony Alpha 7 II improves on certain design aspects. The new camera's front panel is made of magnesium alloy, instead of engineering plastic, which was the case in the Alpha 7. The 7 II has a deeper grip and the buttons have been repositioned. The front command dial has been moved to the upper part of the grip instead of the slanting portion on top of it. This slanting surface now hosts the shutter release button-power lever combo. The free space created on the top panel by this rearrangement, has been utilised for an additional custom (shortcut) button. The back panel remains more or less identical, the only difference being a small command dial in place of a tall cylindrical one.
Key Features
The Alpha 7 II has some very signifi cant refi nements. Let us see the key similarities and differences between the Alpha 7 and Alpha 7 II (Highlight indicates advantage).
The Alpha 7 II uses the same basic hardware that powers the Alpha 7. A major improvement is the in-body sensor-shift Image Stabilisation, which corrects camera shake along five axes. Usually Image Stabilisation systems correct vertical and horizontal shift ing of the camera as well as vertical and horizontal tilting of the lens. But the Alpha 7 II introduces a rotation correction feature along the lens axis, which can be explained as clockwise or anti-clockwise rotation of the camera. Though there is less chance for this type of motion in still image shooting, it is particularly useful in motion picture recording, where image capture occurs over a long duration. Sony claim that the new stabilisation system allows you to shoot at 4.5 stops lower Shutter Speeds than a camera that does not have image stabilisation. Being an in-body mechanism, this allows any non-stabilised lens to perform like one with optical stabilisation.
The Alpha 7 II uses the same 24.3 megapixel Full Frame (35.8×23.9mm) "Exmor" CMOS sensor and Bionz X processor featured in the Alpha 7. It accepts Sony E-mount lenses only (other lenses can be used without AF and exposure coupling). It features an anti-dust system consisting of charge protection coating on optical filter and image sensor shift mechanism to shake off dust particles. Still images are recorded in JPEG or Raw (Sony ARW 2.3 format) with the option to record both simultaneously, while videos are recorded in XAVC S, AVCHD, and MP4 formats. Support for XAVC S codec is another addition to the Alpha 7. This allows the Alpha 7 II to record videos at a bit rate of 50 Mbps. Another addition is the S-Log2 gamma that retains the full dynamic range in videos to provide flexibility during post production. The Alpha 7 II also allows you to record a shareable MP4 file simultaneously with the full resolution file.
The camera provides a maximum image size of 6000 x 4000 pixels and JPEGs can be recorded with Extra Fine, Fine, or Standard compression. The best video quality that can be achieved is 1920 x 1080 (Full HD, 60p, 50M), at approx. 50Mbps . The camera uses a Memory Stick PRO Duo/ PRO-HG Duo/XC-HG Duo or SD/SDHC/SDXC memory card (UHS-I compliant) for storage.
White Balance options include Auto, Daylight, Shade, Cloudy, Incandescent, Fluorescent (Warm White/ Cool White/ Day White/ Daylight), Flash, Underwater, Colour Temperature & Colour filter, and Custom. Auto White Balance micro adjustment is available. The Alpha 7 II uses a Fast Hybrid AF that combines phase-detection and contrast-detection. Th ere are 117 points for phase-detection AF and 25 points for contrast-detection AF. Autofocus modes include AF-S (Single-shot AF), AF-C ( Continuous AF), DMF (Direct Manual Focus), and Manual Focus. Th e camera uses 1200-zone metering system with Multi-segment, Centre-weighted, and Spot metering modes. Exposure can be compensated up to +/- 5.0EV in 1/3 or 1/2 EV. Shooting modes include AUTO (iAuto/Superior Auto), Programmed AE (P), Aperture priority(A), Shutter-speed priority(S), Manual(M), Movie, Sweep Panorama, and Scene Selection. Scene Selection modes are Portrait, Sports Action, Macro, Landscape, Sunset, Night Scene, Hand-held Twilight, Night Portrait, and Anti Motion Blur. ISO sensitivity ranges from ISO 100 to 25,600 equivalent, which can be expanded up to ISO 50. The camera uses an electronically-controlled, vertical-traverse, focal-plane shutter providing shutter speeds from 30 to 1/8000 sec along with Bulb option. Flash Sync. speed is up to 1/250 sec. You can use a Sony α system external flash compatible with multi interface shoe.
The Alpha 7 II uses a 0.5-inch, 2,359,296-dot electronic viewfi nder with digital level gauge and histogram. The monitor is a 3.0- inch, 1,228,800-dot TFT LCD that provides Zebra, Peaking MF, Marker Display (Centre/Aspect/ Safety Zone/Guideframe), and Grid Line (Rule of 3rds Grid/ Square Grid/Diag. + Square Grid/ Off ) options. The Face Detection system can detect up to eight faces. Other features include Auto Object Framing and Smile Shutter. Drive modes include Single, Continuous (Hi/Lo selectable), Self-timer (10/2 sec delay selectable), Self-timer (with 10 sec delay 3/5 frames selectable), and Bracket. The Alpha 7 II can shoot continuously at up to 5 fps in full resolution. You can record up to 50 JPEG Extra fine (L) or 25 Raw images continuously.
The camera features Wi-Fi and NFC along with HDMI micro connector (Type-D), BRAVIA Sync(Control for HDMI), PhotoTV HD, 4K Still  Image PB, 3.5 mm Stereo mini jack, Headphone terminal and vertical grip connector. The Alpha 7 II is powered by one rechargeable battery pack NP-FW50. The camera body weighs approximately 599 g with battery and Memory Stick PRO Duo, and has dimensions of 126.9 x 95.7 x 59.7 mm.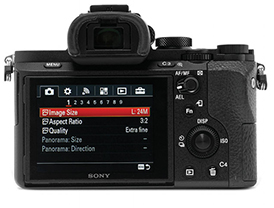 Ergonomics
The Alpha 7 II's refi nements in design greatly enhances user comfort. The shutter release and power lever are now within the reach of the index finger, and so is the front command dial. The addition of one more custom button (takes the total to four) makes it faster to change the settings. You can set the 11 available buttons to any of the 56 custom functions listed in the menu. The movie button is still positioned at a rather inconvenient space just outside the reach of the thumb, probably to prevent accidental operation, and we dare not complain. The EVF is better than many cameras in the market, but is certainly not the best we have seen. We observed jaggies at the edges of subjects in low light.
Performance
Being an upgrade to Alpha 7, the Alpha 7 II can only be better, and it sure is. We received the Alpha 7 II along with the Sony FE 28-70mm f/3.5-5.6 OSS lens, which features Optical Steady Shot image stabilisaton. Autofocus was fast and precise even under reasonably low light. Since the Lens featured Image Stabilisation, we could not individually verify the stabilisation effect of the in-body Steady Shot. However, the combination provided about 4.5 stops advantage. At 70mm focal length, I could shoot handheld with up to 1/4 sec shutter speed without image getting shaky, which is roughly 4.5 stops. Though this is not strictly a scientific test, we hope this will provide a fair idea of how good the feature is.
The Alpha 7 II produced images with
native print size of 20 x 13.33 inches at 300 ppi. Viewed at 25 percent, images appeared absolutely noisefree up to ISO 3200. We could spot a tinge of noise at ISO 6400, but only on deliberately looking for it. The images were usable throughout the entire ISO range. Enlarged to 50 percent, we observed very slight noise at ISO 3200, but it starts to bother only from ISO 12,800 onwards. Viewed at 100 percent, the images were absolutely noise-free up to ISO 400, and usable up to ISO 1600. On the Auto White Balance front, the 7 II produced slight reddish cast under most lighting situations, but please note that all the White Balance modes can be tweaked along two axes to suit your requirement. It would be wise to invest some time in fine-tuning this, or removingthe cast in post-processing. All metering modes performed well. Though the camera is mirrorless, the shutter sound is quite audible and Sony does not provide any option to soften it. Video recording too was perfect without any glitches. You might want to switch to manual focus during movie recording since autofocus is fast and the sudden change in focus could look unnatural in some cases.
The camera-lens combination produced excellent sharpness. We obtained the sharpest images at the wider side of apertures, though we were unable to pinpoint the sweet spot. We did not observe any distortion in the images. The lens produced slight darkening of corners at the wide-angle end at wide-open
aperture, but you will hardly notice this is daily images. Heavy flare and ghosting were observed in strong against-the-light shots at the wideangle end with the lens wide open, along with purple fringing. These are essentially lens-related properties, and hence a superior lens will provide better results.
Value for Money
The Alpha 7 II body retails at an MRP of Rs.134,990. For a fair comparison, the Alpha 7 was launched at Rs.114,990, though it has dropped to Rs.94,990. Taking a cue from this, we can safely assume that the prices will settle down in a few months and this will reduce the gap between the pricing. However, it is but natural that you pay a higher price for a product with some significant improvements. We would consider this good value for money.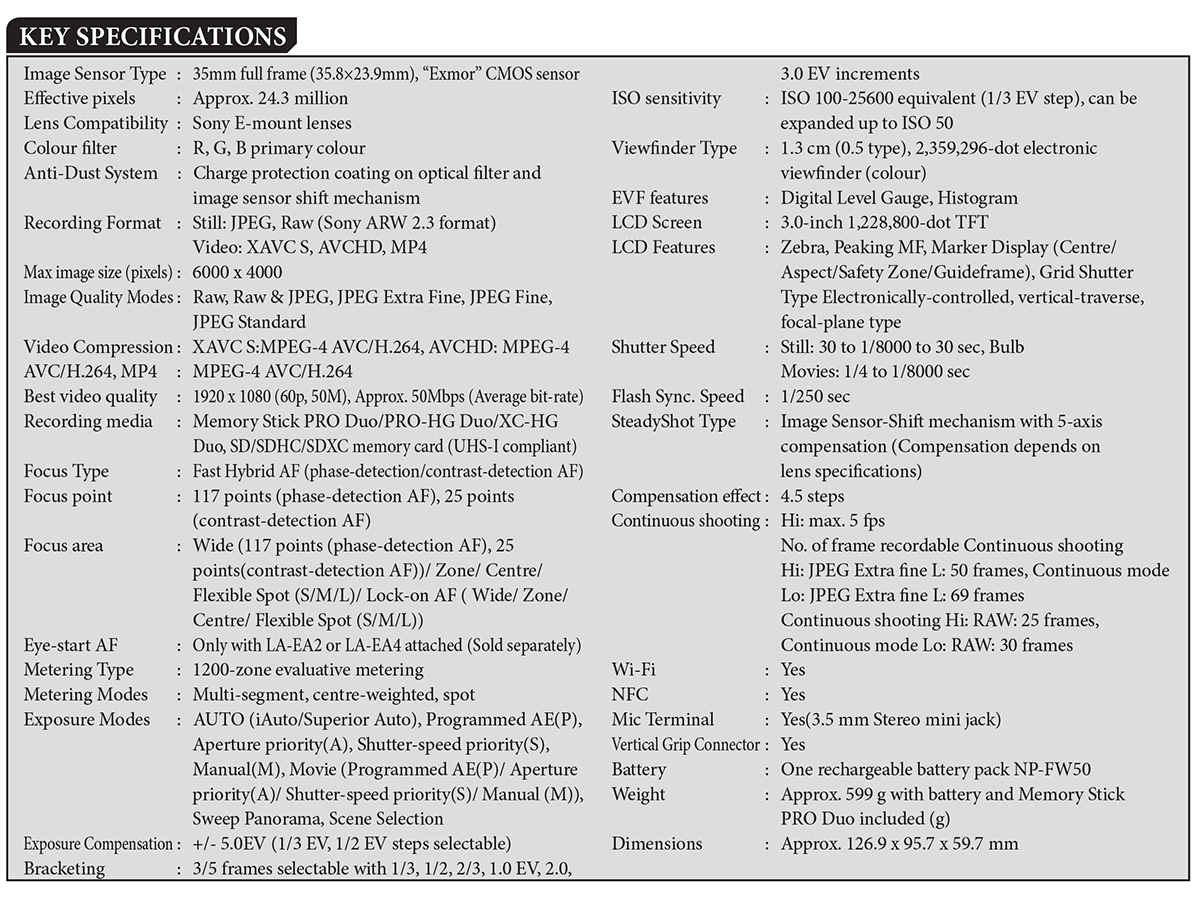 PLUS
• 5-axis incamera Image Stabilisation
• Improved handling
• Additional shortcut button
• Excellent noise control
• Superior sharpnes
• In-built WiFi and NFC
MINUS
• Cast under Auto White Balance
• EVF could have been better
FINAL SCORE                                           87%
Design and Build Quality                           19/20
Key Features                                            18/20
Ergonomics                                               18/20
Performance
Autofocus                                                     4/5
Metering                                                       4/5
Noise Control                                              4.5/5
Sharpness                                                   4.5/5
LCD/EVF                                                        4/5
Auto W/B                                                        3/5
Sub-Total                                                      24/30
Value for Money                                                8/10
VERDICT
The Sony Alpha 7 II carries some much required improvements over the Alpha 7. The in-body 5-axis image stabilization system provides a clear advantage, and so does the ergonomic rearrangement of controls. The Alpha system has come of age with the regular addition of Full Frame lenses. Compared to Full Frame D-SLRs, this camera is compact and lightweight, though not comparable to smaller sensor interchangeable lens mirrorless cameras. This is certainly a Best Buy.
Sujith Gopinath