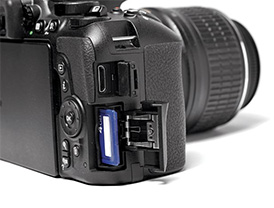 Ergonomics
The D5600 has a deep grip with a textured rubber lining, which allows for superior handling. The thumb rest is also large and rubberised. There is only one command dial, which is accessible with your thumb. All controls are well within reach. A fully articulated LCD expands the possibility to explore various perspectives. The body is light and easy
to carry around.
Performance
We received the D5600 along with the 18-55mm kit lens. The camera focussed fast enough even with this slow lens, and the system locked on to the subject even under low light. Autofocus points light up on achieving focus. The metering modes performed as expected. Out-of-the-box JPEG images were sharp, though the kit lens delivered soft images close to 55mm end.
The viewfinder is nothing to be proud of except that it does the job well. Images appeared crisp on the LCD.
The camera reproduced noisefree images up to ISO 800, and the images were usable up to ISO 6400 at reasonable enlargements. Auto White Balance reproduced images with trueto- life colours under natural light. Any minimal cast produced under artificial light sources were easily removable in post processing. Videos appeared punchy.
Value for Money
The D5600 body retails at an MRP of Rs.53,450, while the basic kit with AF-P 18-55mm VR lens carries a price tag of Rs.58,950. An increase of Rs.6000 for the addition of BlueTooth and NFC does not seem to be a great idea. |SP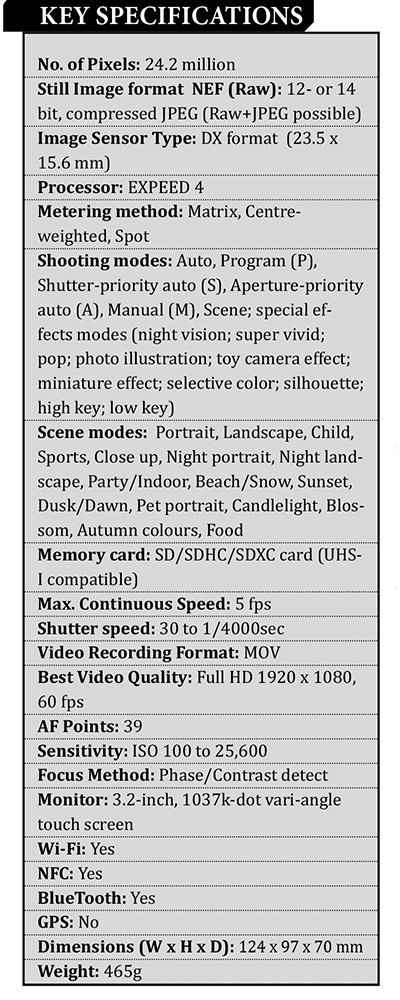 FINAL SCORE                                                           73%
Design and Build Quality                                16/20
Key Features                                                        15/20
Ergonomics                                                          15/20
Performance
Autofocus                                                                       3/5
Metering                                                                         5/5
Noise Control                                                                 3/5
Sharpness                                                                       3/5
LCD/EVF                                                                       4/5
Auto WB                                                                        4/5
Sub-Total                                                             22/30
Value for Money                                                 5/10
PLUS
• NFC
• Bluetooth
• SnapBridge connectivity
MINUS
• Only modest upgrade to D5500
VERDICT
If you are looking for a new camera, the Nikon D5600 might interest you, but if you can compromise on Bluetooth and NFC, the D5500 will serve you well. In fact, this will leave you with additional money to buy the basic kit lens. If you are tempted by SnapBridge connectivity, this also seems patchy according to reports.
Sujith Gopinath