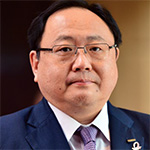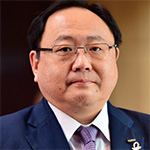 Of the five film making companies (Agfa, Fujifilm, Kodak, Konica and Orwo), only one could survive the digital holocaust. Not only did Fujifilm survive, it even became a much stronger company with interests in medical equipment, pharmaceuticals, graphic arts and imaging products. The successful turnaround of Fujifilm makes for a compelling business school study. Mr. Hoshang S. Billimoria, CEO of Next Gen Publishing Pvt. Ltd. and Editor, Smart Photography, had the pleasure of interviewing Mr. Yasunobu Nishiyama, MD, Fujifilm India Pvt. Ltd. at his Gurgaon office. Here is an excerpt from the discussions…
Nishiyama San has had a longstanding association with Fujifilm which dates back to the year 1989. Prior to taking up the role in India, he worked in the same capacity in Fujifilm Malaysia from 2011 to 2014. He was also the head of the Photo Imaging Business for the APAC region. He played a pivotal role in successfully launching the Instax Brand in Malaysia/APAC and is now looking to replicate the phenomenal popularity of the series in India.
With a Bachelor's degree in Law, Nishiyama San is committed to creating a company that can successfully contribute to society through sustainable growth. Leveraging his position to this end, he also aims to cultivate a culture for photography amongst young students in India.
I must start with congratulating Fujifilm for making such a successful transition from film making to making cameras of high quality, both mirrorless and medium format. What do you attribute this success to?
Ever since our entry into the Indian market, it has been our constant endeavor to provide world class products that best suit the requirements of the Indian market.
Our Image Capturing division has launched a number of products since 2016 including the Instax series and the X-Series which have both gained much popularity globally and the company hopes to gain the same acceptance for these products in India as well. The Instax cameras are known for their instant photo system and is best suited for the Indian market, particularly B2C for youth, family and children and in B2B for the wedding market considering how wedding photography has evolved in India with instant photos becoming a rage.
India is witnessing a fast economic growth; under this circumstance we are focussing on expanding strategic key products – Instax and X-series in the Image Capturing division. We believe in our products and are confident of their acceptance in the Indian market. It is this belief that has helped us gain our partners' trust in us.
We are witnessing a promising future for ourselves in the Indian market. We have various new initiatives and products in the pipeline that will help us achieve greater ground in the Indian market in the future as well.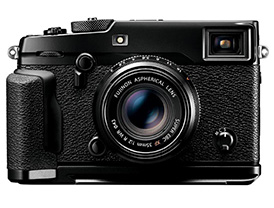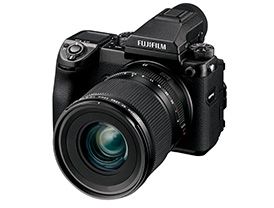 With new and successful cameras like the X-T2 and the X-Pro2, do you think that the gap between D-SLRs and mirrorless cameras has narrowed particularly in the areas of autofocus, speed and accuracy?
D-SLR and Mirrorless systems are two different technologies. The Mirrorless has got its own advantages being a compact, lightweight and smart device which can capture great detail even in low light condition.
With the new series of high performance cameras as the XT2 and the X-Pro2, the photographers shall find good option to shoot with, and fulfill most of their needs, getting rid of extra bulk and weight. The cameras, specially the XT2 and XPro2, are great for candid shots and for wedding documentary shooters, as these give sharp details and excellent colours even in low-light. The XT2 supporting the 4K movie shooting makes it a choice for wedding cinematographers and documentary shooters as well.
What according to you is the future of mirrorless cameras? Will mirrorless take over from D-SLRs completely over a period of time?
Back in the day most photographers were faced with the decision of either choosing between a compact digital camera which was small and portable with low image quality or a D-SLR which was bigger and heavier but gave high image quality. Now with the introduction of mirrorless cameras, consumers have an option where they can obtain high-quality images in a more compact body.
In the global market, mirrorless cameras have already made a space of their own and we see a lot of potential for this technology in India as well.
Since the release of the Fujica Six IA in 1948, Fujifilm has contributed to the popularisation of high performance cameras. In 2011, Fujifilm released the X-series, which is now the most widely accepted mirrorless camera worldwide. In India too, the mirrorless camera segment has been growing continuously which is the reason why we see so much scope in the mirrorless camera market.
For mirrorless cameras to takeover D-SLRs, there are several things that mirrorless manufacturers need to focus on. Number one is speed, to attract sports photographers. Also viewfinder blackout, we need to innovate there.
Maybe one more processor and sensor generation should be enough to make mirrorless beat D-SLRs in every respect.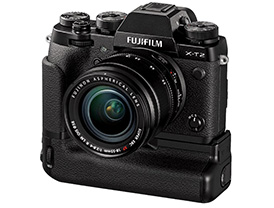 Your GFX-50S medium format looks like a specialist niche product. Do you still think that professional photographers will prefer this format for work other than fashion work?
The Fujifilm GFX 50S is the world's first medium format mirrorless camera which has gained much appreciation worldwide. It uses a 51.4MP medium format CMOS sensor with a Bayer filter array. Like its smaller sensor X-series siblings, it offers retro-styling and direct controls in a surprisingly lightweightand very well-balanced mirrorless body.
We do see a much wider potential audience for the GFX 50S which will definitely find its way into the hands of commercial shooters working in fashion, portraiture or landscape because of its ergonomic experience that is coupled with a large sensor capable of the beautiful "Fujifilm" colour renditions.
We believe that it's a product that can be used for varied purposes as it comes equipped with the latest X-Processor Pro, the same imaging chip found on Fujifilm's flagship X-Pro2 and X-T2 cameras.
GFX 50s is a new entrant in the medium format segment with a 43.8mm x 32.9mm huge sensor size supporting 51.4MP, which ensures very high quality images with supreme detailing, required for serious commercial work.
GFX 50s will be used for shooting of advertisements, fashion, automobile, big prints for bill-boards and hoardings, publishing works, and anywhere where extremely high quality images are required.
What is Fujifilm's strategy for 2017 and onwards?
We have been in the Indian market for years now and we are overjoyed to share that all our products have been well appreciated by our customers. As the camera business is flourishing in Indian market, for the year 2017-18 we will continue to bring in technologically advanced and true value devices in India.
Our target for FY 2017 is to achieve double growth for which we need to focus on 'aggressive and strong top and bottom line performance' to achieve double digit growth.
We are planning to launch many new products in the coming few months in India under our flagship Instax and X-Series brand.
Can we see Fujifilm becoming more aggressive in the Indian market in future?
Ever since our entry into the Indian market, it has been our constant endeavor to provide world class products that best suit the requirements of the Indian consumers. We have very aggressive plans to expand our Image Capturing Division along with our other various divisions.
India is definitely an important market for Fujifilm. As we continue to chart our business roadmap in India, we believe that even in 2017 we will dominate customers' minds with our robust pipeline of products while continuing to spearhead new trends that empower the imaging industry.
We still have a long road ahead of us and we will continue to strive to achieve innovative results swiftly. |SP
"Maybe one more processor and sensor generation should be enough to make mirrorless beat D-SLRs in every respect."