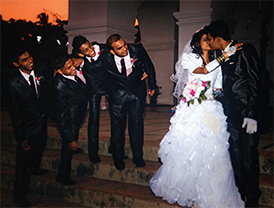 Image: Rosario Fernandes, Second Prize
Mumbai Photographers Association, in association with Sony India and Colo Colour Lab, celebrated the World Photography Day at Manik Sabhagraha in Bandra (West), Mumbai. In a fullday event, lectures and demonstrations were given on photography, video, lighting, camera technology, pre-wedding shoots, wedding documentaries and motivation by wellknown photographers Girish Mistry, Veer Puranik, Tushar Chowdhary, Vishal Panjabi and Jagdish Joshi to a house-pack audience. Sony India also displayed their latest D-SLR cameras and lenses, broadcast quality video cameras and 4K Bravia TV. A photo competition was also held on the theme 'Wedding Moments'. Eighty members took part in the competition and 160 entries were received. The awards were instituted by Sony India Pvt Ltd and Shari Academy. The first three winners and their prizes were:
Image: Manoj G. Musale, First Prize                     Image: Sujeet Mhatre, Third Prize
Manoj G. Musale: Sony A77 II with DT 18-135mm f/3.5-5.6 SAM lens; Speed Light HVL-F60M
Rosario Fernandes: Sony A58 with DT 18-135+mm f/3.5-5.6 SAM lens; Speed Light HVL-F43M
Sujeet Mhatre: Sony A58 with DT 18-135mm f/3.5-5.6 SAM lens Ten consolation prizes were also awarded and the winners were given a free entry to a 4-day workshop to be conducted by Girish Mistry of Shari Academy. The entries were judged by Girish Mistry, Dean, Shari Academy and Rohinton Mehta, Technical Editor, Smart Photography.