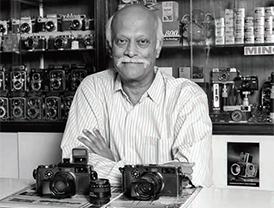 I am known as 'Kakubhai' to my friends, family, associates and customers. My first trite with a camera was in 1955, when I was 14 years old. My father, who was a dealer in photo goods, had come to our native place with a Agfa Clack camera, which is a German camera and not to be confused with Agfa Click camera which was made in India for the local market. So, in 1955, I took my first pictures with the Agfa Clack.
In 1958, when I came to Mumbai and joined the Poddar College for my commerce graduation, in the very irst year, our college trip was arranged to Delhi and Kashmir. At Delhi, one of the places to visit was the Kutub Minar. At that time, visitors were allowed to go to the highest point on the tower. When others were taking pictures of the Kutub Minar from the ground, I took a few shots of the shadow cast by the Kutub Minar along with a few other visitors, from the top. This picture was selected as our college entry from the Mumbai University and won the 1st prize. It was a great satisfaction that I could take some unusual pictures.
For our trip to Kashmir, my father had given me a Twin Lens Reflex (TLR) camera which was imported by our firm, under the brand name of Chelicoflex. (In those days, official imports were permitted and if you ordered some minimum number of cameras from the Japanese manufacturers, the branding was as per the choice of the importer. Around 1957, the free import was stopped).
After completing my education in 1965, (I did my Masters of Commerce and graduation in Law), tried attending my cousin's office for some 1.5 years, but I just could not get on with it. I told my father that I would like to join the family business. So in 1967, I started attending to our family business – a shop known as Advent at Opera House in Mumbai. Its here that I realised that this was something I loved. Since we were dealers in photo goods, most of our customers were either function photographers, or advanced amateurs. This is when I started taking interest in reading photo magazines like Modern Photography and Popular Photography which provided us every month with news about the new developments and technologies in photography. Due to this I was conversant with what was happening worldwide in the field of photography. This also helped me to interact knowledgeably with the advanced photographers and professionals who came to us for their requirements of photo goods.
My favourite camera around 1970 was a Asahi Pentax Spotmatic – the first camera with interchangeable lenses and TTL (Through The Lens) metering. In 1981, we had a family trip to Ladakh, when I carried with me a Nikon FE camera. This camera was very interesting; it had a center-weighted average metering. Those were the days f colour slides and the Nikon FE gave me excellent results.
To get acquainted to different cameras, I always fired off a few frames from every camera that was sold through us. This helped to understand and also discuss the finer points of the new cameras with our customers. I can say that there was no camera, whether 35mm or medium format, with which I was not conversant.
In 1998, I went to Kenya and Tanzania along with my friends. This time, on a friend's advice, I bought a Canon EOS 3 and subsequently bought the EOS 5, along with a Tamron 200-400mm. On my return from Africa, I was requested by the newly formed association of professional photographers to give a slide show of my Africa tour images, which was highly appreciated by one and all. The members convinced me that I had something in me – the ability to take these kind of pictures. This further sparked my interest in wildlife photography and I started visiting the Indian wildlife sanctuaries, predominantly, tiger reserves. I have lost count of how many reserves I have visited! I continued going to either Masai Mara or Serengeti every second year. So far I have been there about 9 times.
In the year 2000, Hasselblad, which make pro medium format cameras, came out with a very special 35mm  panoramic format model called the X-Pan. This camera has changed my life; the format design eliminated my need for super wide-angle lenses with its 1:2.7 image ratio. I bought one more X-Pan body along with all the three lenses designed for this model (30, 45 and 90mm). This camera model was not designed for wildlife, but I shot many rolls with it and sent some pictures to Hasselblad. They could not believe that someone could use the X-Pan for wildlife photography. They also published my pictures with an article about me as a photo goods dealer and a wildlife photographer in their in-house magazine called 'Forum' – a great feeling of recognition and pleasure.
When digital came in, my first digital SLR was a Canon EOS 5D, which I subsequently upgraded to 5D Mark III, along with the professional 1D Mark IV. The lenses were a Fisheye, 16-35mm f/2.8, 24-105mm, 70-200mm f/2.8, 300mm f/4 and 500mm f/4. Since most of my lenses are image stabilised, it's been a pleasure for me to take pictures without being stuck to a tripod! All my images have always been hand-held. My images have been dispayed at photo-fairs every alternate year and I have had 6 to 7 huge exhibitions of my images which have been loved by one and all who visit these fairs. My photographic journey still continues. |SP