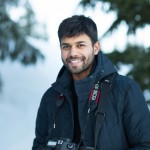 Saksham Gangwar is a San Francisco-based photographer and outdoor enthusiast. On weekdays he works on cutting-edge cloud applications. On weekends though, he embraces the nature and goes hiking down dirt trails to glimpse pristine wilderness.
His camera is his constant companion while exploring the natural wonders, from the blue glacier pools of Alaska to the ocean-side cliffs of California.
Saksham is originally from the spiritual capital of India, Varanasi. He spent his childhood around the majestic ghats of the city, exploring the distinctiveness and diversity of sacred-scapes and the associated rituals.
It is this city that taught him to observe, interact and learn from visual artists from around the world paying homage to the resident divine.
Follow his journey around the globe: www.instagram.com/sakshamgangwar
—By Unnati Sagar