Sony has always been a master of audio and video devices and had an unchallenged reign for a very long time. From Wega flat screen TVs to Bravia LCDs, Sony products dominated the audio-visual sphere tll the late 90's. Now Sony has incorporated the premium display features in a Smartphone that is waterproof, dustproof and incorporates a 20-megapixel camera.
Design and Build Quality
Th e Sony Xperia Z1 has a rugged, yet stylish construction. The Smartphone New Clear Submarine! is protected by a one-piece aluminium frame running around its perimeter. The device can endure most tough conditions to which a Smartphone is likely to get exposed. With an Ingress Protection rating of IP55/58, it is waterproof and dust resistant. This essentially means that the device is dust resistant and waterproof up to a depth of 1.5 meters for up to 30 minutes when all the covers for the micro USB port, the micro SIM slot and the memory card slot are firmly closed. This is very important since a Smartphone's touchscreen is likely to catch dirt and grime very easily. Though we did not test the Z1 in extreme conditions, we successfully washed the phone with water a couple of times and never had any problem. The Z1 has magnetic pins to connect it to a Sony magnetic charging dock. The front and back of the device is craft ed with 'durable tempered glass', as Sony calls it. But we found that the glass gets easily scratched, necessitating screen guards for both the sides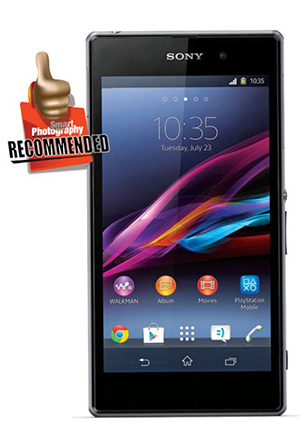 Key Features
Th e Xperia Z1 runs on Android 4.2.2 ( Jelly Bean). The device uses a 2.2- GHz Qualcomm Snapdradon 800 (MSM8974) Quad Core processor, combined with an Adreno 330 GPU. It uses a 5-inch Full HD Triluminos Display with X-Reality for mobile. Triluminos can display a wider spectrum of colours compared to traditional displays, thereby reproducing images in closeto-natural colours and enhancing the pant pocket, unless you decide to use a flip cover for fear of scratches. If you consider it as a phablet and not a regular Smartphone, you will certainly appreciate the form factor and size. The display can be easily viewed even in bright sunlight. If you generally complain about the small size of buttons and keyboard, especially whle playing games, the Xperia Z1 can give you a break from this. The camera has a dedicated shutter release-cumautofocus button, which is better than the touch screen autofocus. We did not receive a headphone in the kit.
Performance
As the tagline for Sony goes, this is, without doubt, the best of Sony in a Smartphone. With a powerful processor and highly desirable features, the device was a pleasure to use even while using memory-hogging applications and games. Display quality is excellent and so is the sound. Battery life was good and would last a full day with moderate usage when Stamina mode was enabled. With heavy usage though, (playing Dungeon Hunter and Asphalt 7), the Z1 would heat up uncontrollably, presumably due to the aggressive weather sealing, which does not leave a vent for the heat. The camera leaves much to be desired. It does not have optical zoom or optical image stabilisation, which are becoming standard in premium Smartphones. Image quality was average. Native image size was 17.49 x 13.12 inches at 300ppi. At ISO 100, images were usable even at 100 percent magnification. Even ISO 200 can be used at lower magnifications. We did not put the camera through our regular stringent tests since we thought it unnecessary. The camera will come handy for quick snapshots in daylight. With some image processing skill, you can still create beautiful images.
Value for Money
The Sony Xperia Z1 retails at an MRP of Rs. 44,990, though the street price is somewhere around Rs.40,000. At this price, the device seems competitively
SPECIFICATIONS
Kye Specifications
Operating system : Google Android 4.2.2 ( Jelly Bean)
Processor : 2.2 GHz Qualcomm Snapdragon 800 (MSM8974) Quad Core
GPU : Adreno 330
Screen : 5-inch Full HD TRILUMINOS Display with X-Reality for mobile
Main screen
Colours : 16,777,216 colour TFT
Resolution : 1920×1080 pixels
Size (diagonal) : 5.0 inches
Input mechanisms
Text input : On-screen QWERTY keyboard
Touch screen : Capacitive
Touch gesture : Yes – multi-touch, up to 10 fingers
supported
Memory
RAM :2 GB
Flash memory : Up to 16 GB Total (Actual free
memory may vary due to phone pre-configuration)
Expansion slot : microSD card, up to 64 GB (SDXC supported)
Camera Features
Effective Pixels : 20.7 million
Sensor : 1/2.3-inch Type (6.16 x 4.62mm)
Exmor RS for mobile
Lens : Sony G 27mm equivalent f/2.0
Optical Zoom : No
Processor : BIONZ for mobile
Photo light : Yes – Pulsed LED
Video recording : Yes – HD 1080p
Front Camera : Yes – HD 1080p for video chat and
2 MP for camera capture
Other Features : Autofocus, Burst mode, HDR for photos and movies, Face detection, Flash/Pulsed LED, Flash/Photo light, Front-facing camera (2 MP 1080p), Geotagging, HD video recording (1080p), Object tracking, Picture Effect, Quick Launch, Red-eye reduction, Scene recognition, Self-timer, Send to web, Smile Shutter, Superior Auto, Sweep Panorama, Touch capture, Touch focus
Sensors
Accelerometer : Yes
Proximity sensor : Yes
Ambient light sensor : Yes
Magnetometer : Yes
Gyroscope : Yes
VERDICT
The Sony Xperia Z1 is one of the best Smartphones available in the market. The dust and waterproof body makes it all the more attractive. But if you are looking for a Smartphone for photography, there are better options.
Sujith Gopinath