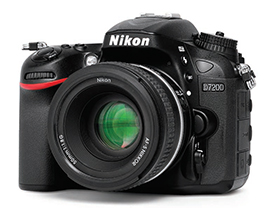 The D7200 sports some signifiicant improvements over the D7100, which make it the DX falagship
The Nikon D7100 has ruled the cropped sensor space for about two years since it was introduced in early 2013, and it was due for a replacement, going by the fast pace at which things move at present. Nikon has introduced the D7200, which sports a 24.1-megapixel sensor without Optical Low Pass Filter, and improved AF system, higher ISO options, increased buff er, better video mode, and built-in Wi-Fi with NFC.
Design and Build Quality
Th e D7200 is built sturdy with a magnesium alloy chassis, finished with polycarbonate moulding at some parts. The camera looks identical to the 7100. The 7200 has a fixed LCD screen and dual SD card slots. The lens mount supports old 'screwdriver type' AF system in addition to the latest electronic contacts.
Key Features
The 24 megapixel Nikon D7200 uses a DX format (23.5mm, x15.6mm) CMOS sensor and features image sensor cleaning and image dust off reference data (Capture NX-D soft ware required). This is yet another model without the Optical Low Pass Filter (OLPF). It accepts Nikon F mount lenses and features AF coupling and AF contacts on the mount. The camera uses a Type B BriteView Clear Matte Mark II focussing screen with AF area brackets (framing grid can also be displayed). The instant return lens aperture system is compatible with AF NIKKOR lenses, including type G, E, and D lenses (some restrictions apply to PC lenses) and DX lenses, AI-P NIKKOR lenses, and non-CPU AI lenses (A and M modes only). The electronic rangefinder can be used with lenses that have a maximum aperture of f/5.6 or faster and the central focus point supports lenses that have a maximum aperture of f/8 or faster.
The camera uses Nikon Advanced Multi- CAM 3500 II autofocus sensor module with TTL phase detection, fine-tuning, 51 focus points including 15 cross-type sensors of which one sensor supports f/8. Lens servo options are Single (AF-S), Continuous (AF-C), Auto AF-S/AF-C selection (AF-A), and Manual focus (M). The 7200 has 51 AF point. AF area options are Single-point, 9, 21, or 51-point dynamic-area AF, 3D-tracking, and auto-area AF.
The D7200 uses TTL exposure metering using 2016-pixel RGB sensor and the metering methods available are Matrix, Centre-weighted and Spot. 3D colour matrix metering II is available with type G, E, and D lenses, while colour matrix metering II is activated with all other CPU lenses. Colour matrix metering II can be used with non-CPU lenses if user provides lens data. Centreweighted metering provides weight of approximately 75% to 8 mm circle in the centre of the frame. Diameter of the circle can be changed to 6, 10, or 13 mm, or weighting can be based on average of entire frame. In Spot metering, the camera meters a circle with diameter of about 3.5 mm (about 2.5% of frame) centred on selected focus point (on centre focus point when non-CPU lens is used). The camera uses an eye-level pentaprism single-lens reflex viewfinder with approximately 100 percent frame coverage.
Still images are recorded in NEF (Raw) or JPEG format at a maximum resolution of 6000 x 4000 pixels, while videos are captured in MOV format with the highest quality of 1920 x 1080 at 60p, 50p, 30p, 25p, 24p bit rate. In NEF format, colourdepth can be set to 12 or 14 bit, while JPEG images can be compressed at fine, normal, or basic rates. Videos are compressed using H.264/ MPEG-4 Advanced Video Coding with Linear PCM for audio. Th e camera features an electronically-controlled vertical-travel focal-plane shutter providing shutter speeds from 30 to 1/8000s in addition to bulb, time, and X250 (which allows you directly set the shutter speed to the X-sync speed). The builtin flash has an X-sync speed of 1/250s, but it can synchronise even at 1/320s, compromising on the fl ash range. Shooting modes include S (single frame), CL (continuous low speed), CH (continuous high speed), Q (quiet shutter-release), Selftimer, and MUP (mirror up). The maximum burst speed is 6 fps at maximum resolution. Self-timer can be set from 2 to 20s. Exposure can be compensated up to +/-5EV in steps of 1/3 or 1/2EV.
ISO sensitivity can be changed from ISO100 to 25,600, in steps of 1/3 or 1/2EV. In addition to these, the camera includes ISO 51,200 and 102,400 which are activated only in Black and White mode. Active D-Lighting can be set to Auto, Extra high, High, Normal, Low, and Off . Shooting modes available are Auto, Scene, Special effects, Programmed auto with flexible program (P), Shutterpriority (S), Aperture-priority (A), Manual (M), and User settings (U1, U2). Scene modes include Portrait, Landscape, Child, Sports, Close up, Night portrait, Night landscape, Party/indoor, Beach/snow, Sunset, Dusk/dawn, Pet portrait, Candlelight, Blossom, Autumn colours, and Food. Special effects modes are Night vision, Colour sketch, Miniature effect, Selective colour, Silhouette, High key, and Low key. White Balance options available are Auto (2 types), Incandescent, Fluorescent (7 types), Direct sunlight, Flash, Cloudy, Shade, Preset manual (up to 6 values can be stored, spot white balance measurement available during live view), Colour temperature (2500 K–10,000 K). White Balance fine tuning is available in all modes.
Built-in flash has a Guide Number of approximately 12m at ISO 100. The camera controls flash output via iTTL method. Flash modes include Auto, Auto with red-eye reduction, Auto slow sync, Auto slow sync with red-eye reduction, Fill-flash, Red-eye reduction, Slow sync, Slow sync with Red-eye reduction, Rearcurtain with Slow sync, Rear-curtain sync, Off. The flash supports Auto FP High-Speed Sync. Flash output can be compensated up to -3 to +1 EV in steps of 1/3 or 1/2 EV. The camera also features an ISO 518 accessory shoe (hot-shoe) with sync and data contacts and safety lock. The D7200 features Live View option. Live View provides Single-servo (AF-S), full-time servo AF (AF-F), and Manual focus (M) options and the AF area can be set to Face-priority, Widearea, Normal-area, or Subject-tracking. It uses contrast-detect AF. Metering is TTL exposure using the main image sensor, and you can use Matrix or Centreweighted metering methods during Live View.
The camera accepts SD/SDHC (UHS-I compliant)/SDXC (UHS-I compliant) for storage, and it has two card slots. The second slot can be used for overflow or backup storage or as separate storage of copies created using NEF+JPEG. Images can also be copied between cards. With built-in Wi-Fi and NFC, you can easily connect the camera with your smartphone or other Wi-Fi enabled device, control it and transfer files wirelessly. The D7200 is powered by an EN-EL15 rechargeable Li-ion battery. The camera measures approximately 135.5 x106.5 x76mm (W x H x D) and weighs 765g with battery and memory card.
KEY SPECIFICATIONS
Image sensor: Nikon DX format (23.5mm,x15.6mm) CMOS
Effective pixels: 24.2million
Lens mount: Nikon F mount (with AF coupling and AF contacts)
Dust-reduction system: Image sensor cleaning, Image Dust Off reference data (Capture NX-D software required)
Max. Image size (pixels): 6000, x4000
File format: NEF (RAW): 12 or 14 bit, lossless compressed or compressed, JPEG (fine, normal, or basic)
Storage media: SD, SDHC (UHS-I compliant), SDXC (UHS-I compliant)
Card slots: 2 (Slot 2 can be used for overflow or backup storage or for separate storage of copies created using NEF+JPEG; pictures can be copied between cards)
Viewfinder: Eye-level pentaprism
Monitor: 3.2-inch, 1229K dot TFT
Shutter type: Electronically-controlled vertical-travel focal-plane shutter
Shutter speed: 30 to 1/8000s, in steps of 1/3 or 1/2 EV, bulb, time, X250
Flash sync speed: X=1/250s (synchronizes at 1/320 s or slower, but flash range drops between 1/250 and 1/320 s)
Video File format: MOV
Built-in WiFi: Yes
Power source: One EN-EL15 Li-ion battery
Dimensions (W x H x D): Approx.135.5, x106.5, x76mm
Weight: Approx.765g, with battery and card