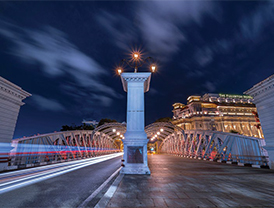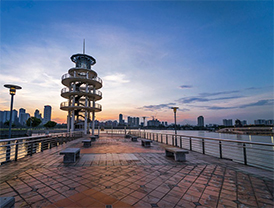 From here, one can head to the the Suntec City Mall, to view and photograph the Fountain of Wealth, which was listed as the largest fountain in the Guinness book of world records in 1998. The moment someone mentions nightlife in Singapore, one place that comes to mind is Clark Quay. With ample restaurants and nightclubs, Clark Quay is a party hub. As a photographer, one can spend some quality time capturing trails of the boats on the Singapore river.
At a walking distance from Clark Quay, there is the Raffles place, which also offers good night shots of the bridges in its vicinity. The Anderson Bridge and the Cavenagh Bridge are two of the most captured bridges in the area.
Spread across an area of 7 hectares, the Kalang Riverside Park flanks both sides of the Kalang river and is a go to destination for water sports. For photographers, it presents a great location for sunsets and long exposure shots. Another popular location by the Kalang river is the Singapore Indoor stadium and its surrounding areas. The pedestrian bridge and the deserted Tanjong Rhu Restaurant during sunset offers a great setting for that perfect shot.
A personal favourite is the Raffles Marina Lighthouse or Johor Straits Lighthouse, located on the far west of Singapore. From the lighthouse premises, one can clearly see the causeway bridge at Tuas, which crosses over to Johor Bahru in Malaysia. It is located on the outskirts of the city, but can be clubbed with a visit to the Jurong Bird Park and the Chinese Gardens. The twin pagodas at the Chinese gardens presents an amazing view of the sunset. Popular for fishing, the Changi boardwalk is listed as one of the best destinations to capture sunsets in Singapore. The boardwalk is a 2.2 km stretch and connects the Changi beach club to the Changi ferry terminal. The walk presents some great views of the sunset, specially at the sunset point close to the Changi beach club.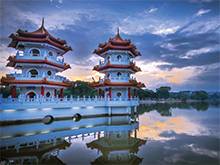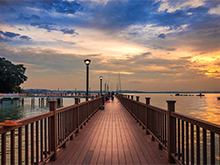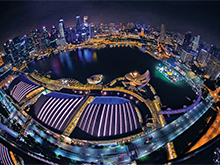 Another popular destination for capturing sunsets is the Henderson Bridge. The wave-shaped bridge provides ample photographic opportunities, at any time of the day, but at sunset, the magenta hues in the sky provide the perfect setting for that pictureperfect shot.
Wildlife, landscapes and natural vistas have been the eternal favourites of photographers. However, the sheer spectacle that a man-made forest like Singapore offers, more so during night-time, is often overlooked. Singapore provides all the ingredients for a perfect photographic recipe – vibrance, colour, light and spectacle. All that is needed is a keen eye and an eagerness to explore. |SP