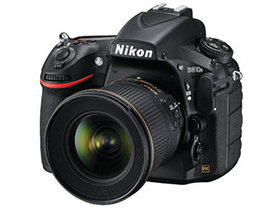 On February 10, 2015, Nikon India announced the Nikon D810A, the world's first camera built specifi cally for astrophotographers. The D810A can capture astronomical subjects that emit the H-alpha wavelengths of light such as  nebulae and other distant galaxies in red.
The camera has a 36 MP FXformat CMOS sensor without an Optical Low Pass Filter and off ers features such as longer exposures in low-light conditions with minimal noise, and a live view preview function which helps in planning the best shots. The ISO sensitivity ranges from ISO 200 to 12800 and can be decreased to Lo 1 (ISO 100 equivalent), or increased up to Hi 2 (ISO 51200 equivalent) to suit a variety of environments. With the special long exposure manual (M*) mode, shutter speed can be set up to 900 seconds. The D810A has a highdefi nition LCD display with the ability to enlarge live view images up to approximately 23 times. It is weather resistant and offers a comprehensive seal against dust and water droplets. The Nikon D810A will be available by late May 2015
On the announcement, Mr. Hiroshi Takashina, Managing Director, Nikon India Pvt. Ltd. said, "Nikon is always up for a challenge and empowering astrophotographers with a dedicated camera of unprecedented image quality was one intriguing task. We are thrilled to announce the launch of Nikon D810A, a class-leading, high-defi nition D-SLR that will bring astrophotographers one step closer to capturing the majestic vastness and beauty of space while off ering them a new perspective in stunning detail."
"The Nikon D810A has been designed keeping in mind the obstacles that astrophotographers face. It is a result of an amalgamation of advanced imaging technology and suite of outstanding features. Nikon D810A is a 36.3 MP camera craft ed with the unique ability to capture subjects with H-alpha wavelengths, ensuring rich vibrant images of the cosmos that are true to the eye," said Mr. Sajjan Kumar, Vice President – Imaging Division, Nikon India Pvt. Ltd.