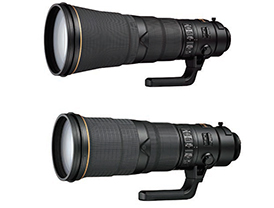 Nikon Corporation has taken the wraps off of its new slim ultra telephoto zoom lens. Due to the use of fluorite lens and magnesium alloy for the lens barrel, photographers will not have to face the issue of the lens being too bulky. The AF-S Nikkor 500mm f/4E FL ED VR is lighter than the AF-S Nikkor 600mm f/4E FL ED VR by nearly 20%.
The combination of the flourite lens and the ED lens helps in correcting colour abberation. The flouric coating also ensures that fingerprint marks are easily wiped out. The incorporation of the nano-crystal coating reduces ghosting and the flare effects. The VR offers an equivalent of a 4-stop advantage in shutter speed.
Fast-moving subjects like tennis and football players can be captured with ease due to the sports photo mode.
Both the lenses are constructed with 16 elements in 12 groups. The suggested retail prices are 1,200,000 yen for AF-S Nikkor 500mm lens and 1,475,000 yen for AF-S Nikkor 600mm lens.
The company has also launched the AF-S Nikkor 16-80mm f/2.8E ED VR—a 5x zoom lens—for the DX format D-SLR cameras. Its suggested retail price is 125,000 yen. The lens is constructed with 17 elements in 13 groups.