Distortion
The Canon EF 40mm F/2.8, Fujinon Super EBC 35mm F/1.4 XF R and the Panasonic Lumix 20mm
f/1.7 exhibited almost nil to negligible barrel distortion; the rest – the Canon EF 50mm F/1.8 II,
AF S Nikkor 35mm F/1.8G, AF S Nikkor 50mm F/1.4G and the AF S Nikkor 50mm F/1.8G – showed distinct barrel distortion.
Flare and Chromatic Aberration
Flare was very well controlled on both the Canon lenses, whereas all the other lenses exhibited strong flare in images that included a bright sun.
We did not notice any chromatic aberration (CA) on images from the Canon 40mm. Prominent magenta fringing was noticed on images from the Canon 50mm f/1.8 and AF S Nikkor 35mm F/1.8G; the other 4 lenses –Fujinon Super EBC 35mm F/1.4, Panasonic Lumix 20mm F/1.7, AF S Nikkor 50mm F/1.4G and the AF S Nikkor 50mm F/1.8G – exhibited slight magenta fringing.
Sharpness
The sharpness test provided mixed results. A well-flattened newspaper was stuck to a wall and photographed from about 6-7 feet away. Pictures were shot at all the available apertures and the optimum aperture was noted for each lens. Finally, the images with the optimum apertures were compared for maximum sharpness at the
center of the frame. It's obvious that corner sharpness would not match the centre sharpness but corner sharpness (for flat subjects) also depends on various parameters like the aperture used, sensor size, aspect ratio, and the diffraction caused by using very narrow apertures. Finally, pictures of 3-dimensional objects were shot at f/16 using studio flash. Why at f/16? Simply because the studio is not large enough to set the lights far away from the object to use wider apertures. Also because the studio lights are not connected to a power-bank (which can control the output).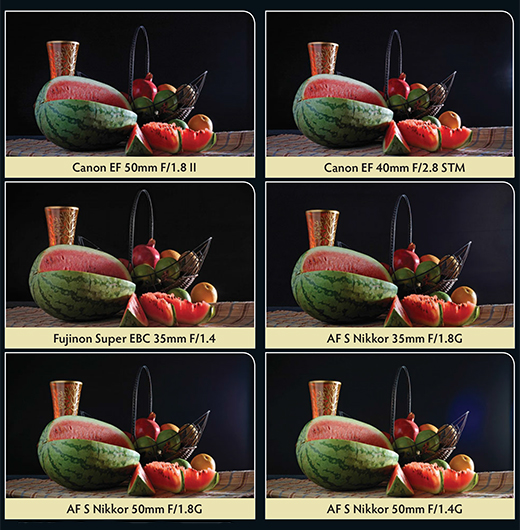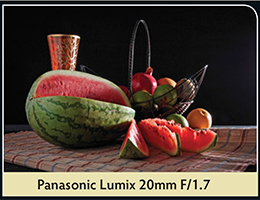 All the lenses exhibited good to excellent performance. The ranking depended on the parameter under which we tested the sharpness of the lens. As far as centre sharpness was concerned, the Fujinon lens performed the best at an aperture of f/5.6. It was followed by the Nikon 50mm f/1.8 at f/4 and Nikon 50mm f/1.8 at f/5.6. Under studio flash, at a fixed aperture of f/16, the Canon 40mm performed the best, followed by the Canon 50mm f/1.8 and Panasonic 20mm f/1.7.
Value for Money
The MRP on these lenses ranged from Rs.8000/- to nearly Rs.35,000/-. However, the variation in performance between them was not as marked as the variation in prices. The two Canons, the Nikkor 50mm f/1.8 G and the Panasonic 20mm f/1.7 were obviously much better value for
money than the others.
VERDICT
There was not a single dud lens in the shootout. Accordingly, we would be happy to give all the
lenses a recommended tag. Considering the respective prices, the Canon 50mm f/1.8 II, the
Canon 40mm f/2.8 STM and the Panasonic Lumix 20mm f/1.7 qualify for the best price tag.
Rohinton Mehta