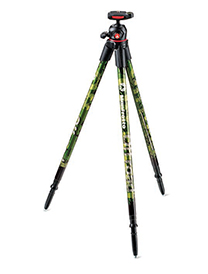 Manfrotto has introduced a series of new tripods called the "Off road" series. These are designed especially for hikers and mountaineers. In fact, Manfrotto engineered these in collaboration with Fizan Italy, a very famous outdoor goods manufacturer. The tripod has a metallic green finish (red and blue colours are also available). It is made in Italy and true to its Italian heritage, it is very handsome to look at.
This tripod is light as a feather (a shade less than 1.5 lbs./ 0.65b kgs, almost unbelievable) but can withstand rough and tough conditions. It can comfortably hold a mirrorless or a small sized D-SLR with a kit lens. Most parts can be easily removed and cleaned. So, you need not worry if your tripod takes a dip in the slush.
The tripod does not have a center column. Before you give it thumbs down, remember that the legs are easily extendable. There are no external locks. You just have to twist a leg section, pull it down and twist in the opposite direction to lock it. The leg sections have scales on them (we are seeing this for the first time). So, it is easy to adjust all the legs to a specific length.
However, pulling a leg (section) too much (pun intended) can get you into trouble! You are not supposed to pull the section beyond the "Stop" marking. If you do so, the leg section will get detached. This is a design feature to allow easy cleaning. You can of course, reinsert the detaced leg section easily. The legs have spiked feet made of stainless steel to dig into soft soil. In case you want to use the tripod on hard surfaces, you can use the rubber "boots" supplied.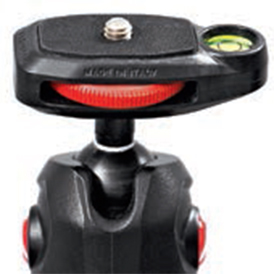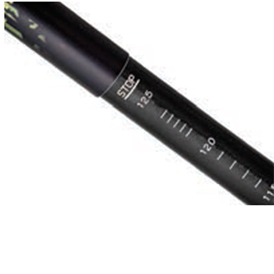 The tripod comes with a very good ball head and has a unique screw system called 'quick wheel'. While this is not as fast a QR clamp, it is certainly faster than any other way of fixing the camera. A bubble level is also included. The tripod is a little short even when fully extended but that might have been a design decision to get the required lightness and to satisfy other design parameters. To conclude, this is a super lightweight tripod which is rugged. It is made for people for whom every gram counts and for those who want to travel really light. It satisfies that niche market admirably.
The tripod is currently available from the Manfrotto retailers. The MRP is Rs. 9,977/- |SP
Ashok Kandimalla