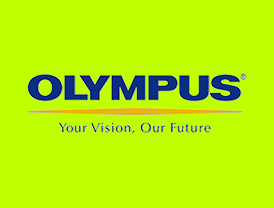 Olympus Corp. reported that their net profit for the first half of fiscal 2014, ending on September 30, turned black to 22.3 billion Yen from a loss of 7.9 billion from the previous year. This was due o favourable sales of medical equipment, mainly endoscopes, which made up for the ailing Imaging Division.
Sales of the Imaging Division fell to 40.1 billion Yen with an operating loss of 4.6 billion Yen. Compact camera sales of 22 billion Yen (up by 38%) could not make up for the declining sales of point-and-shoot models of 10.8 billion Yen, a drastic 107% decline. The company revised the division's latter half-year outlook to sales of 49.9 billion Yen and an operating loss of 2.9 billion Yen. The company expects to sell 34.3 billion Yen worth of compact system cameras and 15.6 billion Yen for all-in-one digital cameras. Operating loss would be 2.9 billion Yen, shrinking from the 6.5 billion Yen loss compared to the previous year.
The Imaging segment's revenue for the entire year is estimated to be 90 billion Yen, with 630,000 units of compact system cameras and 800,000 units of the all-inone variety.