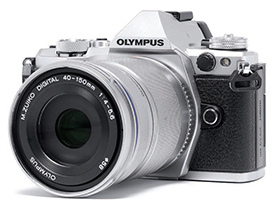 Olympus India Imaging launched the 16 megapixel OM-D EM-5 Mark II on 19th March 2015 in Mumbai. The new model is a replacement for the tried and tested OM-D EM-5. Olympus claim that they have improved the image stabilization system which was already considered to be the best (in the EM-5), not only for 'stills' but also for video. Added to this is a new feature that offers an output equivalent to 40 megapixels (JPEG), 64 megapixel (Raw). Various other improvements are on off er. Let's put the new baby through our gruelling tests…
Design & Build Quality
In two words, very good! Those who owned the OM-1 film camera will surely feel nostalgic about the EM-5 II. The outer body is made with engineering plastic and magnesium alloy. A nice hand grip on the right assures a positive grip. Some users, especially those with large hands, and those used to chunky, heavy D-SLRs may find the body rather small. Th e body is made in Vietnam and weighs approximately 469 g with the battery and memory card.
Key Features
The EM-5 Mark II is a feature-filled camera and mentioning all of them here is beyond the scope of this review. However, we shall see the key features and compare the Mark II with the earlier model.
Highlighting denotes advantage. Th ough the earlier model has 12 presets for White Balance, personally I don't see the 7 presets in the Mark II as a step backward.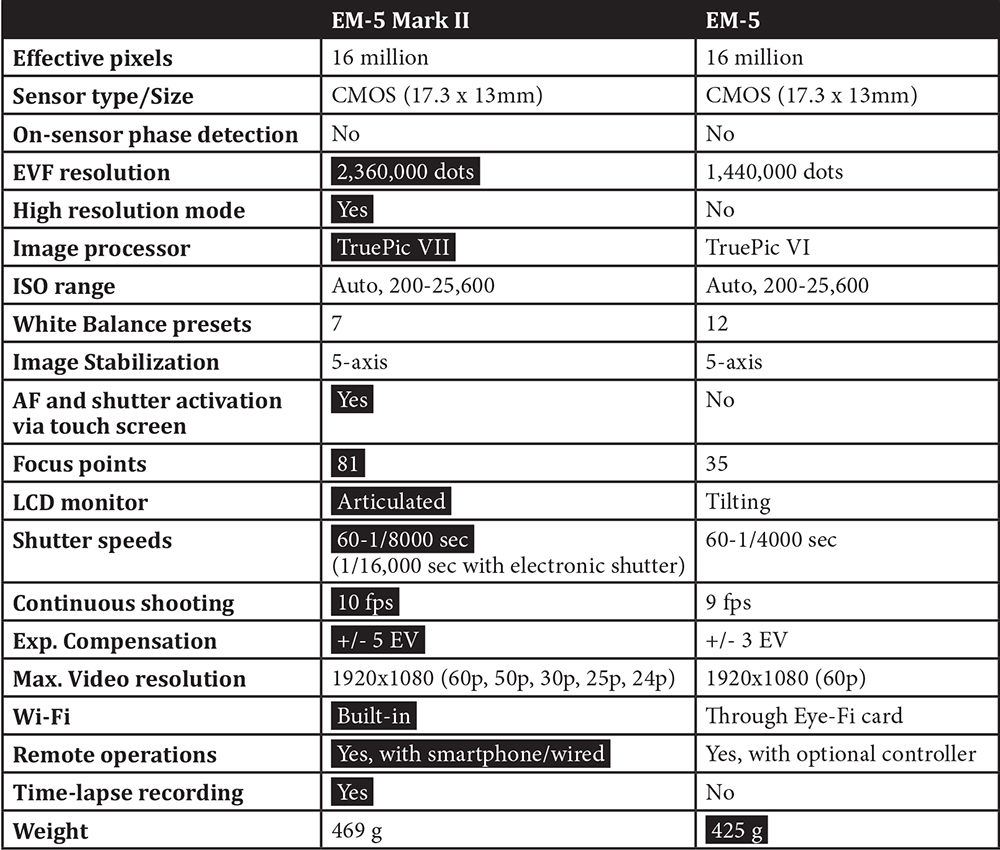 The EM-5 Mark II body is dust-proof, freeze-proof (up to -10 degrees Celsius) and splash-proof (not water-proof; you can't use it underwater or in pouring rain without a suitable housing). Its 5-axis image stabilization, also found in the EM-5, has been improved. The image stabilizer uses an ultra-sensitive Voice Coil Motor that offers, in still photography, a 5-stop advantage (when used with the 12-50mm f/3.5-6.3 EZ lens) and also helps to improve video quality even when the camera is handheld. Olympus also claim that the OM-5 II has the world's shortest time lag due to its superfast autofocussing. The EM-5 Mark II uses a vari-angle touch-screen LCD that makes it very easy to select your autofocus point, aperture as well as the shutter speed.
The EM-5 Mark II uses Olympus' TruePic VII image processor – the same used on the OM-D fl agship model, the EM-1. The processor is designed to bring out the very best from M.Zuiko lenses. The TruePic VII image processor optimizes image sharpness according to the optical characteristics of the attached lens and the aperture used. It also reduces false colours. TruePic VII's Real Colour Technology(Olympus's proprietary image processing technology) is able to reproduce certain colours (emerald green and certain shades of yellow) which are thought to be difficult to reproduce. The processor also reduces digital noise at higher ISO sensitivities. The Mark II's Live MOS sensor retains details in shadows and captures high contrast scenes well.
Special mention should be made of a new classy feature – Super High Resolution – that lets you create a 40-megapixel equivalent JPEG image (though the sensor resolution is 16 MP) and 64 megapixel equivalent Raw. When enabled, the camera takes 8 shots at a single press of the shutter release button (it moves the imaging sensor by 0.5 pixel between each shot) to generate a high-resolution 40/64-megapixel equivalent image. Landscape photographers who desire immense details in their images and studio photographers are sure to love this exciting feature.
Note: It is important to use a steady tripod when using the Super High Resolution feature. It is also important to see that there is no subject movement (like swaying of trees) during the time the camera completes the 8-sequence shot, which takes about 1 second. Olympus will (shortly) off er a free Photoshop plug-in which will enable you to open and edit the 64 MP Raw file. Here is the data provided by Olympus on their website:
• In RAW+JPEG mode, the following three types are saved: 40M JPEG, 64M RAW (ORF), 16M RAW (ORI).
• 16M RAW (ORI) is the first shot recorded out of 8 RAW images captured.
• 16M RAW (ORI) cannot be viewed or processed on the camera. It can be viewed and processed using Olympus Viewer 3.
• 64M RAW data can be processed on the camera as a 40M JPEG image. It cannot be processed using Olympus Viewer 3.
• Install the plug-in dedicated in 64-bit edition of Adobe® Photoshop® (CS5 or later) for processing and editing raw fies on a computer. The plug-in lets you to adjust exposure compensation, White Balance, contrast, sharpness, colour saturation, and colour settings (sRGB and Adobe RGB). The high-res shot Photoshop plug-in can be downloaded from http://support.olympus-imaging.com/hp1download/index/
• A 64M Raw file is approximately 100MB and a 40M JPEG file is approximately 20MB.
Movie recording with the EM-5 Mark II has entered a new dimension. This is because of the Voice Coil Motor which constantly levitates the imaging sensor in its magnetic field, continuously adjusting for every camera movement during hand-held movie recording. Remote control during movies is possible using the RM-UC1 Release Cable and the Olympus Image Share smartphone app. The overall result is a smoother, jerk free video. Slow/ Quick motion movie recording is possible. The movie mode setting can be customized to record slow motion movies (captures movies at a higher frame rate than the Playback frame rate) or quick motion movies (captures movies at lower frame rate than the Playback frame rate). The Function button (Fn) can be customized to switch between still and movie recording.
The external fl ash supplied with the camera (FL-LM3) has a Guide Number of 9.1 meters (approximately 30 feet) at ISO 100. Though low powered, it is useful as a 'fi ll-in' at close quarters. Optional external flashguns are available from Olympus. Other very useful accessories include the Power Battery Holder (HLD-8) that actually is made up of two components: HLD-8G Camera Grip and HLD- 6P Battery Holder. They can be used independently of each other. Th e camera grip also includes a headphone jack which allows you to listen to the audio as it is being recorded using the Linear PCM Recorder. Avian photographers will especially like the 'EE-1 Dot Sight' that can be attached to the accessory shoe (hot-shoe) for use with super telephoto lenses. Those interested in underwater photography will appreciate the 'PTEL 13' Underwater Case with makes the Mark II suitable for underwater photography up to a depth of 45 meters (approximately 148 feet). The supplied FL-LM3 flashgun can be used with this underwater casing. A leather cover plus a body jacket (CS-46FBC) ensures that your EM-5 Mark II stays in its pristine condition. To prevent extraneous light from interfering with EVF viewing, a large eyecup (EP-16) can be fitted.