O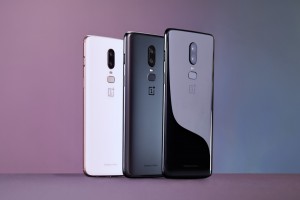 nePlus has announced its latest premium flagship device, the OnePlus 6.
The OnePlus 6 is powered by the Qualcomm Snapdragon 845, which improves performance by 30% while being 10% more power efficient. It is coupled with the Adreno 630, which is 30% faster. The smartphone features a 6.28-inch Full Optic AMOLED 19:9 display.
It has up to 8GB of LPDDR4X Ram and can switch between multiple apps running at the same time without a single second of lag with the dual-lane storage. The navigation bar is designed to replace gesture control.
The OnePlus 6 facilitates better transmission of radio waves with up to 1 gigabit of download speed. It uses Corning Gorilla Glass 5 on both the front and the back of the device.
The dual camera system features a 16MP main camera with a 20MP secondary camera. The OnePlus 6 marks the introduction of OnePlus' Slow-Motion mode, which can capture high-definition video frame-by-frame with astonishing detail. The 16MP main camera has a 19 percent larger sensor and OIS with a f/1.7 aperture. Portrait Mode will be available on the OnePlus 6's front camera as well as its rear. The front camera can apply a depth of field effect to selfies with AI. There are also newly added bokeh effects, including circles, hearts and stars to customise their portraits.
The smartphone has the OxygenOS, operating system which offers a refined Android experience.
With a half-hour charge, the smartphone has enough power for the entire day.
"With the OnePlus 6, we challenged ourselves to deliver an external design as smooth and elegant as the work we've done inside the device," said OnePlus Founder and CEO Pete Lau. "We're proud of what we've accomplished, and we hope our users are too."
The smartphone will be available in 6 GB RAM + 64 GB storage at INR 34,999 and 8 GB RAM and 128 GB at 39,999 in Mirror Black and Midnight Black colour options.
The OnePlus 6 x Marvel Avengers Limited Edition will be available with 8 GB RAM and 256 GB storage will retail at INR 44,999. The limited-edition Silk White with 128 GB of storage will be available for purchase on June 5th at INR 39,999.