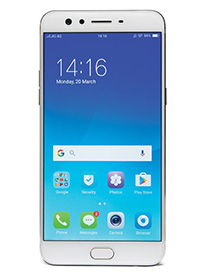 When majority of smartphone manufacturers were prioritising the rear camera over front, companies like Oppo focused on selfies. The bet worked in favour of the Chinese smartphone maker when they introduced the F1 series devices. Now pushing the selfie strategy further is Oppo's latest – F3 Plus.
Design and Build Quality
The F3 Plus is a device that can be classified as a phablet. It has got a 6-inch display on the front but Oppo's smartly designed F3 Plus makes it easier to hold the device and use. Admittedly, using the phone with one hand is still a task but if you prefer a scaled down screen, there's a gesture that enables you to use it with one hand. The rounded edges, 7.35mm thickness gives the phone a good grip. But there's no denying that the phone is big but Oppo has tried to alleviate some of the issues using a large device.
F3 Plus' elegant design features a glass protected front whereas the back dons a soft gold finish. We really like the clean design that is complemented with the six antenna lines at the back that helps to improve reception.