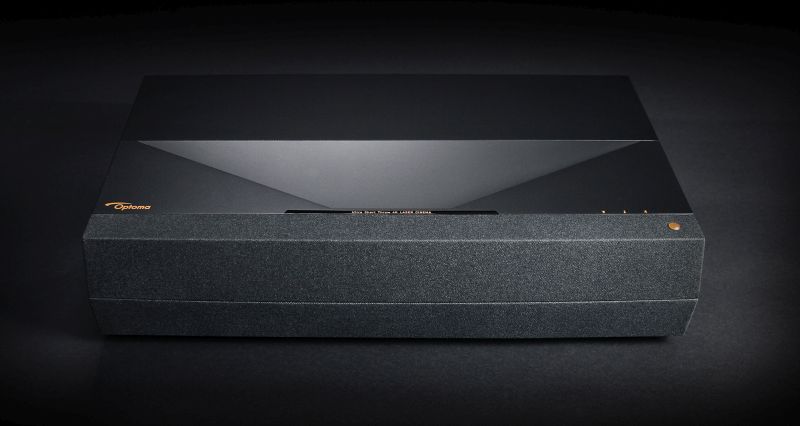 Optoma, a world-leading designer and manufacturer of projection and audio products for business, education, professional audio/video and home entertainment, has revealed its newest edition to its 4K projector portfolio – the Optoma P1 Smart 4K UHD HDR Laser Cinema Projector in the Asia-Pacific (APAC) region.
The Optoma P1 integrates 4K Ultra High Definition (UHD), Amazon Alexa and Google Assistant voice control capabilities, an ultra-short throw distance and an integrated premium NuForce soundbar with Dolby Digital 2.0 support. This ground-breaking system offers an intuitive smart home experience with superior picture quality, incredible audio, Smart+ technology and amazing ease of use, all in a space-saving form factor. With a compact design of only 22.1" wide, the Optoma P1 produces instant out-of-the-box cinematic experiences without the hassle of mounting and transporting heavy equipment, making the projector an optimal solution for mobility, as well as smaller-sized rooms and apartments.
The Optoma P1 delivers a razor-sharp 3,000-lumen, 8.3 MP image on screen, allowing viewers to project up to a 120-inch image with four times the details of a Full HD display from just inches away.
Gordon Wu, Head of Optoma APAC at Optoma said: "We constantly attempt to expand India's market, especially 4K series range. Now, the Optoma P1 is being unveiled with superior cinematic experience at Infocomm India 2019. Looking forward, Optoma will keep upgrading its 4K projection technology, and moving towards to dominate the smart 4K industry."