Panasonic India has announced the P95 mobile phone. The P95 is powered by a Qualcomm Snapdragon processor and features a sleek design with a 5" HD display.
The P95 has 1 GB of RA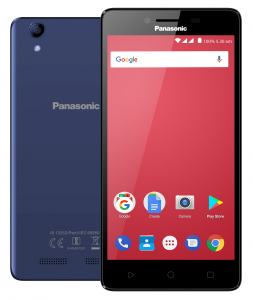 M with 16 GB of internal storage which is expandable up to 128 GB via the microSD card slot. The phone has a 2300 mAh battery and runs on the Android Nougat 7.1.2, with the Split Screen Feature and Bundled Notification.
The mobile phone comes with an 8MP rear camera with LED flash and a 5MP front camera. The Auto-Scene Detection mode automatically adjusts to the background conditions and Live filters like Sepia, Mono and Aqua incorporated in the camera.
The P95 feature The Trusted Face recognition and The Trusted Voice. These features unlock their device with just a simple glance at their phones or by simply speaking into the phone. Smart Lock also adapts to trusted locations like car or home, Bluetooth devices and unlocks the phone for the user. The On body detection feature keeps the phone unlocked as long as it's in the user's hand and locks itself as soon as they put it away.
Mr Pankaj Rana, Business Head – Mobility Division, Panasonic India said, "The all new P95 is a combination of superior design and performance. Also, the price point at which it is available, we are confident that it will be a success with the millennials, without being heavy on their pockets."
The Panasonic retails at INR 4999 and will be available at the launch price of INR 3999 at the Flipkart Big Shopping Day Sale starting from 13th May 2018 to 16th May 2018.