Panasonic launched the new hybrid full-frame mirrorless camera LUMIX S5II as the latest addition to its LUMIX S Series line-up for the Indian market. Lumix S5II body has been prized at INR 1,94,990, LUMIX S5II kit with Lumix 20-60mm F3.5-5.6 Lens at INR 2,24,990, and a LUMIX S5II combo kit at INR 2,44,990 with a set of two lenses Lumix 20-60mm F3.5-5.6 Lens and Lumix S 50mm F1.8 Lens. Lumix S5II will be available across Lumix Lounges, Panasonic Lumix 4K Zones and dealer network across India. LUMIX S5IIX, a variant with a more extensive video feature set, will be introduced in upcoming months along with a new 14-28mm ultra-wide L-mount half-macro zoom lens both in Indian and global markets.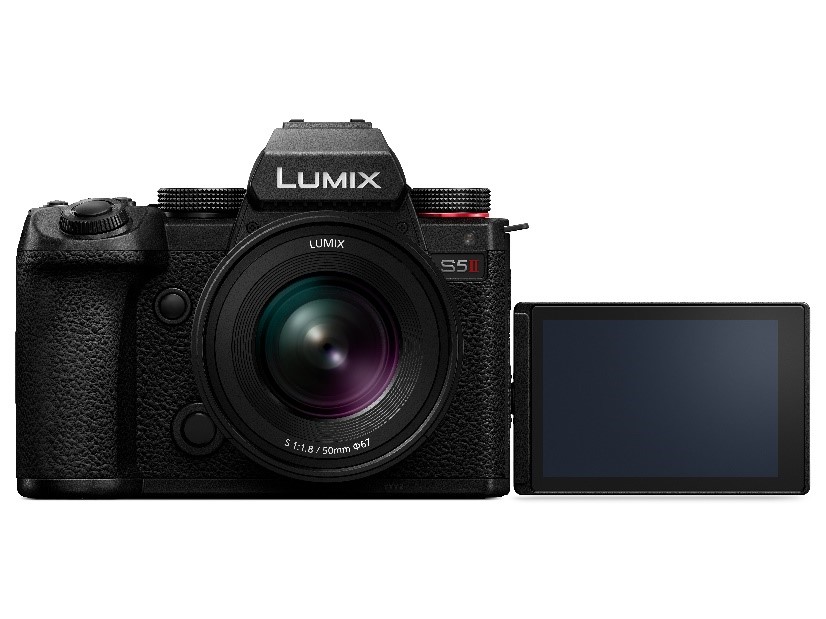 Speaking at the launch, Mr. Manish Sharma, Chairman, Panasonic Life Solutions India and South Asia said,
"With growth in the multiple genres of professional photography and videography, along with rise in content consumption on social media and online, the demand for full-frame mirrorless camera segment in India has gone up. Content creators today are looking for professional cameras that offer them ease of use and uncompromised imaging experience in terms of picture and video quality. And the latest LUMIX S5II and LUMIX S5IIX are a perfect fit for these ambitious content creators to take their creativity a notch higher. India is one of our key markets and we see immense potential in the full-frame mirrorless camera segment, especially in fields of wedding, filmmaking, fashion, music and long-from content. And being an avid photographer myself, can't wait to get my hands on the new S5II."
Talking about the new cameras, Mr. Yosuke Yamane, Director, Imaging Business unit, Panasonic Corporation said, "Under the Lumix brand tagline of "Motion.Picture.Perfect", we have been developing products that allow content creators to create work as they wish. The new LUMIX S5II and S5IIX cameras continue the brand's tradition of innovation, providing professionals and multimedia producers with an unrivaled experience. Packed with features including Phase Hybrid Auto Focus, Real-time LUT, a new imagining engine, and Active I.S. technology, LUMIX S5II and S5IIX are versatile cameras that offer high performance in both still images and videography."
He further added, "Mirrorless, which has a strong affinity with video, is used in a wide range of applications, from professional video production, such as cinema production, to individual video production, such as YouTube. We believe that the need for individual video production will increase in the future. The full-frame represents a significant opportunity for Panasonic, and we expect mirrorless cameras to account for more than 75% of the market by value in 2023, and in particular, more than 50% of the market as a whole will be full-frame mirrorless cameras."
The LUMIX S5IIX boasts a newly developed 24-megapixel 35mm full-frame CMOS sensor that complies with PDAF to achieve high resolution, natural description and approximately 2x higher-speed signal processing for high bit-rate video recording. Under L2 Technology alliance formed by LEICA and LUMIX, both brands co-invested to achieve a development of this imaging engine. Combination of the new sensor and engine achieves both PDAF and high image quality – a hallmark of LUMIX.
The LUMIX S5II and S5IIX contain 14+ stop V-Log/V-Gamut capture to deliver a high dynamic range and broad colors. The cameras come with an additional function of REAL TIME LUT, that enables color grading on the videos and photos in camera by applying the LUT(.VLT/.cube) saved in the SD memory card. This unique feature allows users to shoot creative expressions unique to creators without the hassle of editing; users can perform intended color grading on the spot without postproduction and share images online through social networking sites and even during livestreaming.
The LUMIX S5II and S5IIX provide powerful image stabilization system for wide-ranging shooting conditions and situations. The cameras also provide secure and stable connection not only with a smartphone/tablet but also with other devices on location for smooth remote control with its Wi-Fi 5 GHz and in addition to 2.4 GHz. Packing the essence of LUMIX S Series cameras in a compact, lightweight body, the LUMIX S5II and S5IIX have further evolved to meet the demands of all creators.