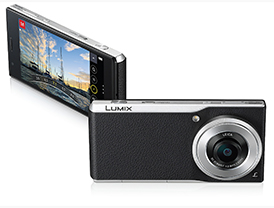 Nikon has produced 90 million Nikkor lenses since production began in 1959 with lenses for the Nikon F. Nikon's increase in market share perhaps explains how the last 5 million were manufactured in the last 10 months. Remember that the D-SLR market in the developed world has been tepid in 2014.
Canon has produced 100 million EF lenses since manufacturing started in 1986. This makes Canon the largest manufacturer of lenses as well as cameras in the world.
Independent lens manufacturer Tamron (in which Sony has a small equity holding) made its reputation with its zoom lenses. Remember the 28-200 from Tamron? In 2014, Tamron announced that its shipment of zoom lenses had crossed the 5 million mark.
We at SP are excited about Panasonic's launch of the Lumix DMC-CM1 camera with a Smartphone. Unlike other Smartphones, the CM1 features a top class camera with a 1" sensor, Leica lens and a Venus engine processor. Add to that the latest Android operating system, Wi-Fi and NFC connectivity, and you have the first compact camera with a Smartphone! The CM1 has been launched in Europe and the US. Panasonic should bring it to India as well.
Pentax's new D-SLR, the K-S1 may not be launched in India. Bad news for Pentax fans as they will never see some of the versions of the K-S1 called ' Strawberry Cake', 'Lime Pie' and 'Blue Cream Soda'!
And now for some predictions …….
With the likes of Sony, Samsung, Panasonic, Olympus and Fujifilm lined up on one side, mirrorless cameras will see a steeply rising market share.
It took the top manufacturers like Canon and Nikon some time to launch full frame digital cameras. With Sony now in the fray, expect full frame to get a fresh boost.
In-camera image editing will take giant steps forward. Imagine a camera with Photoshop built in and no need to use your laptop!
The convergence of video with still photography will continue and the path ahead will be shown by the consumer electronic companies like Panasonic, Samsung and Sony. More and more cameras will shoot 4K video.
Cameras will start communicating wirelessly with computers, printers and email systems.
Compact cameras (or rather what remains of them), viz bridge, travel and pro compacts will feature better sensors, sharper lenses and will generally get 'smarter'. Just look at Canon's G7X, Sony's RX100 and Panasonic's LX 100. In turn, Smartphones will also improve their picture taking ability significantly and we may see some convergence (the Panasonic CM-1 is a good example).
One feature which we feel may not ake off is that of curved sensors. This one seems to be a lot like 3D which has now very conveniently been forgotten! 