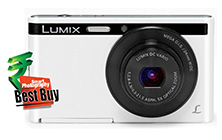 The deluge of Smartphones has severely crippled the prospects of ultra compact point-andshoot cameras, with the phone cameras receiving a boost with better sensors and large optical zoom lenses. To survive in this competitive environment, ultra compacts need to re-invent and evolve, and we saw the first spark of brilliance when Panasonic announced the LUMIX DMC-XS1, which has a smaller footprint than most high-end Smartphones, yet at a smart price. A few millimetres broader than a credit card, the 16.1-megapixel XS1 is sure to turn heads.
Design and Build Quality
The tiny XS1 has a metal outer shell and a small, slightly projected lens housing. The lens has a two-segment construction and does not protrude much while zooming. It has internal focussing, which means the lens also does not rotate or protrude while focussing. The tripod mount is plastic, which is justified because of the light weight. If you put the camera in your pocket, you could easily forget its presence.
Key Features
The 16.1-megapixel Panasonic XS1 uses a 1/2.33-inch Type (6.16 x 4.62mm) CCD sensor. The camera features a LUMIX DC VARIO 24-120mm equivalent lens with an aperture range of f/2.8 – 9.0 at the wide-angle end and f/6.9-22.0 at the telephoto end. The lens features MEGA Optical Image Stabilisation. Focus modes include Face, 9-area, and 1-area autofocus. Shutter speed ranges from 60 to 1/1600 sec. The camera features only Auto modes (including Intelligent Auto and Scene modes). Sensitivity ranges from ISO 100 to 1600 with an additional automatic setting called i.ISO. In high-sensitivity mode, the sensitivity can be boosted up to ISO 6400. Exposure can be compensated up to +/-2 EV in 1/3 EV steps. Shooting modes available are Intelligent Auto, Normal Picture, Creative Control, Panorama Shot, and Scene. The Scene modes include Portrait, Soft Skin, Scenery, Sports, Night Portrait, Night Scenery, Food, Baby1, Baby2, Pet, Sunset, High Sensitivity, Glass Through, Photo Frame, and Starry Sky. White Balance options are Auto, Daylight, Cloudy, Shade, Incandescent,
and White Set.
Still images are recorded in JPEG format while videos are recorded in Quick Time Motion JPEG format. Videos are recorded with the best quality of 1280 x 720 pixels at 30 frames per second. The camera uses a 2.7-inch, 230,000- dot TFT LCD. It has a built-in memory of approximately 90MB, and accepts a micro SD/micro SDHC card for external storage. The XS1 is powered by a 690 mAh rechargeable Li-ion battery pack. The device has dimensions of 93.8 x 53.5 x 17.6mm and weighs approximately 103g (with battery and memory card).
Ergonomics
The XS1 is a pleasure to use. Though it does not have a projected grip, we wouldn't dare to complain, since the camera is so light and comfortable to use that you do not require a special grip. Well, it provides much better grip than any Smartphone in the market anyway. The buttons are comfortable to operate. The images on the LCD screen have slight lag in display while the camera is panned across the frame. The menu was intuitive and uncomplicated.
Performance
The Panasonic XS1 performed well in our tests. Autofocus was fast and precise, and it did not have any problem locking on to the subject even in low light. Out-of-the-box images were tack sharp. Images on the LCD appeared crisp, though it is not the best we have seen. All metering modes performed as expected. Auto White Balance performed well under natural light. In Incandescent mode it produced red cast, though it could be easily removed in post processing. The camera does not offer fluorescent or any such White Balance mode (which is quite useless in real situations because of the varying colour temperatures of fluorescent light). Native image size was 11.52 x 15.36 inches at 300 ppi. At 25 percent of the display size, noise was under control till ISO 800. ISO 1600 was noisy and not usable. At 50 percent size, slight noise appeared at ISO 200 and 400, while ISO 800 was noisy beyond the usable range. Viewed at 100 percent, noise appeared throughout the ISO range. We wouldn't advise you make large prints or crop it beyond 50 percent.
We observed prominent darkening of corners at the wide-angle end, at f/9 (since the camera controlled the exposure automatically, we had no means to lock the aperture at the wideopen setting). But you may not observe this darkening in normal everyday images. Flare was seen with slight purple fringing at the wide-angle end. The lens produced barrel distortion at the wide-angle end up to about 50 mm equivalent, while pincushion distortion started from around 70mm and continued throughout the telephoto range.
Value for Money
The Panasonic XS1 retails at an MRP of Rs. 7,990, which places it in a comfortable zone in the budget compact segment.
VERDICT
The Panasonic XS1 is clearly aimed at budget conscious people looking for a small, fully automatic compact
that is more capable than their mobile phones and can literally 'disappear' into their pockets. Though the performance may not look impressive compared to others in the market, we can't complain about a camera that fits even into shallow pockets… well, in every sense. Best buy.
Sujith Gopinath