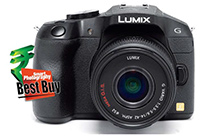 Panasonic refreshes its G and GF series of cameras every year. In continuation of this trend, Panasonic launched the Lumix G6, along with the Lumix GF6 in the overseas market on 13th May 2013. The G6 has not yet been launched in the Indian market. It appears to be a scaled down version of the top-of-the-line GH3. The camera is available in black, silver and white.
Design and Build Quality
By design, the Lumix G6 is a mirrorless interchangeable lens compact camera. Well crafted and very comfortable to hold, the outer body is made from polycarbonate and appears to be reasonably tough for the purpose it is built. Adjacent to the shutter release button is a multipurpose rocker switch that acts as an Exposure Compensation button. The body sports a built-in flash. The LCD monitor is multi-directional.
Key Features
The Panasonic Lumix DMC G6 kit comprises of the camera body and a G VARIO Aspherical 14-42mm f/3.5-5.6 lens. The G6 is a mirror-less 16.05 megapixel ILCC (Interchangeable Lens Compact Camera) using a Live MOS imaging sensor and Venus Engine featuring advanced noise reduction systems that remove noise in multiple steps according to the noise characteristics. Its advanced Intelligent D-range Control ensures wider dynamic
range and better tonal gradations. The camera is Wi-Fi and NFC (Near Field Communication) enabled. This allows you to transfer images from the camera to a NFC enabled Smartphone or Tablet by just touching the two devices. By downloading a free 'Image App' – for both Android and Apple iOS – the G6 allows wireless
remote shooting, wireless downloading to your computer, and wireless transfer of images to social networks like Twitter and Facebook. Further, using a Smartphone or Wi-Fi enabled Tablet, you can view your images remotely on your larger computer screen, change your ISO sensitivity and White Balance, geotag, change between still images and video, and some more.
The Lumix G6 uses a 'capacitive-touch' LCD screen instead of a 'resistive-touch' LCD screen as used in the GF6. This makes it more responsive to touch. The electronic viewfinder is an OLED (Organic Light Emitting Diode), instead of the LCD used in earlier models. This allows for a sharper view through the electronic viewfinder. The G6 uses the same Live MOS imaging sensor as used in the Lumix GH2, but some users may be disappointed, because the G6 does not offer the multi-aspect sensor ratio that the GH2 offers (generally,
changing aspect ratio changes the output resolution. The GH2 however, maintains identical resolution at all sensor aspect ratios). Additionally, even though the G6 and G5 both use identical sensors, the G6 is capable of producing better JPEGs due to the use of the same image processor found in the top-of-the-line GH3.
The G6 has two types of shutters – mechanical as well as electronic. The mechanical shutter offers a top performance of 7 frames per second (Burst Mode), whereas using the electronic shutter, the G6 can fire away at 20 fps, but at reduced resolution. Panasonic claim that the G6 is faster than D-SLRs in focussing speed when using Single AF mode (In Continuous AF mode, D-SLRs are faster). Advances in electronics have also improved
low-light AF accuracy in the G6 (it does this by reducing the AF speed; better to have accurate AF rather than fast AF that is not so accurate!). In high-contrast lighting situations, advanced photographers generally capture the same scene with differing exposures, and then combine the exposures in an image editing program like Photoshop to create a picture with good details in highlights as well as shadows. To facilitate this, the G6 permits
a maximum of 7 shots (Exposure Bracketing) with 0.3, 0.7 and 1-stop differences. But what about those users who desire good highlight/ shadow details in high-contrast lighting situations, but do not know or do not have access to Photoshop? Fear not, for the G6 offers HDR (High Dynamic Range) functionality that takes 3 shots (at 1, 2 or 3EV steps) and merges them automatically to create an HDR.