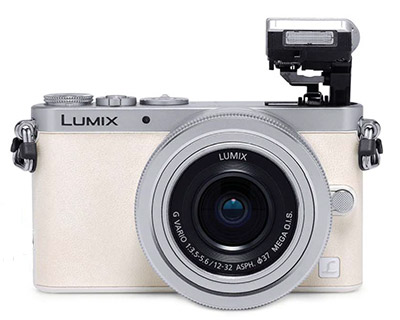 Talk about miniaturization! The Panasonic Lumix DMC-GM1, which may be launched soon in India, is the smallest interchangeable lens mirrorless compact camera that we have ever reviewed! The body is smaller than the palm of an average adult man. Though there could be some compromises in functionality due to the small size, the GM1 will satisfy most users. The camera will be available in black-silver grey and fawn-silver grey combinations.
Design and Build Quality
A mere 274g with lens, battery and memory card, the GM1 is not only the smallest, but also the lightest mirrorless Micro Four Thirds camera to date. The build quality is good; the body is made with tough magnesium alloy and aluminium. The tripod receptacle is made of metal and is placed in line with the central axis of the lens. A built-in flash stays flush with the top plate till you pop it up using a slider switch next to it. There is no provision to attach an accessory flash. The zoom ring on the 12-32mm kit lens needs to be rotated clockwise to extend the lens. The lens, which has an aperture range from f/3.5 (W) / f/5.6 (T) – f/22, has 8 elements in 7 groups that include 3 aspherical and 1 ED lens element.
Key Features
The Panasonic DMC-GM1 is a 16-megapixel, interchangeable lens, mirror-less, Micro Four Thirds System camera utilizing a Live Mos 17.3 x 13mm imaging sensor. The GM1 includes a specially designed Lumix 12-32mm f/3.5-5.6 G Vario zoom lens with Mega Optical Image Stabilizer (Mega OIS) builtin. The lens has 37mm filter thread. The crop-factor for Micro Four Thirds being 2x, the equivalent focal length in 35mm parlance is 24-64mm, which is ideal for landscapes, interiors, other cramped locations and for full-length figure studies. The lens is marked at 12, 14, 18, 25 and 32mm settings.
The top plate offers a Mode Dial, 'On/Off ' switch surrounding the shutter release button, and a Focus Mode Dial that includes Fn 1 – a Function Button. (There are 6 Function Buttons on the GM1 but only one is physical, the rest are on-screen touch buttons). At the left is the pop-up flash which can be popped-up using a small sliding switch. You'll also see two sets of three small holes – under which are the stereo microphones. The GM1 offers Wi-Fi connectivity but does not offer NFC (Near Field Communication), which Panasonic's own GX7 offers.
The GM1 offers a maximum resolution of 4592 x 3448 pixels at 4:3 aspect ratio. The other aspect ratios available are 3;2, 16:9 and 1:1. Pictures can be shot in Raw, Raw+JPEG Fine, Raw+JPEG Standard, JPEG Fine, and JPEG Standard. Pictures can also be shot in 3D if you use a 3D lens (requires a TV with 3D capability to view the 3D images). Focussing can be done manually or using autofocus (Facedetection, AF tracking, 23-area focussing, 1-area focussing and Pinpoint selection using the 3" touch-screen). The touch-screen LCD, by the way, is fixed and offers a resolution of 1040k dots. To facilitate focussing, Focus Peaking is on offer, which shows a coloured outline surrounding the subject in focus. The user can opt for blue, green or yellow colouring and the colour saturation can be set to Low or High.
The GM1 uses a hybrid mechanical and electronic shutter system. Shutter speeds available are from 60 seconds to 1/500 sec (mechanical shutter) and from 1 sec to 1/16,000 sec (electronic shutter). Recording modes are Program (P), Aperture Priority (A), Shutter Priority (S), Manual (M), intelligent Auto (iA), intelligent Auto+ (iA+), Creative Video Mode, Custom Modes (C1 and C2), Scene Guide Mode (23 scenes), and Creative Control Mode (22 creative effects). Exposure compensation is up to +/- 5EV. The Burst Mode (when shooting Raw) is limited to 7 frames. A feature known as Silent Mode is included in the GM1 which is unusually quiet and when combined with Super High Continuous shooting mode, allows you to fire 40 frames per second, albeit at only 3.8 megapixel rating and only when using JPEGs. The camera also offers HDR imaging, wherein it fires off several frames and combines them in-house to produce details in highlights as well as shadows when shooting under very contrasty lighting. ISO sensitivity can be set to Auto, Intelligent ISO, 125 (Extended), 200- 25,600 in 0.3 or 1 EV step. White Balance settings are Auto, Daylight, Cloudy, Shade, Incandescent, Flash, White Set 1 and 2, and Kelvin temperature.
The Lumix GM1 can shoot movies in HD with a resolution of 1920 x 1080 at 60i/30p/24p; 1280 x 720 at 60p/30p; and 640 x 480 at 30p. Movie file formats are AVCHD and MP4. The built-in pop-up flash has a Guide Number of 4m/13.1 feet at ISO 100. Flash can be compensdated up to +/- 2EV in 0.3 EV steps. Images are stored in SD/SDHC/SDXC card.
The camera is PictBridge compliant. It uses a 680 mAh rechargeable Lithium -ion battery, which, under CIPA rating, should last for 230 shots. The camera weighs 274g with its kit lens, battery and card and comes bundled with the following software: PHOTOfun STUDIO9.2 AE SILKYPIX Developer Studio 4.1 SE LoiloScope (trial version)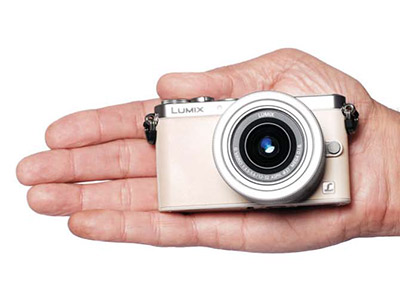 Ergonomics
The GM1 with its 12-32mm kit lens can be easily carried in a trouser pocket. The design is clean and uncluttered. If you are used to large, heavy D-SLRs, you may take some time getting used to the GM1's diminutive design and button layout. Speaking of buttons, there aren't many. The LCD is touch-screen and covers most of the camera back. The user interface may feel daunting if you have never used a Lumix model before but once you get a hang of it, things are pretty straightforward. Users with large hands may find the controls a bit fiddly but again, its just a matter of getting used to. The 12-32mm lens and body combo balanced well but since the body is so small and lightweight, we wonder how large telephoto lenses will cope up.
Performance
The overall performance of the Panasonic GM1 can be termed 'outstanding'. Control over digital noise was very good. At native image size of 15.307 x 11.493 inches at 300ppi, we did not notice any noise all the way up to the maximum sensitivity of ISO 25,600. At 50% screen size, some noise could be seen at ISO 12,800 but was in no way troublesome. At 100% screen size, we could see noise at ISO 3200 but again, perfectly usable. Larger images at higher ISOs will show noise, but in a pinch, I wouldn't hesitate to use even the highest ISO (25,600) if my print size is limited. Autofocus was reasonably fast in good light; in low light, it did take a while but nevertheless, latched on accurately. Note: Digital noise depends not only on the ISO used, but also on the way you expose your shots. Underexposed areas will always show more noise; with soft lighting, shadows often show more details, resulting in less noise. Flare could be seen in strong againstthe- light shots that included the sun, but there was no trace of chromatic aberration, which is a very good thing. White Balance performance too was excellent. Other than a slight yellow cast under Flash preset, and slight reddish cast under Incandescent lights, White Balance performed most satisfactorily. Some users may feel that the images on GM1's LCD are not as 'punchy' as those on the LCDs of some other cameras but this could be due to the less contrasty LCD on the GM1 (in fact I would consider the contrast in GM1's LCD to be 'normal', whereas most other cameras have comparatively 'contrasty' LCDs).
Darkening of corners was noticed at all apertures at the widest end (24mm equivalent). Barrel distortion was seen at 12mm and just a bit at 14mm; there was no noticeable distortion at other marked focal lengths. In terms of sharpness, the GM1 performed very well. Images out of the box were reasonably punchy and with good colours.
The GM1's smaller capacity battery (680 mAh) may not pose a problem to every user but if you intend going for a overnight shoot, don't forget to carry the battery charger; better still carry an extra battery.
Value for Money
The Panasonic DMC-GM1 is not yet launched in India (expected to be launched soon) and our guess is that the Indian price will be around Rs. 65,000 with the 12-32mm kit lens.
SPECIFICATIONS
Camera type : ILCC, Mirrorless
Eff ective pixels : 16 million
Image sensor : 4/3" Type Live MOS
Focus : AF/MF, Face detection/AF
Tracking/23-area focussing/1-area
focussing/Pinpoint (Touch
focus area selection possible)
Burst speed : Mechanical shutt er: 5fps (High
speed); 4fps (Mid speed); 2fps
(Low speed)
Electronic shutt er: 40fps (Super high
speed); 10fps (High speed); 4fps
(Mid speed); 2fps (Low speed)
No. of recordable : Max. 7 (when there are Raw fi les)
pics. during Burst JPEGs: Depends on the card capacity
ISO sensitivity : AUTO/iISO/200-25,600
ISO 125 possible when Extended
ISO is set
Shutt er speeds : Mechanical shutt er: 60 sec – 1/500 sec
Electronic shutt er: 1 sec – 1/16,000 sec
White Balance : Auto/Daylight/Cloudy/Shade/
Incandescent/Flash/White Set 1 &
2/Kelvin sett ings
Exposure modes : P/A/S/M; Auto
Exp. Compensation : +/- 5 EV in 1/3 EV step
Metering modes : Multiple/Centre-weighted/Spot
LCD monitor : 3-inch, approx.1,040,000 dots,
Touch Screen
Flash : Built-in, Pop-up. GN: 5.6m at
ISO 200. Sync speed: 1/50 sec
Recording media : SD/SDHC/SDXC
Image quality : Raw. Raw+Fine. Raw+Standard. JPEG
Fine JPEG Standard
Dimensions (WxHxD) : 98.5 x 54.9 x 23.5mm
Weight : 274g with 12-32mm kit lens,
card and battery
VERDICT
The Panasonic Lumix GM1 is a fine camera. Its small size can be an advantage as well as a disadvantage. Yes, some concessions had to be made in terms of features and ergonomics to create such a tiny camera, but to the majority of users, these would be inconsequential. If you can live with its diminutive size, remembering that physically larger lenses may pose some handling problems, then the GM1 could be the right back-up camera for you. Best Buy!
Rohinton Mehta