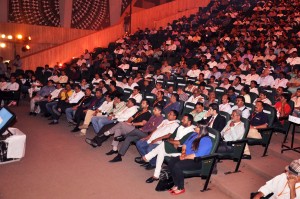 On Tuesday, October 14, at Tagore Hall in Ahmedabad, Photo Orange, a leading printer of photobooks and wedding albums hosted the inaugural Orange Flash Awards ceremony to recognise and celebrate the efforts of India's wedding photographer community. The Orange Flash Awards are aimed at helping the wedding photography industry gain recognition.
Celebrated photographers, Mr. Prakash Tilokani and Mr. Manish Lakhubha, presided over the ceremony, which was attended by approximately 700 photographers. The event enabled new as well as established wedding photographers to network and interact with the mentors and peers, learn and share the latest trends in the industry, and participate in the contest.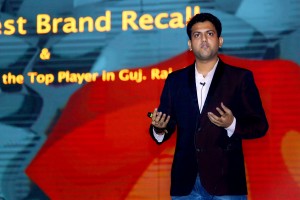 During the awards ceremony, Mr. Dwipal Patel, Marketing Director of Photo Orange, shared details of the contest with the audience. He announced that winner of the 'Orange Flash Photographer of the Year' will receive a camera kit worth Rs. 1. 25 lakh, along with other attractive gifts. Other shortlisted participants will be awarded a certificate of participation to acknowledge their effort. He further discussed the details of training that will be provided to the winners of the contest, allowing them to enhance their skill in photography and digital printing.
Mr. Tilokani, who is on the Jury, shared valuable insights on how wedding photography is an intensive combination of consultation, planning and photography and social skills to get the best from the subject. He also discussed how he plans and organizes the shoot, and aligns the team for best results.
Mr. Lakhubha shared his views on how this contest will change the life of the winning photographer. He further added that the contest aims at providing a chance to the wedding photographers to prove their talent on a national platform, and nurture the Indian wedding photography community, which is at a nascent stage.
Mr. Pravin Patel, Managing Director, Photo Orange, addressed the participants on their queries and shared tips on how photographers can establish themselves in this high growth segment. He also talked about how Indian customers are constantly reinventing and demanding innovative results in wedding photography today.
Mr. Patel mentioned how HP Indigo technology has opened new opportunities for wedding photographers to print on various substrates including metallic, thereby, enhancing the image's appeal. He shared his experience on how leveraging HP's digital printing technology has helped his business grow to the size and magnitude it is today. He further discussed how wedding albums printed on HP Indigo Photobook pages have great durability and have been tested to last for at least 200 years.