APAC photography institute has organized PHOTOFRY photography contest which will be open to all. The contest is divided into three parts. Starting from July, the contest will have one subject per month for three months. Maximum five entries will be acceptable per subject per photographer.
The subject of the contest are divided as follows—
1 to 30 June: Abstract photography
1 to 31 July: Light and Colour
1 to 31 August: Street photography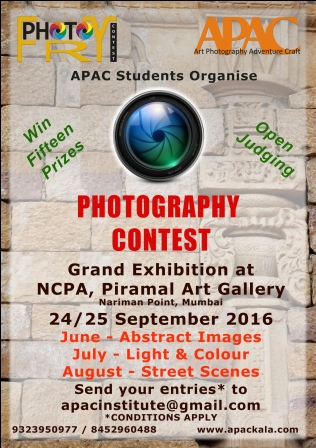 The panel of judges include some of the biggest names in Indian photography, such as Vishal Bhende (Director of Photography, Symbiosis International Photography School), Vinayak Parab (Editor, Lokaprabha), and Mukesh Parpiani (Head of Piramal Art Galary and a senior press photographer).
Open judging will be held in September first week. First, second, third and two runners per subject will be awarded. Winners' entries will be exhibited at the Artography exhibition on the 24th and 25th of September at Piramal Art Galary, NCPA, Nariman Point, Mumbai.
Those who wish to know more about the terms and conditions of the contest or participate can email apacinstitute@gmail.com or call on +919323950977. You can also visit their website: www.apackala.com