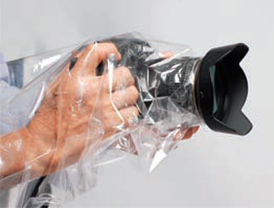 Most photographers are 'fairweather' photographers. They consider the rainy season as the time to pack up their photo gear and stay at home. They are afraid that if they use their equipment during the rainy season, the equipment will be damaged. I think it is reasonable to think that way, but with some care and common sense, it need not be so. In my opinion, the rainy season can offer us some great images and by not using our camera gear during this time, we can miss out on lots of beautiful imaging opportunities.
• I think that for many of us, the first obstacle is – personal comfort. That little devil in us says "Hey buddy, why get yourself wet? Stay at home and relax or read that novel which you have been putting off or sit with your pals and watch the movies". I know this feeling; it is very easy to succumb to it. Some others feel that the season is too dreary. Dull grey skies and that lousy feeling!
Someone once said, "If you want to change anything in your life, change the channel and change the frequency by changing your thoughts". Only you can decide whether you want to feel 'dull and gloomy', or 'get out of that  rut'. If you believe that rainy days are gloomy, yes, you will see those days as gloomy. On the other hand, if you see in your mind's eye that you are enjoying the rains, believe you me, you will start enjoying the season. It takes time and effort to 'change the channel and change the frequency of our thoughts', but once your subconscious mind accepts the rainy season as 'fun', you will see the change in you.
• The next step is to ensure that you carry the least equipment. That way, you are not bogged down with its weight or bulk and it is that much easier to protect the gear from the rains. I suggest a mid-range zoom on your D-SLR/ILCC or just carry a compact camera. Another option is to use a waterproof compact and use it in pouring rain. People will think you are 'nuts' till they realise that you are using a completely waterproof camera (you could also capture their stunned looks when they see you using a camera in pouring rain!).
• Rain protection. Remember the Boy Scouts' motto: Be Prepared. There are various ways to protect your gear during the rains – a plastic bag, a raincoat (not only for you but also for your camera), an umbrella, a waterproof housing, and a waterresistant camera bag (ones that have a built-in rain cover).
Plastic Bag – Umbrella – Raincoat combination: This is the cheapest solution, but I suggest an extra-large raincoat. With the camera hanging by its neck-strap, just pull the plastic bag over the camera, just like you would pull a pillow cover over a pillow. Cover yourself and your camera bag with the raincoat. An umbrella over your head will offer additional protection. Pull out the plastic bag when you want to shoot and after you have taken the shot, immediately re-cover the camera with the plastic bag and additionally cover the camera with the raincoat. This takes a little practice as we all have only two hands. If you have a friend to hold the umbrella over you, things will get easier.
You could also try punching a hole in a plastic bag, just large enough to let the Rohinton Mehta filter end of the lens protrude a bit and then attach the lens hood as you can see in the photo. An additional stickingtape around the opening could prevent drops of water seeping in.
Commercially available Rain Covers: Various manufacturers, like Think Tank, Tenba, Vortex Media, Aqua Tech, LensCoat, Op/Tech, Ruggard, Manfrotto, etc offer rain covers specifically designed for certain mostused  cameras and lenses. I haven't tried all of them and hence cannot say which is the best. What you have to remember is that while these rain covers offer good protection to your gear, they are not designed for underwater photography. Also note that the filter end of the lens is always (obviously) open and rain water can hit the lens front, especially if it is raining heavily or there is a lot of strong breeze. It is advisable to carry small hand towels/ micro-fibre cloth to tap dry the filter end when necessary.
Waterproof Housings: Some  manufacturers offer waterproof housings for cameras – for compacts as well as D-SLRs. These offer 100% safety to your equipment but are very expensive. Though designed for underwater photography, I see no reason why they cannot be used on land (except that you might look funny to some people).
• Shoot from the safety of your car. This way, your equipment as well as yourself will stay dry but if it is windy, rain spray could still get on to your gear when you put down the window glass.
• A good idea: It's a good idea to carry a dry shirt, just in case you get wet.
What can we photograph in inclement weather?
Lots of things. General scenery, waterfalls, thunderstorms, lightning, rainbows, reflections in pools of rainwater, flowers, close-ups, insects, water-droplets, animals and birds, children splashing and enjoying in the rain, people wading through waistdeep water as they go to work, vehicles stalled in the rain, funny situations as when someone's umbrella turns topsytervy (funny for us, not for the them) and hundreds of other situations.
The rainy season, mostly, has lowcontrast and this can be used to our advantage. Low-contrast means that highlights in our images don't get overexposed and shadows retain enough details (unless we really mess up the exposure!). In post-processing, we can have greater control over the highlights and shadows.
Photographing Lightning  Warning: Your personal safety is more important than the lightning picture. Here are some points to bear in mind when photographing lightning:
• Don't stand in the open.
• Don't stand under a tall tree.
• Don't stand near a tall metal object.
• Definitely don't stand in water.
• If outdoors, it's not a good idea to cover yourself with an umbrella that has a metal spike.
• Take your lightning shots from the safely of a building. Stand near an open window from where you can see the lightning strikes. An overhang above the window will offer additional safety from water spray. A tripod for your camera will ensure sharper images.
• Shoot from inside the safety of a car, when possible.
The Set-up
• Once you have decided on the shooting position, place your camera on a sturdy tripod and point it towards the area of most concentration of the lightning strikes. Roughly compose the frame to have more of the sky and less of the foreground (say 2/3 sky and 1/3 foreground)
• Set your camera to Manual Exposure mode.
• Set the focussing method to Manual Focus and set the focussing ring to its infinity setting.
• Set the base ISO (usually, ISO 100).
• Since the lightning is pure white, you may use Daylight White Balance, but do try other WB settings too. You never know which setting may give you the best shot.
• Exposing correctly could be a bit of trial and error – you have no idea of how many lightning strikes will occurduring the time the shutter is open, or what will be intensity of the strikes. You are also not sure as to for how long the shutter should stay open. You can try f/stops between f/8 and f/16 (depending on the frequency and intensity of the strikes as well as the general illumination), with the shutter set to B (Bulb mode).
• Keep a small black card handy; about 6 x 6" will do. Open the shutter (on Bulb) but block the lens with the black card. Don't touch the lens with the card; the card should be about 1" away from the front of the lens. Now, when you see the first small streak of the lightning, move away the black card to record the image and as the lightning strike ends, cover the lens again. This way you may even record multiple strikes on the same frame. Blocking the lens when the lightning does not strike, prevents the dark sky from overexposing.
• A powerful torchlight can be helpful in some situations. During the actual exposure, you could paint the foreground elements with the torchlight to give it a special effect.
• Take several pictures because you can never be too sure of your exposure.
• Shoot in Raw for better postprocessing.