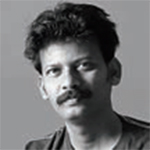 As told to Unnati Sagar
Born in 1979, Udayan Sankar Pal grew up in Canning (WB, India), the gateway of the Sunderbans. He has been dabbling with photography since he was 13 years old. Since the time he started working with his first camera, a Canon AE-1 Program, to his current gear Canon EOS 5D Mark III, he has explored the myriad images that Indian villages have to offer. Hailing from a village himself, his eyes are drawn towards those elements that he can relate with, that are hidden from a city dweller. He has compiled a few of those elements that he wants to share with the world .
The word 'Philately', as we all know, refers to the collection and study of postage stamps. But when we observe closely, it is also a form of art. These curators, who have a keen eye for creativity, collect stamps that have a historic and thematic significance. Most practicing philatelists follow a particular theme and study the stamps relating to a subject of their choice. Udayan Sankar Pal, who is a professional photographer, also happens to be a dedicated philatelist. He started collecting stamps as a  hobby and his love for photography is manifested in his art of philately.
The stamps collected by him are marks of significant events that have taken place in the world of photography. These postage stamps are not focussed on photographers, but they reflect some of the most iconic photographs taken by different photographers around the globe. The following images are postage stamps collected by Udayan Sankar Pal— from various countries, including those issued in the 1950s and 1980s, up to stamps that have been issued in the recent past. Thus commemorating significant events in the world history of photography. Along with these exquisite stamps, he shares some interesting facts and insights as well. |SP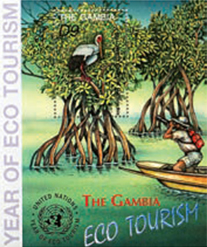 Country – Gambia, Africa
The stamp sheet features a photographer taking a picture of a Yellow Billed Stork. Gambia has always been known for its diverse ecosystems around the central Gambia River. This special stamp was issued by the postal department of Gambia on the occasion of the 'Year of Eco Tourism' in 2002.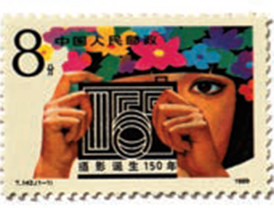 Country – China
This Chinese stamp was issued in 1989 to commemorate the 150th anniversary of the invention of photography— a fun take on the world of images via an illustration.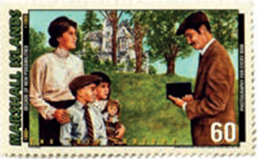 Country – Marshall Islands, Oceania.
Marshall Islands is a sprawling chain of volcanic islands and coral atolls in the central Pacific Ocean, between Hawaii and the Philippines. Marshall Islands issued this stamp with a man taking a picture of his family using a box camera. The stamp also features an inscription that says— "Photography for every man".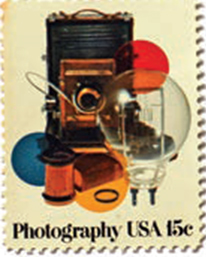 Country – USA
The United States Postal Service issued this stamp in the year 1978 illustrating the theme of 'Understanding Through Photography— The Universal Language'.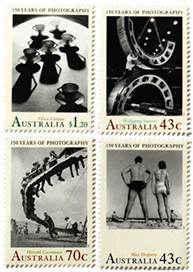 Country – Australia
Australia issued these stamps in 1989 on the occasion  of 150th anniversary of invention of photography. The stamps feature 4 photographs, clicked by 4 renowned Australian photographers— Max Dupain, Wolfgang Sievers, Harold Cazneaux and Olive Cotton.