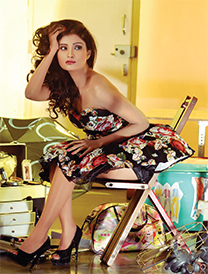 Pic A
Having crossed over 20 active years in commercial photography, Dilip Yande says his forte is Fashion and Portrait photography. He believes variety is the spice of life, and to keep himself motivated he does a lot of tabletop as well. For Dilip, names like Rembrandt, Renoir, Gauguin, Picasso, Turner, Monet are household names because of his childhood that was spent in a lineage of fine arts. This 'fine art' reflects in his work because he feels that there is always a little bit of 'you' in everything one does. Having shot for many advertising agencies, juried a few competitions, mentored many workshops, and guided many photographers in their formative years, for Dilip, photography is just another way to romance his first love – art. He may be contacted at dilipyande@gmail.com.
Dilip Yande
Pic B1                                                                                      Pic B2
When some budding photographers are asked, " What kind of photography do you like to do?" they
promptly reply by saying , "Model photography… like to shoot fashion, … glamour photography". If asked how they would differentiate between fashion photography and glamour photography, they fumble. They explain that glamour photography is something like photographing girls in bikinis. They are not wrong, but they are not right either. If bikini is a defined beach wear, then why do they not classify it under fashion photography? To this, they go blank!
Well, broadly speaking, 'fashion' is wearing what is 'in', what people from the society would like to wear and proudly show. It is ahead of the purpose of covering one's body. It is defining or redefining your personality through the choice of apparels and accessorizing. It is a statement of what you are or what you would like to be recognized as. Hence fashion photography is the talent of skillfully narrating this; it could even be capturing the feel of an era in the form of an image; or may involve going back in time and documenting a vintage fashion by recreating it or visualizing fashion with a futuristic approach and show how it would be fifty years ahead in time.
'Glamour' is like the aroma of a tasty cuisine, inhaled from a distance; it attracts your senses along with the dish before you. 'Glamour' instantly attracts a viewer. He stops flipping the pages of a magazine when he notices a glamour shot. Such shots may not necessarily be revealing the full body of the model, but makes the shot noticeable due to various reasons-
1) Expressions of the model.
2) Lighting that supports the mood in the picture.
3) A quick relation that gets established between the model in the picture and the viewer.
4) Cleverly revealing and smartly hiding certain body parts, making the picture look sensuous but not   vulgar.
5) Use of the right props and concept.
Such glamour shots always have a longer shelf-life than the normal fashion shots as far as the viewer is concerned. Many viewers, right from young students, bachelors, to old men are fond of such pictures and even cut them from magazines and pin them up in their hostel rooms, bedrooms or paste them on or inside their cupboards.
Pic B3                                                                                      Pic B4
This very human tendency was encashed in the West by starting a trend of pictures called 'Pin-ups'. Initially, these pin-ups used to be sketches or coloured illustrations showing a scantily dressed girl, in a good and happy mood, smiling and looking straight at the viewer, thus establishing a silent but friendly contact with him. This art of illustrations was soon followed by actual photographs – the result was the birth of what we can now call as 'Pin-up Photography'. The demand for such pictures increased so much, that people opted to make posters, calendars, post-cards or plates in magazines by using pin- ups. Models who started modeling for such assignments were known as the 'pinup girls'.
Pic C1                                                                                      PicC2
In pin-up photography, which happens to be the definition of glamour photography, one may opt to give a very fashionable look to the model or a very raw or a tribal look, highlighting her body language, her expressions and moods. Many newspapers printed such images of attractive and sensuous models terming them as 'mates' just to increase the readership or their publication.
Pic D1                                                                                      PicD2
Makeup plays the most important role in the case of pin-up photography. So does hairstyling. In pin-up photography, one is no shooting a portfolio for the model, nor is one selling a product like cosmetic cream, apparels, hair care product or jewelry; but one is selling the 'X' factor of the model. Indirectly, one may be selling the publication in which this picture has been printed in the form of a coloured plate or a centre-spread. Makeup obviously has to be very glamorous. A whole body makeup is advisable in order to give an even tone to the body or add slight gloss or shine where needed. Many times a 'shimmer' which gives a shining effect is applied on the shoulders or the chest, to make it more attractive. The makeup should not be soft or subtle, but should be loud and 'seen'. It should be visible to the extent possible. Every part of the face like the eyes, eye-lashes, eye-brows, need to be done up well with the use of eye-liners, eye-pencils, eye-shadows, mascara, artificial eye-lashes, contact lenses etc. In case of lips, the pouting of the lips plays a major role; the gloss of the lipstick adds to the picture. The look has to be a bit exaggerated. Same with the case of hairstyling. A tidy hairstyle may no suit a pin-up. But open hair, messy look, wet crunched look, sleek gel back, or a well layered casual look can go well with a pin-up concept. It is necessary that the make-up corresponds to the concept and the hairstyling and follows the same language.
PicE1                                                                                      PicE2
The concept of 'Simple Janes' next door never works for pin-ups. The model should be sensuous and should have a good figure and an ability to seduce the viewer through her looks. The age group may not matter much but should ideally be between 22 – 35 years depending on the concept. If one studies the various concepts used in any pin-ups, one may observe that they may consist of incidents rightly captured with perfect timing. The incident could be from every day life or it could be a very staged out shot suggesting seduction through some way. They may have elements or actions which act as 'visual puns' thus giving double meaning (at times) to what one sees. One may find very sophisticated props in pictures or at times, animals, like furry pedigree dogs, puppies, Persian cats, rabbits, doves, and exotic birds like macaws etc.
They may involve concepts wherein the model has been shown like a bar tender, waitress, air hostess, nurse, sailor, house maid etc. The props used in the picture are meant only to decorate the frame or 'add' to the 'seduction' element in the picture; at times targeting a certain class of people for whom it has been shot. One may find props like a sailor's cap, a bottle of champagne, a boating tube, fury toys, feather dusters etc. The pictures thus shot could be full lengths, mid-shots or even close-ups. Let us briefly analyze the following pin-up shots:
PicF1                                                                                      PicG
1) Pic A- The model is wearing a party dress, cleverly selected that her shoulders are bare open and the beauty of her legs is 'just seen'. The flowery print makes it more feminine and is well-complemented by other feminine props like the open vanity case, a ladies umbrella at the rear, a metal case painted and stuck with fashion sketches going out of focus.
A vintage fan was used to blow her dress up to reveal a portion of her thighs. Her action to resist this blow has created a nice pose in the picture.
2) Pic B (1, 2, 3, 4)- Pin-ups can well be shot as a series of pictures, connected to each other in some way. The model was made to wear a tube top and hot pants and was made to lie in a metal trunk with props like a rugby ball and a 'naughty'jokes book. She continued to wear the black stilettos in all the pics. In pic B1, the beauty of her face and the bare open crossed legs steals the attention of the viewer. Her pose in pic B2 has given a feeling of nudity, though she is wearing clothes inside. Once again her pose and eye contact with the viewer catches the attention. Pic B3 shows her enjoying the jokes and carries subtle meaning to it. In Pic B4, her loneliness was removed by adding a living prop to the picture – a Persian cat. Once again a very feminine prop in character. One never gets tired looking at such pictures.
3) Pic C (1, 2) – Pink shades work very well in the background. Contrast in terms of props also works wonders. In this picture – pic C1, the model is wearing a sports bra with a sort of nursery print on it. The feather dusters in her hand and which she is holding behind gives her the look of an attractive house maid. Similarly Pic C 2 gives a very topless feel. Once again she is shown cuddling the pet. Please note that accessories have not been used purposefully so as to maintain a nude feel to the picture.
4) Pic D (1, 2)- Corsets and lingerie work very well for pinups. Props, like curtains at the back and quilts, define a bedroom. Stylized kettles, cups and saucers render a sophisticated look to the picture. In pic D1 the tone of the picture and the soft feel was achieved in post production. Light was passed through the curtain to give a more natural feel. In these two pictures the makeup on the models face was very exotic. Especially the eye makeup was important. The hairstyle also had to be stylish, yet a bit messy. The poses give a silent invitation or a 'please join in' message to the viewer.
PicE3                                                                                     PicF2
5) Pic E (1, 2, 3) – These have been shot outdoors in available light. A lush green spot was chosen for the shoot. A garden cart was taken as a prop and the model wearing a slit gown was made to sit in the cart. The 'rustic looks' of the cart in contrast with the satin gown she is wearing works very well. One can take the liberty of tweaking the White Balance while shooting or change the tone of the picture entirely in post production to match one's taste. Seductive poses that reveal just the required body parts are very important. The garden cart has indirectly given a 'take away' feel to the picture.

6) Pic F (1, 2)- In these pictures, the entire look of the model was changed by changing the get up of the face. An Indian tribal look was given to her. The skin tone was drastically changed in makeup by giving a dusky tanned look resembling the skins of 'Adivasi' girls. She was accessorized accordingly with suitable tribal jewelry. A banana leaf was taken as a prop.
7) Pic G – This is an example of another Indianized concept of a pinup. One can see that a see-through saree was kept in the foreground. Tricky lighting created a silhouette feel in her lower part of the body and gave a feeling of nudity, wherein the model was fully dressed in tube top and draped below with a sarong. Her expressions have given that 'hot' feel to the picture.
Credit Lines-
Models- Tanvi Malpekar, Priyanka Mhapankar
Makeup- Vinay Salunkhe and Prashant Ujawne
Photography – Dilip Yande