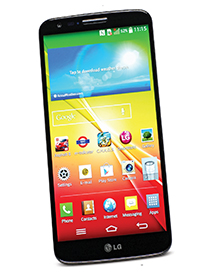 Android Smartphones look almost the same when it comes to user-friendliness and customisation options, diff ering only in hardware and interface. The LG G2 is touted as one of the best Android Smartphones available in the market, and it houses many desirable features in a sleek and trendy body.
Design and Build Quality
The LG G2 is made of polycarbonate on the outside. Th e power button and volume controls are at the back, just below the camera. There are no other buttons on the body, and the battery is integrated into the body. Th e device is very sleek and pocket friendly. Th e body may not be as sturdy as its metal-framed competitors. The screen is not declared scratch-proof, and hence we did not test its scratch-resistance.
Key features
Th e LG G2 features a 2.26 GHz Qualcomm Snapdragon 800 quadcore processor along with Adreno 330 GPU and 2GB RAM. It runs on Android 4.2.2 Jellybean Operating System, which can be upgraded to Android 4.4.2 KitKat. The Smartphone uses the LG Optimus 3.0 UI. It houses a 5.2-inch Full HD IPS Display capable of reproducing 16 million colours at 423 ppi. It is a capacitive multi-touch G2 (Zerogap Touch) touch screen. The screen has a native resolution of 1920 x 1080 pixels. Th e G2 accepts a Micro SIM and features all the latest communication technologies such as Wi-Fi, 3G, NFC, A-GPS, Bluetooth and DLNA.
The G2's main camera is a 13-megapixel camera featuring Optical image stabilisation, Multi AF, and LED flash. The camera does not feature manual override for exposure, but the sensitivity can be changed from ISO 100 to 800, with an additional Auto option. Shooting modes include Normal, HDR, Panorama, Burst shot, VR Panorama (360 degree), Time Catch shot, Beauty Shot, Dual Camera, Shot and Intelligent Auto. White Balance can be set to Auto, Incandescent, Sunny, Fluorescent, and Cloudy. Colour Effects available are None, Mono, Sepia, and Negative. The timer can be set to Off, 3 sec, 5 sec, or 10 sec. Geotagging is available. It also features Cheese shutter, which triggers the camera on the word "Cheese", "Smile", "Whiskey", "Kimchi", or "LG". The secondary camera is a 2.1 megapixel model. The LG G2 has an internal memory of 8GB, of which 4.8GB are available to the user. There is no provision for expanding the storage using a memory card, but you can use an on-the-go (OTG) cable or USB drive to expand storage. In addition to this, the device offers free cloud storage of 50GB on Box application. The G2 uses the LG PC Sync 5 application to communicate with the PC.
The device offers additional features such as Audio zooming, Guest mode, Gestures, ECO mode, and Qremote. The G2 is powered by a 3000 mAh SiO+ Li-Polymer battery. It weighs 143g and has dimensions of 138.5 x 70.9 x 8.9 mm (L x W x D).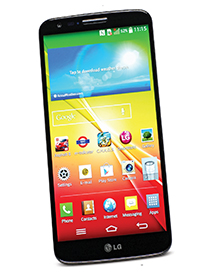 Ergonomics
The LG G2 is very easy to use. If you are familiar with Android system, you will find it very easy to get around. The multi-touch feature is very useful since the device can be woken up with a double tap on the screen. To put it to sleep, just double tap an empty space on the home screen. The unusual location of volume switch and power button could feel little awkward at the start, but you will soon get used to it. The images on the screen were crisp and realistic, thanks to the extra resolution and IPS panel. But the device does not have a dedicated camera button.
Performance
The LG G2 impressed in its general performance. Though we did not subject the device to any benchmarking software test, the general impression was quite positive. The ready-to-use utilities such as the remote control are quite useful and easy to set up. The G2 was very responsive and we could play graphic intensive games with ease. The images from the main camera looked crisp and seemed comparable to images from any compact camera. Autofocus was fast and precise, even under low light. White Balance performed very well under all types of lighting, which is very good. The G2 performed like a champion in controlling noise. The images had a native size of 10.4 x 13.867 inches at 300 ppi. We did not observe any noise at 25 or 50 percent enlargements. At 100 percent, we noticed a tinge of noise at ISO 800, but only when we looked very closely. All the images were perfectly usable throughout the ISO range. To conclude, very impressive performance in terms of image quality.
Value for Money
The LG G2 retails at an MRP of Rs.41,500. At this price, the Smartphone is competitively priced if you consider the price of similar devices. But if you consider this purely as an imaging device (since SP is a photography magazine, we have to consider this angle too), then you have other much better options available for this price.
Plus
• Slim and lightweight
• Multi-touch
• Good display quality
• Excellent camera
• Useful custom apps Minus
• Screen not scratch-proof
• Not water or dust proof
• Integrated battery
Final Score 84%
Design and Build Quality                             16/20
Key Features                                              17/20
Ergonomics                                                17/20
Performance                                                18/20
Value for Money                                            16/10
VERDICT
The LG G2 is a featurefilled Smartphone and comes with a highperforming camera compared to other similar devices. We would recommend the G2 for anyone who is looking for a high-end Smartphone with a good camera.
Sujith Gopinath