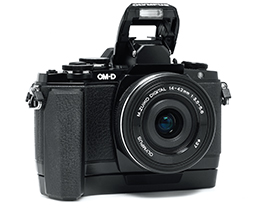 Micro Four Thirds format was devised to make cameras and lenses smaller and lighter without affecting the quality of images. Olympus has seen success with the PEN series and the OM-D series. Recently, Olympus India introduced the OM-D E-M10. This camera is a toned-down version of the E-M1, or even the E-M5 in certain aspects. The main compromise is the build quality. While both the previous versions featured magnesium alloy body, the E-M10 does not. Also absent is weatherproofing, which both the earlier models had.
Design and Build Quality
The Olympus OM-D E-M10 looks professionally built with a small, but nice rubber grip and a protruding thumb rest. The body is made of a combination of metal and engineering plastic, providing a rugged feel. There are two control dials and the mode dial on the top panel. The LCD can be tilted 90 degrees upwards and about 45 degrees downwards. The tiny built-in flash pops up violently, but is held firmly by using two metal fasteners. The power switch is on the back panel.
Key Features
The 16.1 megapixel Olympus OM-D E-M10 uses a Four Thirds (13 x 17.3 mm) Live MOS sensor for imaging. This has a Supersonic Wave Filter incorporated onto the sensor module for dust reduction. The Image Stabilisation (IS) system is built in to the body in the form of a sensor-shift mechanism, which can be activated during both still and movie recording. There is also a Lens IS priority mode, which allows you to shift to lens-based (optical) Image Stabilisation system if you mount a lens that is equipped with this. This is a good move since the camera uses a Micro Four Thirds lens mount, which can accept lenses from other manufacturers such as Panasonic, which in turn have Optical Image Stabilisation.
The E-M10 uses a high-speed image AF system for autofocus, and the focus modes available are Single AF (S-AF), Continuous AF (C-AF), Manual Focus (MF), S-AF + MF, and AF tracking (C AF + TR). The camera offers Full Time AF, Magnified frame AF, Face detection AF, and Eye detection AF. The E-M10 uses an 81-area multiple AF. Focus point options are All target, Group target area (9 area), Single target (normal), and Single target (small). It also offers Manual Focus Assist, which magnifies the target in Live View and activates focus peaking. Metering is by TTL Image Sensor metering and the metering modes available are Digital ESP (324 area multi-pattern), Centre-weighted average, Spot, Spot with Highlight control, and Spot with Shadow control. Exposure modes include iAUTO, P (Program with Program shift option), A (Aperture priority), S (Shutter priority), M (Manual), Bulb, Time, Scene select, Art Filter, Underwater wide / macro, and My Set. Scene select mode provides options of Portrait, e-Portrait, Landscape, Landscape + Portrait, Sport, Hand-held Starlight, Night scene, Night + Portrait, Children, High Key, Low Key, DIS mode, Macro, Nature Macro, Candle, Sunset, Documents, Panorama, Fireworks, Beach & Snow, Fisheye Conversion, Wide Conversion, Macro Conversion, and 3D.
The camera records still images in Raw (12-bit lossless compression) and JPEG formats in Normal mode, with simultaneous Raw and JPEG possible. 3D images can be recorded in MPO format when a 3D lens is used. The maximum dimension of still images is 4608 x 3456 pixels. Videos are recorded in MOV(MPEG-4AVC/H.264) or AVI (Motion JPEG) format with the best quality being Full HD (1920×1080), 30p. Full HD videos can be recorded for a maximum of approximately 29min in Normal and Approx. 22min in Fine quality. You can also record TimeLapse videos. Sound is recorded in Wave Format (Stereo linear PCM/16- bit).
The camera's ISO sensitivity ranges from LOW (approx. 100) to 25,600 with an Auto option.
White Balance options are Auto, Daylight, Shade, Cloudy, Incandescent and Fluorescent, and four custom modes. Exposure can be compensated up to ±5 EV, in 1/3, 1/2, or 1 EV, both in still and movie mode. The E-M10 uses a computerised focal plane shutter that provides a shutter speed range of 60 to 1/4000 sec., variable in 1/3, 1/2, or 1EV increments. It also has Bulb and Time modes. The built-in flash synchronises with the shutter at 1/250 sec or lower shutter speeds, and has a Guide Number of 5.8 m at ISO100. Flash intensity control options are TTL Auto, Auto, Manual, and Super FP (Full Power). Flash modes are Flash Auto, Redeye, Fill-in, Flash Off, Red-eye Slow sync.(1st curtain), Slow sync.(1st curtain), Slow sync.(2nd curtain), and Manual(1/1(FULL) to 1/64). The camera has a standard accessory shoe (hot-shoe). Olympus provides an external flashgun along with the kit, and it has an X-Sync speed of 1/200 sec.
The E-M10 can shoot a maximum of 20 Raw images continuously at 3.5 fps (L) or 16 images at 8 fps (H), while JPEGs are unlimited. Self-timer can be set to 12 or 2 sec. or custom (1-30sec). Exposure bracketing is available for 2, 3 or 5 frames in 0.3/0.7/1.0EV steps, and 7 frames in 0.3/0.7EV steps. ISO can be bracketed for 3 frames in 0.3/0.7/1.0EV steps. White Balance bracketing is available for 3 frames in 2, 4, or 6 steps in A-B/G-M axis. The camera provides Art Filters such as Pop Art, Soft Focus, Pale & Light Colour, Light Tone, Grainy Film, Pin Hole, Diorama, Cross Process, Gentle Sepia, Dramatic Tone, Key Line, and Water Colour. It provides a selection of Effects such as Soft Focus, Pin- Hole, White Edge, Frame, Star Light, Diorama, B&W, and Pict.
Tone.
The EM-10 uses a 3.0-inch LCD. The camera uses an SD/SDHC/ SDXC memory card for external storage. The camera has builtin GPS and Wi-Fi. The EM-10 is powered by a BLS-5 rechargeable Li-ion battery (included). The camera weighs approximately 396g and has dimensions of 119.1 x 82.3
x 45.9mm.
Ergonomics
The Olympus OM-D E-M10 is compact and easy to operate. The interface is easy to get through, and the controls are straight forward. All the buttons and levers can be customised from the settings menu, assigning the most needed functions. The buttons are small, yet easy to use. Olympus provided us the camera along with the optional External Camera Grip (ECG-1). This is a very useful accessory, and it greatly enhances the grip. This grip comes with a tripod receptacle and has a quick release platform, which allows you to detach the camera from the tripod in a snap and change the battery or memory card (usually, some base-plates of tripods are so large that it hinders changing battery or memory card without removing the plate). Images on the LCD appear crisp and clear. We wish Olympus had incorporated a better EVF that can compete with those of Panasonic GH4 and FZ1000.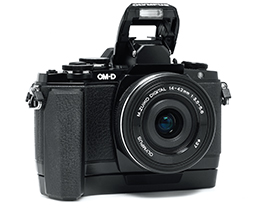 Performance
Olympus provided us the E-M10 with the new M.Zuiko Digital 14-42mm f/3.5-5.6 pancake lens. The combination performed well in our tests. Autofocus was very fast, and locked on to the subject without fail even under low light. All metering modes performed as expected. Images were sharp out of the box, and the lens had its sweet spot at f/8. Please note that image sharpness also depends on the lens used.
The camera left some cast under all lighting conditions both in auto and preset White Balance, but this could be easily removed in postprocessing. Native print size was 15.36 x 11.52 inches at 300 ppi. At 25 percent screen size, the images were noise-free up to ISO 6400, but were usable throughout the ISO range. Viewed at 50 percent, we observed slight noise at ISO 6400, but the images could be used up to ISO 12,800. ISO 25,600 was very noisy. Enlarged to 100 percent, traces of noise were observed at ISO 3200, and the images remained usable up to ISO 6400.
We were impressed with the silent and fast autofocus during video recording, thanks to the MSC (Movie and Still Compatible) designated lens. The crisp image on the LCD supports this high-quality capture and playback well.
Value for Money
The OM-D E-M10 retails at an MRP of Rs.53,990. With the new pancake 14-42mm kit lens, it retails at Rs.69,990. At this price, the camera is fair value for money.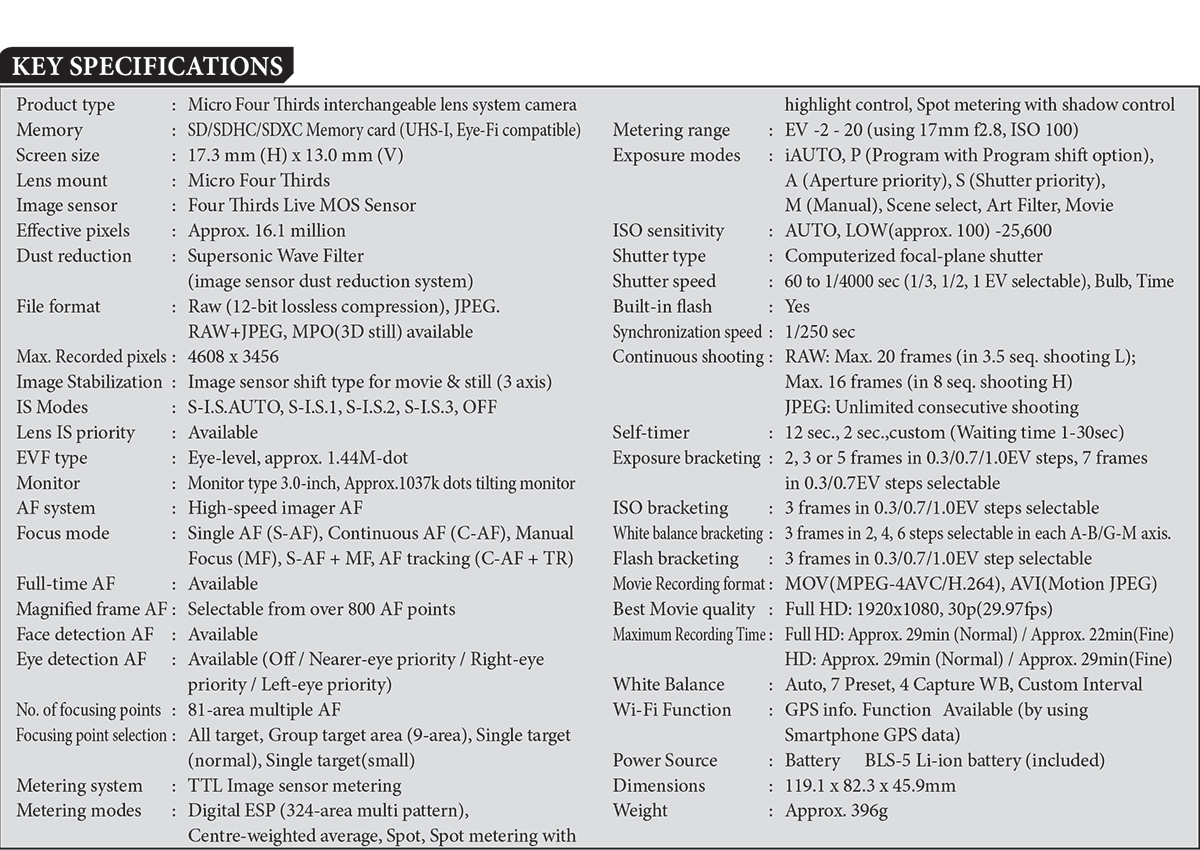 FINAL SCORE                                                            86%
Design and Build Quality                                            17/20
Key Features                                                             18/20
Ergonomics                                                               17/20
Performance
Autofocus                                                                     5/5
Metering                                                                        5/5
Noise Control                                                                  4/5
Sharpness                                                                       4/5
LCD/EVF                                                                         5/5
Auto W/B                                                                          3/5
Sub-Total                                                                         26/30
Value for Money                                                               8/10
PLUS
• Compact size
• Good overall performance
• Fast AF in still and movie
• Hybrid Image Stabilisation
• Excellent handling
• Superior kit lens option
MINUS
• Auto White Balance could have been better
• EVF not as good as competition
• No fully articulated LCD
VERDICT
The Olympus OM-D E-M10 is a compact interchangeable lens camera in Micro Four Thirds mount. This could be considered a budget version of the E-M1 and E-M5, that mainly compromises on weather sealing and continuous frame rate. So if you are not particular about these features, the E-M10 will serve you well. It also has built-in Wi-Fi, which enables easy pairing with Smart devices.
Sujith Gopinath