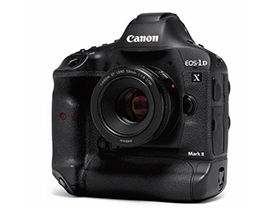 The 1D X Mark II is the new Canon flagship model incorporating a full-frame 20.2 megapixel CMOS sensor, with a machine-gun frame rate of 16 frames per second in Live View shooting, 14 frames per second when using the viewfinder. You can also select the AF point using the Touchscreen. Nikon and Canon both released their top-gun cameras (Nikon's D5 and Canon's 1D X Mark II) in time for the Rio Olympics in 2016. Let's see how this top-of-theline model fares on our test bench…
Design & Build Quality
The Canon EOS 1D X Mark II is a D-SLR with super-tough body construction that uses magnesium alloy. It's hard to find faults with it (other than it being heavy at 1555g with battery). The body is dust-proof and drip-proof and the grip has been improved so even those with smaller hands can find it easy to hold the camera. The body is made in Japan.
Key Features
Let's first start with the key similarities and differences between the EOS 1D X (which was announced around the end of 2011) and the 1D X Mark II which was announced in the beginning of February 2016.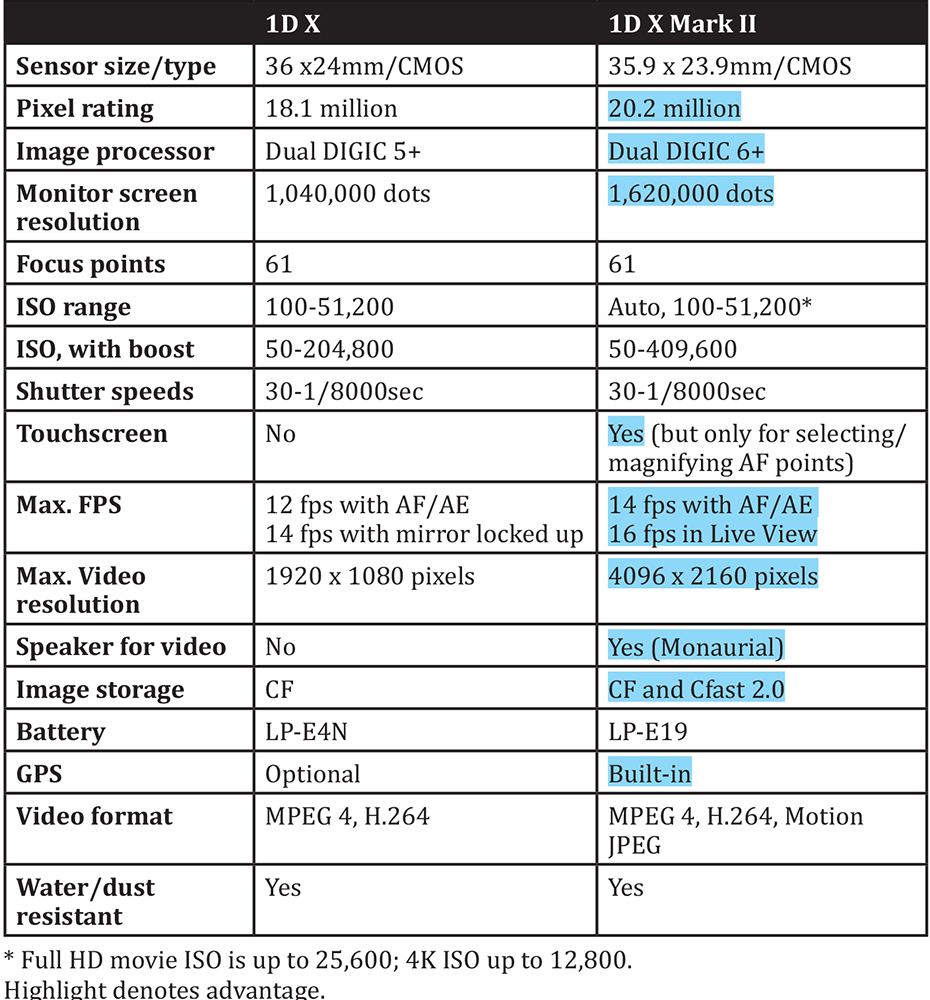 The EOS 1D X Mark II churns out very large amounts of data (remember, it can fire away at 16 fps if so set) and this demands a much faster transfer of data. Hence the 1D X Mark II features two card slots – one for CF (for those who have invested in CF cards) and the other for the much faster CFast 2.0 cards (but one wonders if one CFast 2.0 and one SD card would have been a better choice). CFast 2.0 cards can offer write speeds up to 600MB/sec. As a comparison, CF cards can have maximum write speeds of 167MB/ sec. If you use a CF card when shooting video (with the 1D X Mark II) in 4K at 50 or 60fps, or Full HD (1080p) at 100 or 120fps, you may find that your recording stops after a few seconds.
The 1D X Mark II uses the state-of-theart Dual DIGIC 6+ image processors which allows the camera to capture 170 Raw files at 14 frames per second in a single burst, or unlimited JPEGs (with the CFast 2 card); with video, it allows 4K videos at up to 60 fps. When using CF cards (UDMA 7 support), the camera can capture 73 Raw frames or unlimited JPEGs (in comparison, the 1D X allows only 35 Raw and 100 JPEGs). The DIGIC 6+ processor applies corrections for distortion and diffraction of light at very narrow apertures (like f/16, f/22, f/32) when shooting JPEG images, without slowing down the burst speed.
The following White Balance settings are available: Auto (Ambience priority), Auto (White priority), Daylight, Shade, Cloudy/ Twilight/Sunset, Tungsten, White fluorescent, Flash, Custom and Colour Temperature. The Auto (White priority) corrects for the redness in tungsten light shots whereas the Auto (Ambience priority) maintains the warmth in tungsten light shots.
As with most other Canon cameras, the 1D X Mark II also offers Picture Styles that lets you fine-tune the images to your liking. The following Picture Styles are available: Auto, Stand ard, Portrait, Landscape, Fine Detail, Neutral, Faithful, Monochrome and User Defined 1-3. Each Picture Style can be further refined for personal preferences by adjusting the sharpness, contrast, saturation, colour tone, filter effect and toning effect.
ISO sensitivity can be set to Auto or from 100 – 51,200 and can be further expanded to ISO 50 equivalent on the lower side and up to ISO 409,600 equivalent on the higher side.
The 1D X II's viewfinder (Intelligent Viewfinder II) displays camera settings, which, using Control Button Customisation, can be checked / changed without moving your eye away from the viewfinder. This feature can save precious seconds which would otherwise be wasted, and thus ensure that you don't miss that once-in-alifetime shot.
The camera has 61 AF points, out of which 41 are cross-type. All the 61 AF points work with lenses having f/8 as their widest aperture (you can use your f/5.6 lens with a 1.4x teleconverter and still have autofocus with all the 61 AF points). Out of the 61 f/8-compatible AF points, 21 are cross-type (the EOS 1D X has only 1 f/8-compatible AF point). The active AF point/s is/are displayed in red, making it very easy to view even in low light. Autofocus can be achieved in light as low as -3EV.
The 1D X Mark II also offers in-camera corrections (Playback Menu) for  spherical and chromatic aberrations
lens aberrations and corrections for image quality. This saves the user from applying such corrections during image editing. Note that for lenses manufactured after the 1D X Mark II was introduced, the user will have to  register the lens data using the EOS Utility. Anti-flicker shooting is also possible (for the first time in the EOS 1D-series) which ensures consistent exposures when shooting under fluorescent illumination. The camera detects the flicker frequency and records the shots when the light is at its peak output.
The shutter mechanism on the 1D X Mark II is designed for a minimum of 400000 cycles. The buttons and controls which are used most often are also similarly designed. Incidentally, the number of shutter activations can be checked on the camera, just like with the 1D X.
When shooting stills in Live View at 16 fps, the 1D X Mark II displays the recorded photos whereas with the 1D X, the screen turns black and hence you cannot see the framing during continuous shooting. The 1D X Mark II utilises Dual Pixel CMOS AF which provides high-speed, high-precision AF during Live View and movie recording. Movies can be recorded in 4K 60p/50p and also in Full HD 120p/100p. While recording movies at high frame rates, many cameras lock the focus on the first frame; the 1D X Mark II can focus track at 120p/100p frame rates in 10 steps (the Canon 7D Mark II and the 70D, which also use Dual Pixel CMOS AF for AF tracking, does so in 5 steps). It is possible to obtain 8MP still images from the video recording, though the image quality could be lower than a 8MP still image. Further, you can use  a smartphone to start/stop movie recording if a Wireless File Transmitter is attached to the 1D X Mark II.
An important note for those who shoot 4K video with the 1D X II: This camera shoots 4K video at 4096×2160 pixels (known as DCI 4K), as opposed to UHD 4K which shoots 4K video at 3480x2160pixels. In other words, the 1DX Mark II provides extra pixels horizontally. Hence, if you intend to see the video on your TV, you should avoid framing anything too close to the edge of the frame, otherwise some portion of the frame may be cut out.
The EOS 1D X Mark II offers several incamera Raw image processing options. You can adjust image brightness, White Balance, Picture Styles, Auto Lighting Optimiser, high ISO speed noise reduction, image quality, colour space and lens aberration correction (peripheral illumination, distortion, Digital Lens Optimiser, CA and diffraction).
Shooting at high frame rates continuously for long time can produce lot of heat. To prevent overheating of critical components, the camera will automatically stop shooting when a certain temperature is reached. To minimise the time for this stoppage, the heat is transferred from the imaging sensor and the image processor to the battery chamber top, via a heat pipe. From here, the heat is the dissipated outside the camera.
The 1D X Mark II does not offer a builtin flash but supports EOS dedicated EXseries Speedlites (sold separately). The camera is powered by a Li-ion battery pack (LP-E19; 10.8V, 2700mAh, 30Wh) capable of providing 1210 shots/ charge under CIPA testing standards. The camera body weighs approximately 1555g with battery but without any memory card.