Ergonomics
The Alpha 6000 is comfortable to hold and use. The interface is intuitive and easy to navigate. The E 16-50mm f/3.5-5.6 PZ OSS kit lens features a Power Zoom with a zoom lever by the side of the lens. For fine zooming, you can use the ring on the lens, which also uses power for zooming. Th is is very useful. Buttons on the Alpha 6000 are recessed and not as easy to use as most other cameras we have reviewed. Th is was particularly diffi cult in the case of fl ash and movie recording buttons.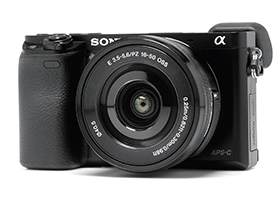 Performance
The Sony Alpha 6000 gave mixed results in our tests. Autofocus was very fast and precise and it had no problems in focussing under low light, thanks to the hybrid focus system with 179 phase detection AF points. The images appeared reasonably sharp with the kit lens. The sweet spot was found to be f/5.6. All metering modes performed well, and we did not observe any distortion with the kit lens. Images in the LCD appeared crisp, though the comparatively small viewfi nder disappointed in low-light situations.
The camera controlled noise very well. Native print size was 13.33 x 20 inches at 300 ppi. At 25 percent screen size, images were noise-free up to ISO 6400, and were perfectly usable up to ISO 12,800. Enlarged to 50 percent, the noise characteristics remained same. Viewed at 100 percent, we observed slight noise from ISO 3200 onwards, and the images were usable up to ISO 6400. This is good control of noise. The camera produced a distinct blue cast in all White Balance settings under most  lighting conditions, though these were easily removable in post-processing.
We observed prominent darkening of corners at f/3.5 at the wide-angle end of the kit lens. This reduced considerably around f/11, but still stayed across the aperture range. The lens exhibited flare and ghosting along with a tinge of purple fringing. In tracking mode, the camera kept the subject in focus most of the time, though we did not feel any major improvement with the 4D focus tracking technology. However, we would like to make it clear that we did not compare the Alpha 6000 with other cameras side-by-side, and hence it is impossible to provide a clear opinion. The camera has a very good continuous shooting rate (11 fps), but be sure to use a card with fast writing and reading speeds so that the camera's buffer is cleared fast (Sony provides a slow Class 4 SD card). We managed to shoot 50 continuous frames in a burst with a Transcend Class 10 SD card, and the camera was ready to fire another burst in less than 20 seconds.
Video recording was satisfactory. For best video recording, make sure that you use a fast memory card.
Value for Money
The Sony Alpha 6000 body retails at an MRP of Rs.40,900, and with the 16- 50mm PZ lens kit, it carries a price tag of Rs.51,990. At this price, the camera is good value for money.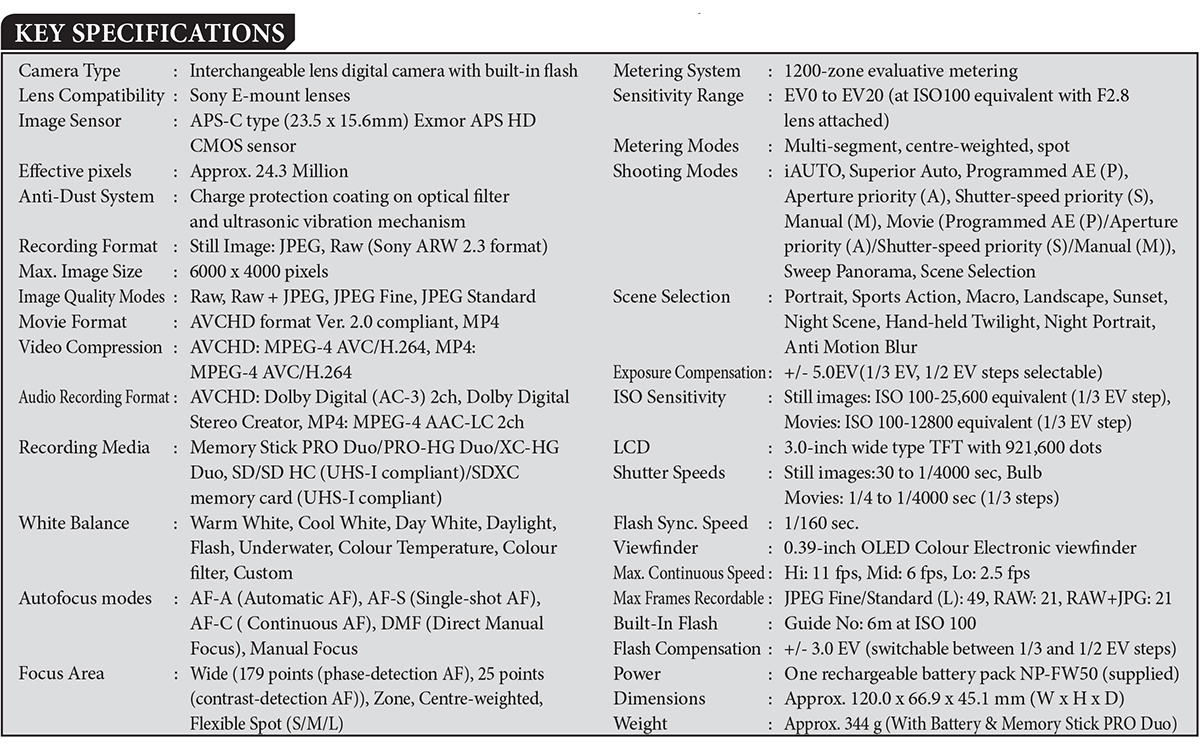 PLUS
• Fast Autofocus
• Great tracking focus
• Superior continuous shooting
• Good noise control
• Competitive pricing
MINUS
• Small buttons
• EVF could have been better
• Strong cast under most lighting conditions
• User Manual doesn't explain advanced features
INAL SCORE                                            84%
Design and Build Quality                         18/20
Key Features                                         18/20
Ergonomics                                           16/20
Performance
Autofocus                                               5/5
Metering                                                 5/5
Noise Control                                        4.5/5
Sharpness                                           3.5/5
LCD/EVF                                                3/5
Auto W/B                                                3/5
Sub-Total                                               24/30
Value for Money                                       8/10
VERDICT
The Sony Alpha 6000 is a mid-priced mirrorless interchangeable lens camera with an APS-C sensor and a compact body. The camera is aimed at those wanting a good interchangeable lens camera, but not quite ready to spend on the A7-series. For them, the Alpha 6000 is a great buy.
Sujith Gopinath