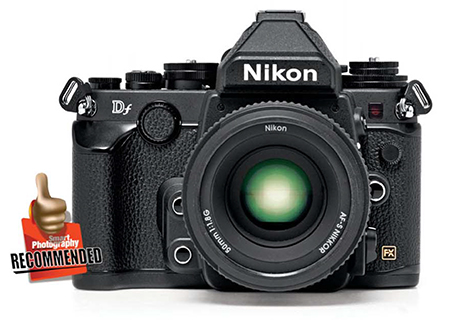 Ergonomics
The ergonomics of Nikon cameras in general leave very little to be desired. The same cannot be said of the Df. In trying to make the body 'retro', some user comforts have been compromised. Let's start with the on/off rotary switch. Would it be asking for too much to have a tiny projection on the switch whereby you could operate the switch using just the index finger? As it stands, you have to hold the camera in one hand and use the other hand to operate the switch. The hand-grip is okay but not as deep as on some other Nikons, making it less comfortable to hold. The exposure mode dial is too fiddly and rather clumsy to operate. The sub-command dial in the front could have been a bit deeper for easy operation. Try adjusting the ISO or the exposure compensation dial in the dark. The LCD monitor on Nikon D-SLRs were always protected from scratches with a plastic cover. That's been taken off (as it is on the D7100). The memory card is nestled within the battery compartment, and if you are using the camera on a tripod, depending on the size of the camera plate, it may be necessary to take off the camera from the tripod to replace the memory card. Yes Nikon, I am aware that you wanted to create a 'small and retro' body, but should you have disregarded user comfort and that too on a camera that costs Rs.199,950?
Performance
The Df with the 50mm f/1.8 'Special Edition' lens autofocused like a dream – quick, quiet and smooth. Every butt on felt positive. All three metering – Matrix, Center-weighted and Spot worked to our full satisfaction. Control over digital noise was outstanding. We could shoot in low light at ISO 3200 without worrying about noise. Images were sharp and punchy right out of the box. Unbelievable details could be extracted out of the Raw files (Adobe Camera Raw that comes with Photoshop cannot open the Raw fi les yet but Nikon supplies View NX2 soft ware that does the job). The LCD and the viewfinder are of high quality. White Balance performance was very good though under incandescent light of varying watt ages, we did notice slight colour cast (as we have always maintained, it is a nightmare for any camera to provide 100% accurate colours in mixed lighting). The Df's image quality was just superb; after all it uses the same sensor and image processor that's used in the D4! A question however remains unanswered. Th e Df and the D4 both use the same imaging sensor and the same image processor. So why is it that the burst rate on the D4 is 11 fps and only 5.5 fps on the DF? If you are looking at image quality (who doesn't?), the Df will not let you down.
Value for Money
The retro-design Nikon Df (body + Special Edition 50mm f/1.8G lens) is available at an MRP of Rs.199,950. In spite of its retro look and excellent image quality, we feel that the price is too high.
SPECIFICATIONS
Camera type : D-SLR
Effective pixels : 16.2 million
Sensor size/type : 36 x 23.9mm/CMOS
Dust reduction : Image sensor cleaning, Image Dust Off reference data
Image size (Max.) : FX (36 x 24): 4.928 x 3,280 (L) DX (24 x 16): 3,200 x 2,128 (L)
File format : Raw (12 or 14-bit), lossless compressed, compressed, uncompressed TIFF, JPEG (Fine, Normal, basic) Raw + JPEG
Picture Control : Standard, Neutral, Vivid, Mono chrome, Portrait, Landscape
Recording media : SD, SDHC, SDXC card
Viewfinder : Eye-level pentaprism SLR viewfinder
DOF Preview : Available
Compatible lenses : AF Nikkor lenses, including type G, E, D, DX
Shutter speeds : 4 sec – 1/4000sec
X-sync : Up to 1/200sec
Release modes : Single frame (S), Continuous Low (CL), Continuous High (CH) Self-timer, Mirror up (MUP), Quiet
shutter release (Q)
Frame advance rate : 1 to 5 fps (CL) or 5.5 fps (CH)
Metering method : Matrix, Center-weighted, Spot
Exposure modes : P (with Flexible Program), A, S, M
Exp. Compensation : -3 to +3 EV in 1/3 EV steps
Exp. Bracketing : 2 to 5 frames in 1/3, 2/3, 1, 2 or 3 EV
Flash Bracketing : 2 to 5 frames in 1/3, 2/3, 1, 2 or 3 EV
ISO sensitivity : ISO 100-12,800 in 1/3 EV steps. Can be set to equivalent of ISO 50 or up to 204,800
Active D-Lighting : Can be selected from Auto, Extra high, high, Normal, Low or Off
ADL Bracketing : 2 frames using selected value for one frame or 3-5 frames using preset values for all frames
Autofocus : Nikon Multi-CAM 4800 AF sensor module with TTL phase detection, fine-tuning, and 39 focus points (including 9 cross-type sensors; center 33 points are available at apertures slower than f/5.6 and faster than f/8, while the 7 focus points are available at f/8
Lens servo : AF-S, AF-C; Predictive focus tracking activated automatically according to subject status
Manual focus (M): Electronic rangefinder can be used
Focus point : Can be selected from 39 or 11 focus points
AF-area modes : Single-point AF, 9/21/39-point dynamic area AF, 3D-tracking, auto-area AF
Flash control : i-TTL flash control using 2,016-pixel RGB sensor available with SB-910, 900, 800, 600, 400,
or SB-300; i-TTL balanced fill-flash for digital SLR is used with Matrix and Center-weighted metering,
standard i-TTL flash for digital SLR with Spot metering
Flash compensation : -3 to +1 EV in 1/3 EV increment Nikon Creative Lighting
System (CLS) : Advanced Wireless Lighting supported with SB-910, 900, 800 or SB-700 as a Master flash and
SB-600 or SB-R200 as Remotes, or SU-800 as Commamder; Auto FP High-speed Sync and modelling illumination supported with all CLS – compatible flash units except SB-400 and SB-300. Flash colour information
communication and FV lock supported with all CLS -compatible flash units
White Balance : Auto (2 types), incandescent, fluorescent (7 types), direct sunlight, flash, cloudy, shade, preset manual (up to 4 values can be stored, Spot White Balance measurement available during Live View), choose colour temperature; all with fine-tuning
WB Bracketing : 2 to 3 frames in steps of 1, 2, or 3
Live View lens servo : AF-S, AF-F (Full-time servo). Manual focus (M)
AF area modes (LV) : Face-priority AF, wide-area AF, normal-area AF, subject-tracking AF
AF (LV) : Contrast-detect AF anywhere in the
frame (camera selects focus point
automatically when face-priority AF
or subject-tracking is selected)
Monitor : 3.2-inch, approx. 921k-dot (VGA),
170 degree viewing angle
HDMI output : Type-C mini-pin HDMI connector
Accessory terminal : Wireless remote controllers: WRR10
and WR-1 (sold separately)
Remote cord: MC-DC2
(sold separately) GPS units: GP-1/
GP-1A (sold separately)
Battery : One EN-EL14a rechargeable Li-ion
Dimensions : 143.5 x 110 x 66.5 mm
Weight : 765 g with battery, memory card
VERDICT
The image quality of the Df is exceptional, having the same sensor and image processor as in the D4. And you get this a about half the price of the D4 body. And then there is the retro styling that lots of photographers will love. As for me, no, I am not enamoured with the retro look. Neither am I happy with the omission of so many features. Well, you might remind me that the camera is designed to look and feel like earlier models (the retro look). Granted. But I would rather have a digital camera that looked, felt and worked superbly like the simplistic Nikon FE2 (which had only Aperture Priority and Manual exposure modes along with TTL flash) which I still consider as Nikon's best film camera for the price it was selling at. In my opinion, the Df is expensive – would have agreed with the price if it included the host of features it does not have. It does not get our 'Best Buy' stamp due to its high price, ergonomic restrictions and the omissions of certain features.
Having opined my personal feelings on the Df, it still is a great camera to have if you consider its superb image quality and its very easy-to-understand user interface. It will surely have its fans.
Rohinton Mehta