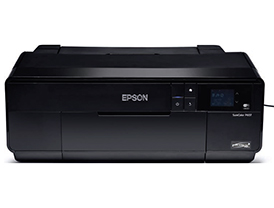 Epson professional photo printers are arguably the best in the world in terms of image quality. These printers offer cutting edge technology and can print on a variety of surfaces. The Epson SureColor P607 emphasises even more on accurate colour reproduction and seems like a possible replacement for the R-series printers.
Design and Build Quality
The Epson SureColor P607 is constructed with polycarbonate on the exteriors. The printer feels sturdy and the trays are of good quality. All controls are through a touch screen LCD. The printer occupies considerable amount of space on the desk, but we cannot complain about this since all A3+ printers are of this size.
Key Features
The Epson SureColor P607 is a professional A3+ photo printer meant for serious business and it is packed with features as expected. The printer  uses on-demand ink jet technology with Variable-Sized Droplet Technology.
This technology allows for precise sized droplets enabled by piezo electric print head. This lets the printer to eject as fine a droplet as 2 picolitres. Each ink is precisely placed using 180 nozzles. The printer uses Eppson UltraChrome HD ink system with 8 inks including three black (Photo Black / Matte Black, Light Black and Light Light Black) and five colour (Cyan, Vivid Magenta, Yellow, Vivid Light Magenta and Light Cyan) inks. You can switch between Photo Black and Matte Black cartridges. Each cartridge has a capacity of 25.9ml.
The three-level black ink technology that simultaneously employs Black, Light Black and Light Light Black inks produces excellent black density along with exceptional grey balance. The printer is capable of choosing the appropriate black ink from Photo Black and Matte Black according to the paper used.
The printer uses a 2.7-inch colour LCD touch screen. Paper is fed using friction feed method. It can print up to a maximum width of 13 inches. The printer accepts both sheet and roll paper along with CD and specialised media. The P607 has bi-directional and uni-directional printing capabilities. It can print at a maximum resolution of 5760 x 1440 dpi. The P607 can print on an A4 plain paper at a maximum speed of 6 pages per minute and A4 Premium Glossy photo paper (with border) in 92 sec. Back tray has an input capacity of 120 sheets of plain paper (73gsm).
The device has Hi-Speed USB, 10 BASE-T / 100 BASE-TX interface along with Wi-Fi. It has 256 MB of RAM.
The P607 measures 616 x 369 x 228mm when closed and 616 x 814 x 424mm when open (W x H x D). It weighs approximately 15kg without ink cartridges.