BenQ's DesignVue series monitors, as the name indicates, are created for graphic designers who need a reliable display for colour-critical applications. Since graphic design and photography are closely related, the roles and means are often shared, hence this review. Please note that since the monitor has only been launched in the market recently, the detailed specifications were not available to Smart Photography, so this review is based on our experience and the limited data available.
Design and Build Quality
The 32-inch PD3205UA and its smaller-sized sibling, the 27-inch PD2705UA, are not your ordinary desktop monitors with flat bases. These are made for professional designer studios with fixed muti-display setups. The monitor has to be attached to the desk with the sturdy metal clamp at the base with the help of an 'ergo arm'. The device has a three-side bezel-less design with a thick frame, curved at the rear. The stand has concealed channels for cable organisation. Apart from the base, all other parts are made of sturdy polycarbonate materials.
Key Features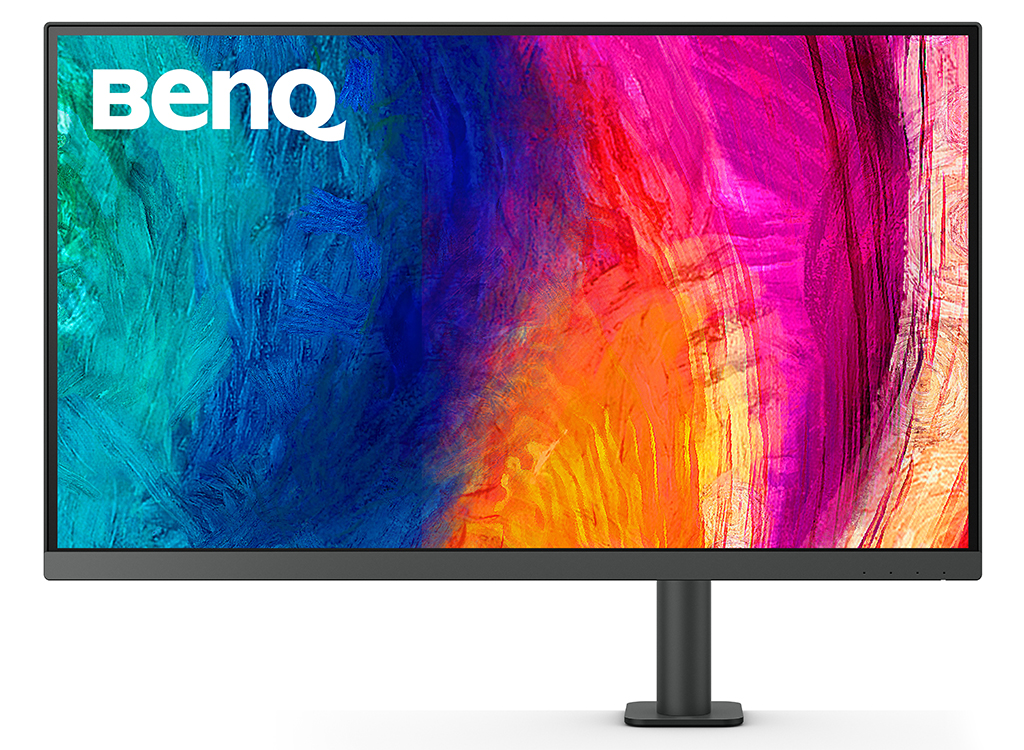 The PD3205UA is a 31.5-inch 4K UHD (3840 x 2160) monitor. The IPS display supports HDR10 and is stated to reproduce 99 percent sRGB and Rec.709 colour spaces, capable of delivering up to 1.07 billion colours. The monitor offers 5ms response time and provides 250 nits of brightness along with 1000:1 contrast ratio. The monitor offers near-accurate colours with a deviation of Delta E <=3. The monitor boasts corner-to-corner uniformity in brightness and colour reproduction with BenQ's AQColor technology, and the company claims that the display is divided into hundreds of sub-regions and fine-tuned for precision. The display comes Calman Verified and Pantone Validated along with Pantone SkinTone Validated certification for accurate reproduction of skin tones.
The monitor offers an extensive array of colour modes including Darkroom mode, Animation mode, CAD/CAM mode, along with the usual modes such as Low Blue Light, DICOM, sRGB and REC.709. Further, there is a DualView mode that lets you display your artwork in two modes side-by-side. The monitor houses a KVM Switch that auto-pairs with input signals via the HDMI or DP connected parallel with the designated USB port. This helps you to connect a PC and a Mac seamlessly with the PD3205UAThe device offers two USB Type-B ports, two USB Type-A ports, one USB Type-C port, an HDMI port and a Display Port at the base along with a Mini USB for the hotkey puck (OSD controller). There is one Type-A and one Type-C port at the side along with a 3.5mm audio output jack. The USB Type-C port provides 90W power delivery in addition to fast data transfer. You can use the hotkey puck G2 to switch between inputs. The monitor supports PIP (Picture In Picture) and PBP (Picture By Picture) modes to easily manage your workflow.
Designers can make use of BenQ's Display Pilot software, which gives access to various customisation options for colour mode, display and more, and to set up advanced features like ICC Sync, which automatically sets ICC profiles to match the colour mode selected. The monitor features an extensive menu that offers all advanced settings for precise colour management. The monitor also features eye care technologies like Low Blue Light and Flicker-free display to reduce eye fatigue and ensure greater user comfort.
Ergonomics
As mentioned earlier, this is not a portable monitor. Once clamped to the desk, it is difficult to move it around. But the flexible 'Ergo Arm' provides a greater degree of movement than normal monitors and hence the freedom to position the monitor precisely where you want it. This makes it easier to avoid reflections and highlights. The monitor itself allows -5 to 20 degrees tilt, 275 degrees swivel, 90 degrees pivot, and 150 mm height adjustment. With concealed cable management channel on the stand, the setup looks professional and less messy. The part of the base that sits atop your desk is small and flat, hence it occupies less space. The Hotkey Puck G2 makes OSD control a snap. The device neither includes a shading hood nor has grooves to fit one.
Performance
The PD3205UA is not built for photo editing but is capable of accurate colour reproduction, and hence it can be used for the purpose. We found the panel to deliver uniform illumination across the display area as BenQ claims. We measured the native colour reproduction, and could verify the claims of 99 percent sRGB reproduction (97.3 percent coverage, 118.7 percent gamut volume). The monitor can reproduce up to 77.9 percent Adobe RGB gamut with 81.8 percent volumetric coverage, while the figures for DCI P3 was found to be 83.8 percent and 84.1 percent respectively.
The monitor offers very precise RGB gain controls, which greatly helps in achieving the best hardware calibration results. The monitor has two 2.5W speakers, but we found it practically useless as in most built-in speakers.
Value for Money
The BenQ PD3205UA retails at Rs.59,990, while the 27-inch model (PD2705UA) carries a price tag of Rs.47,500. This is good value for money for a 4K design specialist monitor.
Verdict
The BenQ PD3205UA is a great buy if you are a design professional looking for a factory calibrated 4K monitor with good colour accuracy and feature-rich support software to use in a fixed studio environment. However, we would desist from recommending this for purely photo and video editing needs since you would be better off with a similarly priced model offering close to 100 percent Adobe RGB or DCI P3 gamut coverage.
---
Final Score
Design and Build Quality
Key Features                                  
Ergonomics                                  
Performance                                      
Value for Money                                
Grand Total                                        
---
Plus
Good colour accuracy
Uniform illumination
Flexible Ergo Arm
Built-in speakers
Minus
No shading hood
Not a true photography monitor