The market for monitors has become too crowded and busy that you can easily get lost in the confusing maze of specialities if you don't know exactly what you are looking for. Photography and design output have largely shifted from printing or hard output to online and soft outputs. Hence most professional series monitors feature panels that offer 100 percent sRGB colour space rather than the ones reproducing full Adobe RGB gamut. Viewsonic is one of the few brands that offer a complete range of professional monitors catering to all segments in the ColorPro series. We reviewed the top 4K model, the VP2785 in April 2022. The new VP2768a is an affordable 27-inch 2K monitor for photographers and graphic designers.
Design and Build Quality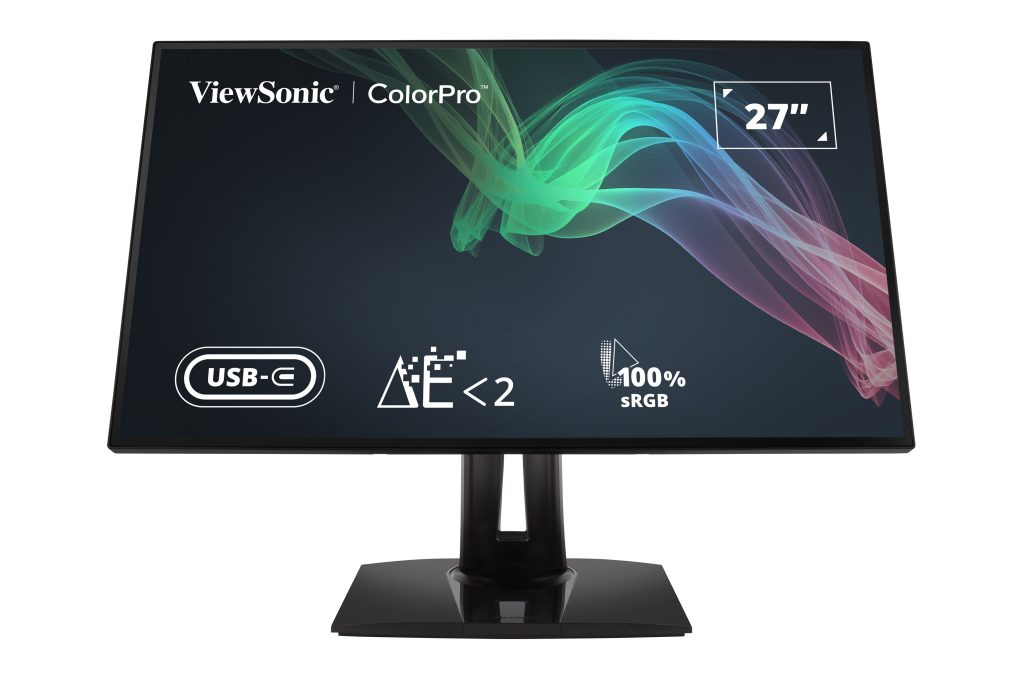 The Viewsonic ColorPro VP2768a has a four-side frameless design. The monitor has a flat and sturdy base with a rugged stand with a spacious vertical slot for cable organisation. The stand comes attached with the panel, and the base offers tool-free installation. The device has six physical keys at the back including the power button. There is a handle on top of the stand to facilitate easy movement and placement. The monitor measures 613 x 412.67 x 215 m and weighs 7kg with stand.
Key Features
The VP2768a uses an IPS panel with LED backlighting providing QHD (2560 x 1440) resolution. The panel surface has an anti-glare 3H hard coating, which provides a matte finish. It provides a static contrast ratio of 1,000:1 and dynamic contrast ratio of 20 Million:1. The panel offers 350 cd/m² of brightness and is capable of reproducing 16.7M colours. A 5ms response time and 60 Hz refresh rate make it suboptimal for gaming. The monitor provides 100 percent sRGB and Rec.709 along with up to 78 percent Adobe RGB gamut coverage and comes with Pantone validation and Delta E < 2 for colour accuracy. There may be quite a few monitors that do this, but the 2768a does much more. It features two colour blindness modes—Simulation and Colour Filter. The Simulation mode allows designers to create designs accessible to colour-blind clients, while colour blind users can activate the colour filter feature to see onscreen details. The monitor is flicker-free and offers blue light filter mode to reduce eye fatigue. An integrated colour uniformity function ensures consistent chromaticity across the screen, while a 14-bit 3D look-up table generates a palette of 4.39 trillion colours.
The OSD menu offers intuitive controls and provides all necessary options for fine-tuning and calibrating the display. The monitor comes factory calibrated and you will receive the individual calibration report. The device supports hardware calibration via the Colorbration software that can be downloaded from the Viewsonic website. The software supports popular colorimeters and spectrometers such as X-Rite i1 Display Pro, i1 Pro 2, i1 Studio, Datacolor Spyder 5, Spyder X, X-Rite ColorMunki Photo, and X-Rite ColorMunki Design. However, it does not support the most affordable devices such as X-Rite i1 Display Studio. You can calibrate the monitor to three different profiles and save the settings in the three custom calibration memory spaces. The monitor also offers a smart colour feature that lets you instantly match colour gamut while a different colour mode is applied. This is available via the vDisplay Manager software, also downloadable from the Viewsonic website, which downloads the corresponding ICC profile automatically.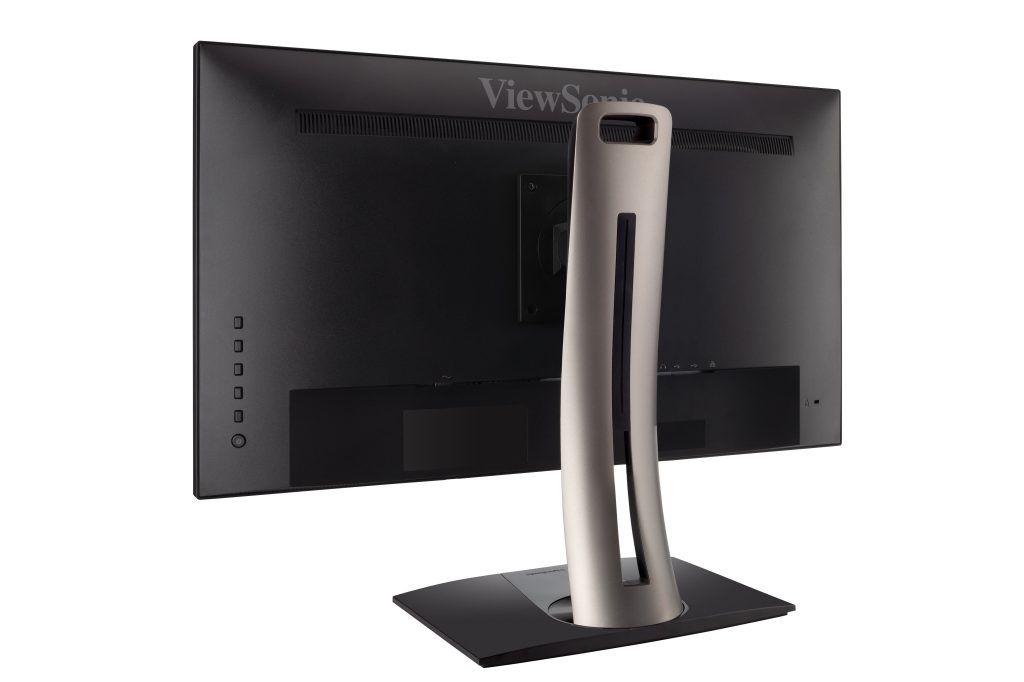 The VP2768a offers a full range of input/output ports including two USB 3.2 Type A down stream, one USB 3.2 Type B up stream, one USB 3.2 Type C up stream, one DisplayPort (Alt mode), one 3.5mm Audio Out, two HDMI 1.4, one DisplayPort, one DisplayPort Out, one Ethernet LAN (RJ45), and one Kensington Lock Slot. The USB-C port delivers 90W of power and the monitor allows you to daisy chain monitors from USB-C or DP ports for multi-monitor setups. The built-in Ethernet port provides network connectivity right on the monitor.
Ergonomics
The Viewsonic VP2768a allows full range of adjustments. It can be swivelled up to 120-degrees, tilted from -5 to 21 degrees, and pivoted up to 90 degrees on both sides. The height can be adjusted up to 130 mm. The monitor can be wall-mounted with a 100 x 100 mm VESA mount. The panel allows up to 178 degrees viewing angle. Auto Pivot function is available with vDisplay Manager and offers automatic image rotation when the monitor is tilted.
Performance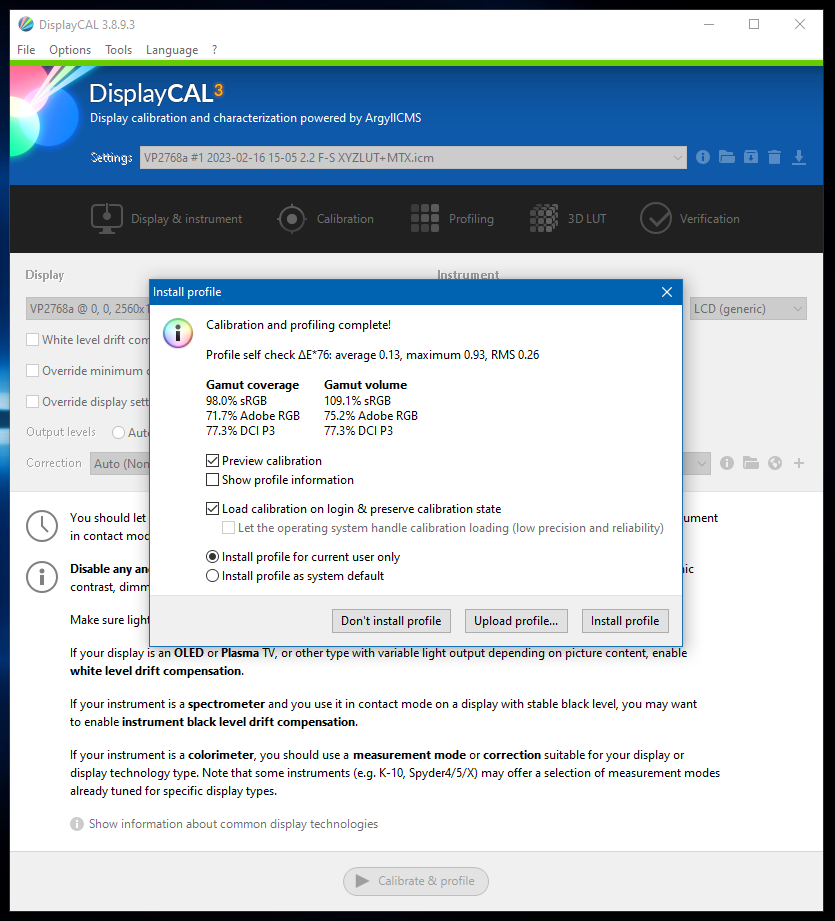 The VP2768a is a brilliant monitor for photographers and designers who need a hardware calibratable, colour-accurate monitor that can produce 100 percent sRGB and provide an extensive line of ports. We found the illumination to be uniform from corner to corner. Our tests with DisplayCal and the i1 Display Studio calibrator returned the figures of 98 percent sRGB coverage with 109.1 percent sRGB gamut volume, 71.1 percent Adobe RGB coverage with 75.2 percent gamut volume, and 77.3 percent DCI-P3 coverage. It gave a Delta E average of 0.13 and a maximum of 0.93, which confirmed the Delta E < 2 accuracy claims.
Text appeared optimally sharp, and normal OTT streaming content accessed via HDMI port offered a good viewing experience, when paired with external speakers. The monitor does not have in-built speakers.
Value for Money
The ViewSonic VP2768a is priced at an MRP of Rs. 45,999, but retails at a market operated price (MOP) of Rs. 37,999. This is excellent value for money considering that this is a 27-inch hardware calibratable 2K monitor that performs consistently well.
Verdict
The Viewsonic ColorPro VP2768a is not the ultimate professional monitor out in the market, but an enthusiast model that offers a decent gamut coverage with excellent colour accuracy. At the price it retails, we would be glad to recommend this monitor to anyone looking for an affordable 2K monitor for photography and graphic design.
---
Final Rating